ANZAC DAY TOURS 2016
Experience ANZAC Day at Gallipoli in 2016 with On The Go Tours. The 25th of April 2016 marks the 101st anniversary of our brave ANZACs landing on the shores of ANZAC Cove. Every year for over a decade now we've been operating tours to Gallipoli for the ANZAC Day Commemorations that honour the 36,000 Commonwealth Servicemen who died here during the campaign.
2016 will be our 18th year and we do hope you join us for this special occasion. Our extensive range of ANZAC Day Tours ranging from 5 - 14 days are varied to suit different styles of travel, time frames and budgets. If you missed the 100th anniversary at Gallipoli this year, we have a selection of centenary year ANZAC tours too, with monthly departures.
Lest we forget.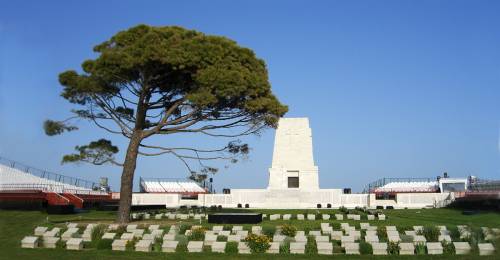 Styles of Travel to ANZAC Day
Not successful in the ballot?
If you didn't manage to get hold of a ballot for ANZAC 2015 then don't worry. Our collection of ANZAC 100th Anniversary Tours includes a number of Centenary Tours like Battle of Lone Pine and Lone Pine Express which commemorate the 100th Anniversary of the Battle of Lone Pine on 6th August 2015.
ANZAC Day 2016 Tours
If you only want to take a week off work, our 4 and 5 day tours might fit the bill. Our 8 day Smoko tour allows you to see more of Turkey, our 6 day ANZAC Uncovered tour takes an in depth look at the ANZAC battlefields and memorials. If you have a bit more time, consider our 11 and 14 day ANZAC tours, where you can be at the Gallipoli ANZAC Dawn Service and explore more of Turkey's historic sights, from Istanbul and Cappadocia to Pammukale, Saklikent Gorge, the Turquoise Coast and the Roman ruins of ancient Ephesus. read more
ANZAC Day 2016 Tours with Egypt
If Egypt is also on your dream travel list, then you can combine your time in Turkey with tour in nearby Egypt too. Marvel at the Great Pyramids of Giza, sail a felucca down the Nile, visit King Tut's Tomb, ride a camel and relax by the Red Sea in Hurghada, then head to ANZAC day to commemorate the Diggers. Or do it the other way around. Take a look at our ready made ANZAC and Egypt combo tours below. read more
ANZAC Day tour reviews
Scoring an average traveller rating of 4.63 out of 5 based on 40 recent reviews — See All ANZAC Day Reviews
ANZAC Day at Gallipoli with On The Go Tours
We have an extensive range of tours offered during the ANZAC period and throughout the centenary year, some of which are combined with a tour to nearby Egypt too. With well over a decade of experience running tours to Gallipoli on ANZAC Day, our tour guides, representatives and leaders work with us year in year round. They know the best spots and best traffic routes, allowing you to get the most out of your day. Many of our tours include a boat cruise on the Bosphorus, an exclusive ANZAC Eve BBQ and Commemorative ANZAC jumper.
ANZAC DAY: Our Travel Guide