Africa Overland Safaris
Visiting remote places and traversing some of the most stunning locations on the planet is made possible aboard our overland trucks - large, modified vehicles that seat 28 - 30 travellers and carry all the equipment necessary for camping and cooking on the trip. Combining truck transportation and camping in tents is the most cost-effective way of going on safari in Africa and it gets you off the beaten track too. Our Africa overland safaris are led by an experienced tour leader, along with a driver and cook, who have travelled extensively throughout the region.
3 crew: tour leader, driver, cook
Complimentary arrival transfer
Fully equipped expedition truck/vehicle
Lots of included meals
Park fees and excursions as detailed in each itinerary
All cooking and camping equipment
First night dormitory accommodation
Lots of authentic experiences
No single supplements
Trips in both directions
Overland Safaris for the family
Most of our overland style safaris are only suitable for adults, but if you're keen to take your tribe to Africa on an overland camping style safari, we have a handful of family friendly departures in Southern Africa which are suitable for children aged 6 and over. These safaris are 'hands on' and require full participation. Putting up your own tents and helping with the cooking & cleaning is all part of the experience. Our family friendly overland safaris are: Falls to Joburg, Wildlife Beach & Falls and Southern Circuit. Families with children aged 12 and above are also welcome on most of our Lodge Accommodated Safaris and Tailor-made Safaris.
Overland budget accommodation upgrade
If you're interested in our adventurous Overland Safaris in Africa but don't fancy camping, there is the option to upgrade to budget accommodation. You will be travelling with our overland camping passengers, sharing the truck, equipment and the chores with them and enjoying your meals together as a group. Accommodation is in basic twin share rooms. Where a budget accommodation upgrade is available it has been noted on itinerary pages. For further information click here.
The Inside Track
Our Latest Updates from across the globe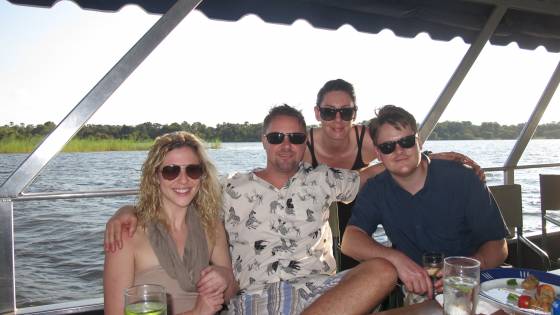 Photo Showcase
Overlanding from Vic Falls to Jo'burg
May 6, 2015 • OTG Team
Our own Miles Walker recently returned from Africa after travelling on an overland adventure from to...
Read Full Story News Tips and Trivia
Best places to visit in June
April 6, 2015 • OTG Team
The ninth part in a twelve part series on the best places to visit when. June is all about the and ...
Read Full Story
Video of the Week
Soaring over Africa
March 20, 2015 • OTG Team
As much as it is easy to appreciate the natural beauty of Africa at eye level, nothing quite to it ...
Read Full Story