Kruger
National Park
Kruger Cape and Falls - 11 Days
The Big Five in Kruger, Cape Town, the winelands, Cape Point, the Peninsula and mighty Victoria Falls.
View Tour
Africa Safari Tours
Win a trip to Africa for 2 with flights!
As vast as it is diverse, encompassing desert, savannah, rainforest, mountain ranges, lowlands, stunning coastline and vast inland lakes, Africa is a continent rich in dramatic scenery and natural beauty.
See the world's most prolific concentration of wildlife in their natural habitat, experience the warmth of African tribal people and their diverse cultures, travel through stunning landscapes and challenge yourself with adrenalin-fueled adventures at Victoria Falls. Climb Mount Kilimanjaro, trek in search of the mountain gorilla, track down the Big Five in Africa's leading game reserves or simply laze on the stunning white beaches of Zanzibar or Mozambique.
Camping & lodge accommodated safaris
Lots of authentic experiences
Top sites and hidden gems
Excellent value
See the real Africa
Local tour guides
Guaranteed departures
International travellers of a wide age range
Expert advice from our well-travelled team
Which one is for you?
Choose your style of safari.
Whether you're planning a week's holiday or an epic journey across the continent, we offer an exciting selection of African safaris ranging from 4 - 57 days. Adventurous overland camping safaris or comfortable lodge safaris? Tailormade holidays or family friendly adventures? We're bound to have a travel style that's perfect for you.
Explore the best of Eastern and Southern Africa
Safari in Style
As an experienced tour operator in East and Southern Africa, On The Go Tours offer a wide range of African Safaris, including overland style camping safaris, Lodge accommodated safaris and Tailor Made Holidays. With some of the world's most enthralling game viewing and spectacular unspoiled landscapes, from the rolling dunes of the Namib desert to the vast open savannah of the Serengeti; overland trips and safaris in Africa are one big adventure waiting to happen.
Our Top Picks For a Safari to Africa
Our Top Pick for Tanzania
#1 Ngorongoro Crater
The Ngorongoro Crater is a natural amphitheatre created about 2 million years ago when the cone of a volcano collapsed into itself, leaving a 100 sq. mile cauldron-like cavity. This caldera, protected by a circular high...
Read More >
More about our styles of Safari in Africa
"
Hi Sarah, I just wanted to let you know what a fantastic time I had and to say thank you for all your help and advise beforehand! As an individual traveller I was put at ease by the fantastic, professional and friendly crew. I can honesty say it was the best holiday I have ever had!"
Our guide to travelling through Africa
A bit more information on travelling through Africa on safari, trekking to see the mountain gorillas and the TCD trust in South Africa.
The Inside Track
Our Latest Updates from across the globe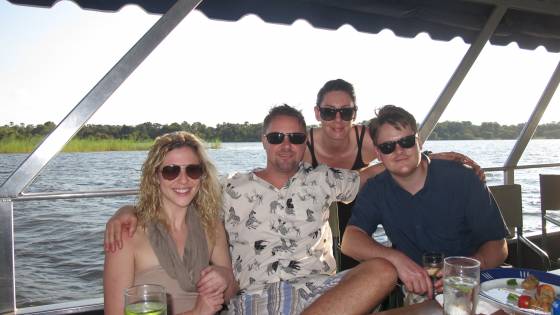 Photo Showcase
Overlanding from Vic Falls to Jo'burg
May 6, 2015 • OTG Team
Our own Miles Walker recently returned from Africa after travelling on an overland adventure from to...
Read Full Story News Tips and Trivia
Best places to visit in June
April 6, 2015 • OTG Team
The ninth part in a twelve part series on the best places to visit when. June is all about the and ...
Read Full Story
Video of the Week
Soaring over Africa
March 20, 2015 • OTG Team
As much as it is easy to appreciate the natural beauty of Africa at eye level, nothing quite to it ...
Read Full Story