Tours to Belize
Tucked between Mexico and Guatemala on the Caribbean coast is beautiful Belize, renowned for its fabulously laid-back atmosphere. With idyllic offshore islands, beautiful beaches and the second largest barrier reef in the world, Belize is a mecca for sun worshipers, divers and snorkellers alike.
Belize is also far more reminiscent of the Caribbean than Central America and is heavily influenced by its Afro-Caribbean roots.
Our tours to Belize are multi-country tours which also include a visit to nearby Mexico and Guatemala.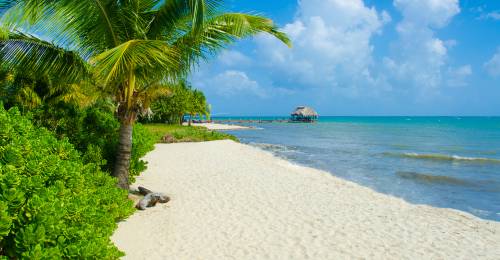 Styles of Travel to Belize
The second largest barrier reef in the world
What this enchanting country lacks in size, it certainly makes up for in attractions. Those in search of adventure can head to San Ignacio, where canoeing on the Macal River and exploring the vast caves and limestone terrain are highlights and the spectacular range of rolling hills, peaks and gorges are fantastic for hiking. Belize's lush subtropical forests are home to ancient Mayan ruins and to an array of wonderful flora and fauna as well.
Belize tour reviews
Scoring an average traveller rating of 5 out of 5 based on 2 recent reviews — See All Belize Reviews
Travelling to Belize on a tour with us
Our small group tours to Belize are escorted by a tour leader, include accommodation in simple hotels, guesthouses and homestays, plus transportation on public transport – giving you a truly authentic travel experience in Belize, getting to know local people along the way. Discover the highlights of Belize on one of our Belize group tours below, which also take in the best of Mexico and Guatemala.
When I travelled to Belize I felt
Inspired
"by the people, landscape and biodiversity of the natural jungle surroundings. We flew in a four seater plane into a jungle airstrip and an other We..."
by Brian Kirkwood
Posted on 10 Aug 2015
Read More >