Botswana Safari Tours
As a land of untamed wilderness, spectacular landscapes, incredible wildlife and dramatic natural contrast, Botswana is a dream holiday destination unlike any. From the endless stretches of the Kalahari Desert and the shimmering salt pans of Makgadikgadi, to the labyrinth of lush waterways in the Okavango Delta and abundance of wildlife in Chobe National Park, there is plenty to see and experiences to be had in this Southern African country.
While Botswana may be a sparsely populated country, its many fascinating tribes give it great cultural diversity. Here you can meet the Bushmen, thought to be one of the oldest cultures in the world, whose lifestyle has remained largely unchanged since the middle Stone Age. Botswana remains a refreshingly untouched destination providing an authentic and unique safari experience whether it's an overland camping safari or a tailormade safari of your own design.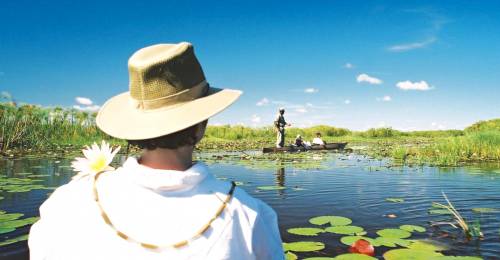 Styles of Travel to Botswana
A large elephant population
Chobe National Park
With areas of marshland, flood plains, savannah, grasslands, woodland and the Chobe and Savuti Rivers, Chobe National park has one of the greatest concentrations of game found on the African continent and is known for its large elephant population. You might also be lucky enough to spot cheetah and leopard. In the northern areas near Kasane, game viewing on a Chobe Sunset River Cruise is a particular highlight as is the Savuti area the south west, referred is to as The Kingdom of the Lion with it's high density of lions.
Botswana Overland Safaris
Overland Budget Accommodation Upgrade Available
On our overland camping safaris in Botswana we spot wildlife galore Chobe National Park, which has one of the greatest concentrations of game in Africa and is famous for its large herds of elephants. There's also the opportunity to explore the waterways of the stunning Okavango Delta in a dugout canoe motored by local polers, All our Botswana overland safaris are led by 3 crew - a tour leader, driver and cook, you'll travel aboard our overland trucks that seat 28 - 30 travellers and really get off the beaten track too, seeing the best of Botswana along the way.
Botswana Lodge accommodated safaris
With a few more creature comforts than those offered on our camping style overland trips, our Botswana lodge accommodated safaris are small group trips with a maximum of 15 travellers and are fully guided by our experienced local guide in Botswana. On these trips to Botswana we accommodate you in 3-4 star standard lodges and tented chalets and travel by road is done by private European standard transportation.
Botswana Private Safaris
If you would like to experience Botswana at your own pace, fancy a little luxury or don't want to travel in a group, consider one of our private safaris to Botswana that also include the highlights of neighbouring Zimbabwe, home of Victoria falls. Staying at exclusive lodges, you'll explore the beautiful Okavango Delta, Moremi Game Reserve, the massive herds of elephants in Chobe National Park and experience the best of beautiful Botswana.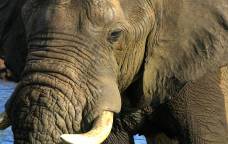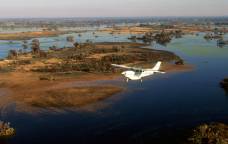 Botswana tour reviews
Scoring an average traveller rating of 4.86 out of 5 based on 14 recent reviews — See All Botswana Reviews
Highlights of our Botswana Safaris
In the northern reaches of Botswana lies the world-famous Okavango Delta where a mokoro ride, nature walk and an overnight stay make for a truly memorable experience, as does a scenic flight overhead. To the southeast, head of the beaten track to the lesser known Makgadikgadi and Nxai Pan National Park, a wonderful spot for a bit of wildlife watching and to perhaps meet the resident meerkats. Outside the dry season, the never ending ethereal lunar landscape of glistening salt pans is spectacular and quad biking is popular. Rain brings a dramatic change as the area springs to life, grasslands flourish and the pans fill up with water, attracting a fantastic array of waterbirds and triggering spectacular migrations of wildebeest and zebra. There's also Chobe National Park, home to the largest herds of elephant in the world. With plenty more on offer on our Botswana safaris you'll get to see the very best of this amazing country.
When I travelled to Botswana I felt
So very, very lucky
"We try to have a "big trip" every other year, to see as much of this wonderful world as we can, from country music in Nashville to a sunset on the was..."
by Liz Hagerty
Posted on 18 Aug 2015
Read More >
Our Top Pick for Botswana
#1 Okavango Delta
The Delta is a huge expanse of water, which has travelled from the Angolan highlands, spreading out to form the largest inland delta in the world. Studded with exotic islands, The Delta is renowned for its incredible of...
Read More >
"
I can honestly say I've enjoyed every bit of this trip from start to end. I don't have one bad word to say. it has exceeded my expectations, everyone has been very helpful and fun. The crew did an awesome job! Thank you."
Botswana Travel Guide
Be prepared for your safari adventure in Botswana with our handy guide on travel essentials from visas to weather and when best to go.
Get to know Botswana
Recommended Reading
Cry of the Kalahari
by Mark and Delia Owens
Place of Reeds
by Caitlin Davies
Botswana Time
by Will Randall
Did you know...?
Facts about Botswana
Botswana is home to the largest elephant population in Africa and the Chobe River supports up to 50,000 in the dry season.
The Okavango Delta is one of the largest inland deltas in the world, spanning 17,000 square km.
In the Xoo language of Botswana, spoken by about 4,000 people, there are 112 distinct sounds compared to 40 in English.