Best of
Botswana
Botswana Lodge Explorer - 10 days
Discover Moremi Game Reserve, the Nxai Pans, the Okavango Delta, Chobe National Park and finish up at mighty Victoria Falls on this 10 day tour through Botswana!
View Tour
Botswana Safari Tours
As a land of untamed wilderness, spectacular landscapes, incredible wildlife and dramatic natural contrast, Botswana is a dream holiday destination unlike any other. From the endless stretches of the Kalahari Desert and the shimmering salt pans of Makgadikgadi, to the labyrinth of lush waterways in the Okavango Delta and abundance of wildlife in Chobe National Park, there is plenty to see and experiences to be had in this Southern African country.
Camping & lodge accommodated safaris
Lots of authentic experiences
Top sites and hidden gems
Excellent value
See the real Botswana
Local tour guides
Guaranteed departures
International travellers of a wide age range
Expert advice from our well-travelled team
Ancient, Untouched and Unspoilt
Botswana - home to the oldest culture in the world
While Botswana may be a sparsely populated country, its many fascinating tribes give it great cultural diversity. Here you can meet the Bushmen, thought to be one of the oldest cultures in the world, whose lifestyle has remained largely unchanged since the middle Stone Age. Botswana remains a refreshingly untouched destination providing an authentic and unique safari experience whether it's an overland camping safari or a tailormade safari of your own design.
Styles of travel to Botswana
Adventurous overland camping safari or comfortable lodge safari? Tailormade holiday or family friendly adventure to Botswana? We're bound to have a travel style that's perfect for you.
Highlights of our Botswana Safaris
In the northern reaches of Botswana lies the world-famous Okavango Delta where a mokoro ride, nature walk and an overnight stay make for a truly memorable experience, as does a scenic flight overhead. To the southeast sits the expansive salt pans of Makgadikgadi, a wonderful spot for a bit of wildlife watching and to perhaps meet the resident meerkats. There's also Chobe National Park, home to the largest herds of elephant in the world. With plenty more on offer on our Botswana safaris you'll get to see the very best of this amazing country.
Our Top Pick for Botswana
#1 Okavango Delta
The Delta is a huge expanse of water, which has travelled from the Angolan highlands, spreading out to form the largest inland delta in the world. Studded with exotic islands, The Delta is renowned for its incredible of...
Read More >
More about our safaris to Botswana
"
I can honestly say I've enjoyed every bit of this trip from start to end. I don't have one bad word to say. it has exceeded my expectations, everyone has been very helpful and fun. The crew did an awesome job! Thank you."
The Inside Track
Our Latest Updates from across the globe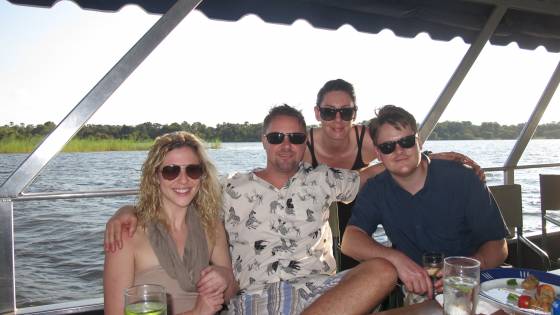 Photo Showcase
Overlanding from Vic Falls to Jo'burg
May 6, 2015 • OTG Team
Our own Miles Walker recently returned from Africa after travelling on an overland adventure from to...
Read Full Story News Tips and Trivia
Best places to visit in June
April 6, 2015 • OTG Team
The ninth part in a twelve part series on the best places to visit when. June is all about the and ...
Read Full Story
Video of the Week
Soaring over Africa
March 20, 2015 • OTG Team
As much as it is easy to appreciate the natural beauty of Africa at eye level, nothing quite to it ...
Read Full Story