Botswana Tailor made Safaris
If you are looking for an authentic safari experience then Botswana is certainly one of the places to be - with spectacular landscapes, an abundance of wildlife and a bounty of natural wonders.
Whether you'd rather bed down in a luxury tented camp or fabulous five-star resort, want to spot wildlife on guided walking safari or a thrilling game drive, our team of tailor-made experts will create the perfect itinerary for you ensuring that your holiday in Botswana is truly one of a kind.

Itinerary Ideas
Generate some great itinerary ideas with our trip finder:
Places You Are Interested In:
Create Your Wish List
Places we recommend for a safari holiday in Botswana
Botswana is a land of diverse beauty, with the magnificent salt pans in the north to the lush green waterways of the Okavango Delta in the south. Add to this wildlife rich Chobe National Park and Moremi Game Reserve and you've got a wonderful African safari holiday! See below our recommendations on where to visit whilst planning your Botswana holiday.
The Delta is a huge expanse of water, which has travelled from the Angolan highlands, spreading out to form the largest inland delta in the world. Studded with exotic islands, The Delta is renowned for its incredible variety of bird life and animals and is unique to Southern Africa. Mokoros are traditional dug out canoes manoeuvred through the waterways by local guides who "pole" them through the reeds. In the past trees were chopped down and hollowed out to make the mokoro. Today they a ...
Read More 
Chobe National Park is the second largest park in Botswana and covers an area of 10566 square kilometres. With areas of marshland, flood plains, savannah, grasslands, woodland and two rivers, the park is really diverse. The San bushmen originally inhabited the park and hunted throughout the area. In 1932 a non-hunting area was set up and eventually in 1957, Chobe became the first National Park in Botswana. Chobe is known for its elephant population, with some 120,000 elephants based in the ...
Read More 
Not too long ago Kasane was a remote and not very interesting small village. However, its strategic location - the meeting point of four countries - Botswana, Zambia, Zimbabwe and Namibia - has led to rapid expansion in recent years. Six kilometres east of Kasane is tiny Kazungula, which serves as the border post between Botswana and Zimbabwe and the landing for the Kazungula Ferry between Botswana and Zambia. Situated on the Chobe River in the northeast, Kasane is a bustling little town to ...
Read More 
The Kalahari is the largest sand basin in the world, stretching 2,500kms from the northern part of South Africa, through Namibia and Angola and ending in the Democratic Republic of Congo. It may have no permanent surface water, but unlike the image of most deserts, the Kalahari is well vegetated with a wide variety of habitats including acacia trees and areas of flat grasslands. The Central Kalahari Game Reserve is the largest game reserve in the world and until recently been closed to the It ...
Read More 
Makgadikgadi & Nxai Pan National Park is a vast area and includes Ntwetwe Pan, Makgadikgadi Pans, Nxai Pan, Baines' Baobabs and Kudiakam Pan. Makgadikgadi is technically not a single pan but many pans with sandy desert in between, surrounded by the Kalahari desert. Thought to once be a massive lake covering 60-80,000 sq. kms that existed 2 million years ago and started to dry up 1500 years ago due to climatic changes. Further evaporation turned the lake into large pans with a surface with one ...
Read More 
The name Maun is derived from the San word 'maung', meaning the place of short reeds. The village began as the tribal capital of the Batswana people. It grew as a rough and ready place of local cattle ranchers and professional hunters with a Wild West atmosphere. In 1920, Harry Riley built the first Riley's Hotel, which was then nothing more than a small bar catering to the men who arrived from Francistown - a gruelling 35-hour journey by horse and cart. But with the completion of the tar road a ...
Read More 
The Tuli Block integrates the Mashatu Game Reserve, Tuli Nature Reserve and other smaller game reserves. The wildlife that can be viewed here include Elephant, Kudu, Impala, Wildebeest, Giraffe, Lion (some black-maned), Zebra, Leopard, Waterbuck, Eland and Cheetah. Some of the creatures that can be seen at night include Caracal, Aardwolf, Hyena and Jackal. Birdlife is spectacular in the Tuli Block. Bird enthusiasts can look forward to seeing some of the 350 recorded bird species which include ...
Read More 
The Khwai River is situated on the Northern side of Botswana. The Khwai river extends from the popular Okavango Delta and forms part of the Moremi Game Reserve border. The Khwai River is located near a village aptly named the Khwai Village. The Khwai River village started as a small San settlement and has grown much larger in the past years. It is also one of the first places where non-hunting Botswana safaris originated. This river can be seen near the North Gate of the Moremi Game Reserve. the ...
Read More 
Diverse Landscapes
Beautiful Botswana is a land of untamed wilderness, spectacular landscapes and dramatic natural contrast, from the endless stretches of the Kalahari Desert and the shimmering salt plans of Makgadigadi, to the Okavango Delta's labyrinth of lush waterways, carpeted with lilies and Chobe National Park and its abundance of wildlife.
Inspirations for a safari in Botswana
Make your tailor made safari holiday to Botswana extra special. Take a look at some of our unique things to do whilst visiting Botswana.
Take to the air
Flight Over the Delta
Whereas most people take to the water in a mokoro (dugout canoe) to see the vast beauty of the Okavango Delta, there is undoubtedly no better way to appreciate the area's sheer size and allure than from the air in a small plane. Look down on the endless water channels and keep an eye out for the wildlife that inhabit the area, like hippos, elephant and buffalo!
Shimmering Light
Drive through Makgadigadi
In the north of Botswana lies the endless salt pans of Makgadigadi and Nxai Pans National Park. An area of diverse contrast to the lush and rain soaked south – this area is in fact bigger than Switzerland! Why not jump in a 4x4 and explore this barren area and be mesmerised by the shimmering light bouncing off the pans and maybe even spot a wildebeest or zebra or two!
Wild Dogs Wild Dogs!
Safari in Moremi Game Reserve
Botswana is now one of just four African countries that are home to the African Wild Dog and Moremi is home to about 30% of them. Part of a larger conservation project intended to increase their rapidly decreasing numbers, these canine predators are frequently spotted when game driving in the game reserve.
Hippos and Sundowners!
Sunset cruise on the Chobe River
Just as the sun begins to set head out onto the waters of the Chobe River on a relaxing cruise. Watch as the local residents of elephant, hippos, crocodiles and kudu come to the water for a late bath or drink! In the background you'll hear the crashing waters of nearby Victoria Falls and you'll also enjoy witnessing a gorgeous African sunset!
Botswana: Top accommodation picks
For all our tours and tailor-made holidays we provide you with a clear categorisation of all hotels we use. The REGIONAL CATEGORY indicates the local rating of each hotel in each respective country. We have also rated each hotel using OUR CATEGORY, which will be in line with generally accepted western hotel grading standards.
Simple
Basic hotels and simple accommodation is a no frills option with an adventurous authentic feel.
Standard
Standard accommodation equates to a Western 3-star standard, always featuring en-suite rooms and usually a restaurant.
Superior
Superior accommodation equates to a Western 4-star standard, featuring en-suite rooms and usually a restaurant and often a swimming pool and/or a fitness centre.
Deluxe
Deluxe accommodation equates to a Western 5-star standard, usually featuring spacious, en-suite rooms, a restaurant, swimming pool and fitness centre and an array of amenities, excellent service and customer care.
Lavish
Lavish accommodation equates to a Western 5-star plus standard - the creme de la creme. Featuring spacious, en-suite rooms, a restaurant, swimming pool and fitness centre and an array of amenities, this accommodation is a cut above the rest. Sheer opulence!
Ancient cultures
Botswana is sparsely populated and yet culturally diverse with many fascinating tribes. Home to the Bushmen, thought to be the oldest culture in the world, whose lifestyle has remained largely unchanged since the middle Stone Age. Botswana remains refreshingly untouched and unspoilt, providing an authentic and unique safari experience.
The Inside Track
Our Latest Updates from across the globe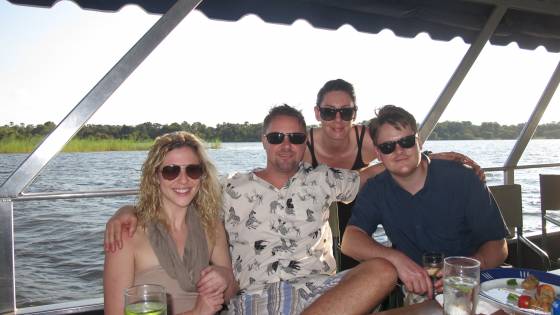 Photo Showcase
Overlanding from Vic Falls to Jo'burg
May 6, 2015 • OTG Team
Our own Miles Walker recently returned from Africa after travelling on an overland adventure from to...
Read Full Story News Tips and Trivia
Best places to visit in June
April 6, 2015 • OTG Team
The ninth part in a twelve part series on the best places to visit when. June is all about the and ...
Read Full Story
Video of the Week
Soaring over Africa
March 20, 2015 • OTG Team
As much as it is easy to appreciate the natural beauty of Africa at eye level, nothing quite to it ...
Read Full Story