Burma Tours
After many years of isolation, Burma, or Myanmar as it is officially known, finally offers travellers the opportunity to experience its rich culture. Burma retains the aura of a bygone era with a winning combination of diverse landscapes, stunning temples - 2000 alone on the plains of Bagan, smiling faces and a wonderfully laid back way of life.
The Himalayan foothills in the north tumble into the watery world of Inle Lake - home to floating gardens, stilted villages and crumbling stupas before giving way to jungles of the south with thousands of ornate pagodas and temples dotting the countryside in between.
Burma
with On the Go Tours
Local tour guides
Lots of authentic experiences
Complimentary airport transfers
3-star & special class hotels
Expert local guides at certain sites of interest
Escorted by a tour leader
The best of Burma
Get that true local flavour
See the unique one legged rowing style of the Intha men on Inle Lake, walk the U Bein bridge to meet the monks at sunset, watch the sunrise at the temples of Bagan, shop for lovely handmade fabrics in the Shwe-gyi-do Quarter in Mandalay and take a scenic cruise along the Ayeyarwaddy River.
Other recommendations for a visit to Burma
Sitting on the east bank of the Ayeyarwady River is Mandalay, the last royal capital of Burma with the magnificent complex of Mandalay Palace being a key drawcard. At the ancient city of Amarapura, Mahagandayon Monastery is home to several thousand young monks and if you get there for mealtime you'll see hundreds of robe-clad monks queuing up for their lunch. The U Being Bridge in Amarapura, the oldest and longest teak bridge in the world set over the beautiful Taungthaman Lake is a popular spot for travellers, as is the laid back cruise of the Ayeyarwaddy River towards Bagan. For a real local experience, after you've seen Bagan's famous temples, head to the riverside town of Nyaung-U and into the hustle and bustle of the morning market It's a real hive of activity, there's an abundance of local produce and handicrafts on sale.
When I travelled to Burma I felt
So many emotions. It didn't feel real. It left me speechless and still does when I look back at it.
"I travel quite a bit but my trip to Myanmar was especially spectacular. I've never had a culture shock but this is as close to other worldly as I have..."
by Leah Yeung
Posted on 30 Jul 2015
Read More >
The Inside Track
Our Latest Updates from across the globe
Video of the Week
Made in Myanmar
July 25, 2014 • OTG Team
The weekend is nearly upon us and right now we are daydreaming about where we wish we were heading. ...
Read Full Story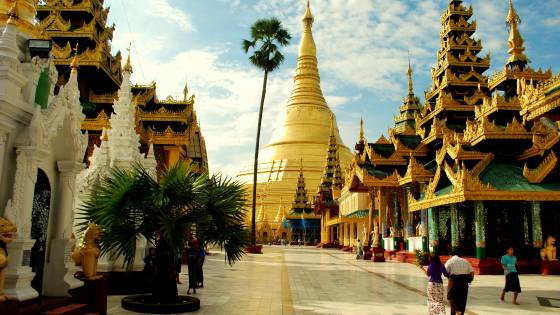 Photo Showcase
Best of Burma
June 4, 2014 • OTG Team
Our 12 day Best of Burma tour allows travellers to discover this once isolated nation, which is with...
Read Full Story
Video of the Week
Video of the Week – Myanmar
December 27, 2013 • OTG Team
After many years of isolation, Burma – or Myanmar, as it is officially known, has finally to ...
Read Full Story