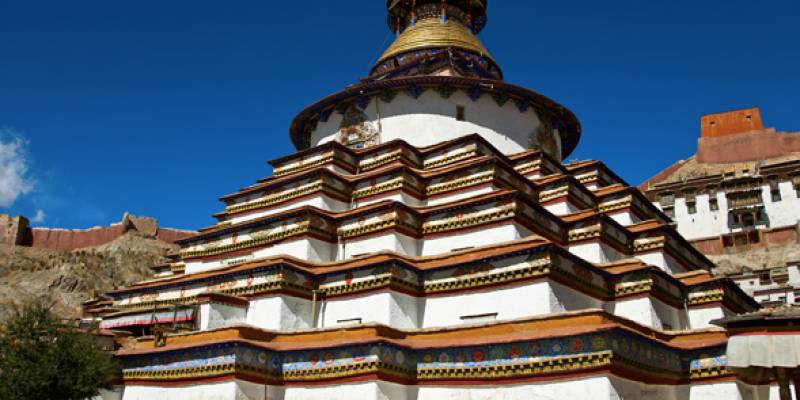 Tailormade Holidays and Tours To West China
Gyantse
Gyantse Tailormade Holidays
Gyantse is historically a large and prominent town in Tibet located in the fertile plain of the Nyang River Valley.
It was once an important centre for trade between India and Tibet and today lies along the Friendship Highway that connects Kathmandu in Nepal with Lhasa in Tibet. The town was originally surrounded by a 3km long wall and the Gyantse Dzong (Gyantse Fort) guarded the southern approaches to the Tsangpo Valley and Lhasa. The fortress was constructed in 1390 and today, a 20-minute hike will take you to its upper limits for amazing views of Gyantse and the surrounding Nyang-chu Valley. Some of the Dzong's buildings can even be explored.
The main attraction in Gyantse is the Pelkor Chode Monastery. Founded in 1418, the monastery was originally a compound containing 15 monasteries from three of Tibet's four main Buddhist sects. Gyantse is also notable for the magnificent tiered Kumbum of the Palcho Monastery, the largest chorten in Tibet. It was built in 1427 and shows a strong Nepali influence in its 10,000 murals. The chorten is packed with exquisite Tibetan sculpture and painting and rises 35m over four main symmetrical floors surmounted by a gold dome, offering outstanding views of Gyantse.
Tailormade Holidays to Gyantse
On the Go are expert at planning holidays in China — tailored to suit your individual requirements. Please have a look at some of the tailormade itineraries below that we have created for our clients which include Gyantse.
REF: China 2071 - 28 Day China Tailormade holiday with 1 days in Gyantse
- Also visiting:
Beijing
,
Lhasa
,
Shigatse
, Xegar, Tingri,
,
Kathmandu
,
Pokhara
,
Chitwan N.P.
,
Lumbini
,
Varanasi
,
Agra
,
Jaipur
,
Alsisar
,
Delhi
Inspired?
Our team is standing by to help build your perfect The Far East itinerary
Create Your Holiday