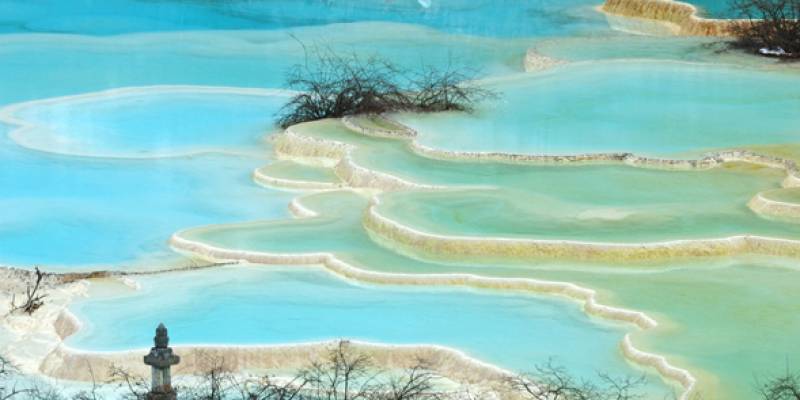 About Huanglong
The Huanglong Valley is situated in the northwest part of Sichuan Province, around 56km from Songpan and close to Jiuzhaigou. 'Huanglong' means the 'Yellow Dragon' and the valley derives its name from the numerous colourful ponds of different sizes and shapes, which are strewn with gold coloured limestone deposits giving a shimmering golden hue to the water. In the sunlight a golden dragon seems to surge forth from the forest. The valley has earned the nickname Wucaichi (Five-coloured Pool) for its blue, green, yellow, white and orange limestone ponds and the best time to see this rainbow of colours is September and October.
Huanglong itself is a mountain with natural mineral pools, lakes and small waterfalls, and creates part of the Huanglongsi National Park. The scenery here is superb and the mountain a relatively easy climb. Set deep in the valley with a walking trail through dense forest is the Huanglong Temple. Behind this temple is where you'll find the most spectacular of the valley's ponds.
Huanglong is a popular day trip from nearby Jiuzhaigou. There is no lodging on the mountain and most people climb up the mountain and back down in a day. During peak season a cable car operates from the entrance to the highest point of the path leaving you with a flat walk to the temple and the pools.
Huanglong Tailor made suggestions
Here are some of the recent tailor made itineraries we have created for our clients which include a visit to Huanglong.