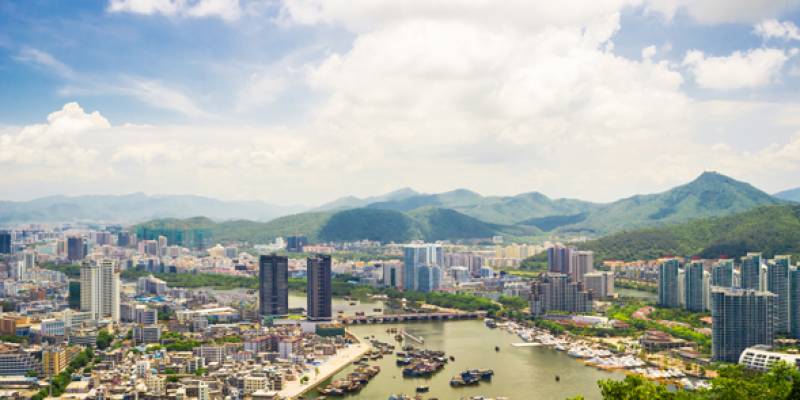 About Sanya
Sanya is the southernmost city of China and a famous international tropical seaside resort, located at the tip of Hainan Island. Billed as 'China's Hawaii', Sanya has 20km-long stretches of the best-preserved and most beautiful beaches in the country and features 19 bays and harbours and 40 islands. Sanya is the only city along this area of tropical coastline and offers a wealth of water-based activities from snorkelling to jet-skiing with the chance to enjoy some rainforest hiking in the interior of the island.
The region is divided into three very distinct tourist zones: Sanya Bay is home to the bustling city centre; Dadonghai Bay is an attractive stretch of beach with budget to mid-range accommodation; and Yalong Bay is an exclusive stretch of beach with luxury resorts. Walking along Sanya Bay you can see the fishermen trawling in their day's catch and hear their working songs resounding to the skies. This can only be seen in Sanya Bay as fishing has been forbidden in Dadonghai and Asian Dragon Bay. Besides the bays there is also Wuzhizhou Island, which is in Haitang Bay, north of Sanya City. A gorgeous natural landscape combined with various tourist facilities and well-developed entertainment events provide a paradise destination.
The Nanshan Temple in Nanshan Culture Tourism Zone is located 40 kilometres (about 25 miles) away from the west of Sanya City, and is certainly worth visiting. It is the most famous Buddhist temple in Hainan Province and faces the South Sea, encircled by mountains on both its sides.
Sanya Hotels
If you are planning a Sanya holiday, have a look at some of the accommodation that we recommend. 'Our Rating' indicates how we feel each property rates according to normal Western hotel standards. 'Local Rating' indicates how the property is categorised/rated locally:
For all our tours and tailor-made holidays we provide you with a clear categorisation of all hotels we use. The REGIONAL CATEGORY indicates the local rating of each hotel in each respective country. We have also rated each hotel using OUR CATEGORY, which will be in line with generally accepted western hotel grading standards.
Simple
Basic hotels and simple accommodation is a no frills option with an adventurous authentic feel.
Standard
Standard accommodation equates to a Western 3-star standard, always featuring en-suite rooms and usually a restaurant.
Superior
Superior accommodation equates to a Western 4-star standard, featuring en-suite rooms and usually a restaurant and often a swimming pool and/or a fitness centre.
Deluxe
Deluxe accommodation equates to a Western 5-star standard, usually featuring spacious, en-suite rooms, a restaurant, swimming pool and fitness centre and an array of amenities, excellent service and customer care.
Lavish
Lavish accommodation equates to a Western 5-star plus standard - the creme de la creme. Featuring spacious, en-suite rooms, a restaurant, swimming pool and fitness centre and an array of amenities, this accommodation is a cut above the rest. Sheer opulence!
Sanya Tailor made suggestions
Here are some of the recent tailor made itineraries we have created for our clients which include a visit to Sanya.