Costa Rica Tours
The tiny nation of Costa Rica is a peaceful and staggeringly beautiful oasis located along the narrowest strip of Central America.
Bordered by the Caribbean Sea and the Pacific Ocean the country boasts idyllic white-sand beaches with world-class surf waves and colourful marine life. Being one of the most biologically diverse places on earth and nestled between Nicaragua and Panama, the landscape in beautiful Costa Rica varies from smouldering volcanoes, lofty mountains to lush cloud forests and marshy low lands with and a rich variety of flora and fauna as well.
With a range of guided group tours as well as classic private itineraries of Costa Rica, we hope to welcome you on holiday soon.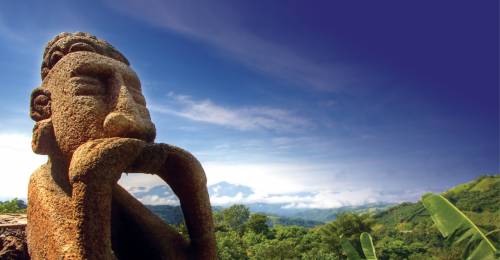 Styles of Travel to Costa Rica
As the locals say, Pura Vida!
A paradise for nature lovers
Costa Rica's tropical forests are home to screeching howler monkeys, sleepy sloths, toucans and the elusive jaguar. Spot the stars of Costa Rica's incredible animal kingdom in the misty Monteverde Cloud Forest, Manuel Antonio and Tortuguero National Park. Watch glowing lava flow from the Arenal Volcano and take a dip in the nearby springs. Relax on the pristine beaches of the Manual Antonio National Park, watch hatchling turtles along the coast of Tortuguero and hike along the coastal rainforest of Corcovado.
Costa Rica Group Tours
Discovering both key highlights as well as hidden gems off the beaten track, our small group tours of Costa Rica are escorted by a tour leader. Using local public transport and staying in a range of locally owned simple hotels, guesthouses, homestays and jungle lodges, you'll be assured of a truly authentic travel experience in Costa Rica, getting to know local people along the way.
On our private tours tour take in the key highlights of Costa Rica, including the capital city of San Jose, iconic Arenal volcano and spectacular Manuel Antonio National Park. Visit the Orosi Valley, encounter stunning wildlife in Tortuguero National Park & Monteverde Cloud Forest and dip your toes in either the Caribbean Sea on Costa Rica's east coast or the Pacific Ocean on the west.
Costa Rica tour reviews
Scoring an average traveller rating of 4.2 out of 5 based on 5 recent reviews — See All Costa Rica Reviews
Travelling on a tour to Costa Rica
Discover the wonders of Costa Rica's national parks and Pacific Coast on one of our group tours or private tours to Costa Rica. We also offer a range of optional activities on our group tours in Costa Rica, from canopy zip-lining and white water rafting to river kayaking, snorkelling and scuba diving. If you are looking for a longer tour, we recommend exploring the country's tropical Caribbean Coast and crossing into neighbouring Panama, with its beautiful beaches, reefs of Bocas del Toro and Panama City, home to the world's most famous canal.
When I travelled to Costa Rica I felt
Fantastic
"I like to travel, especially over the winter months. I live in the interior of BC, Canada. Our summers are warm and very pleasant. I ride horses to I..."
by Claire Christensen
Posted on 09 Sep 2015
Read More >
Costa Rica Tours: Our Top Picks
Our Top Pick for Costa Rica
#1 Monteverde
The spread-out village of Monteverde enjoys a prime location between the two cloud forests of the Santa Elena Reserve and the famed Monteverde Cloudforest Reserve. With a number of European mountain-style resorts, the is...
Read More >
"
Becky was excellent throughout, giving support and advice where needed but also giving us space to enjoy ourselves. The main towns that we visited were also great. "
Costa Rica Travel Guide
From visas to food, money to weather, there's plenty you need to know before you go so here's our essential guide on travel to Costa Rica.
Get to know Costa Rica
Recommended Reading
The Ticos: Culture and Social Change
by Richard Biesanz
Mamita Yunai
by Carlos Luis Fallas
Tropical Nature
by Adrian Forsyth
Did you know...?
Facts about Costa Rica
Costa Rica is host to more than 5% of the world's biodiversity with 20,000 different kinds of spider alone!
The country claims a 96% literacy rate with classes taught over national radio for poorer communities.
Costa Ricans have at least a dozen terms for rain - from drizzly pelo de gato (cat hair) to a baldazo or aguacero (downpour).