Cuba Tours
Rich in culture yet economically poor, the island of Cuba is a beguiling mix of lavish colonial architecture, fascinating history and revolutionary chic.
It's the largest island of the Caribbean and also its most diverse, with a multitude of faiths and ethnic backgrounds - a diversity which is reflected in the country's vibrant culture, arts and music.
Due to its political isolation, Cuba still remains largely undiscovered, retains a unique local charm and truly authentic feel - and is definitely one of our top picks for 2015!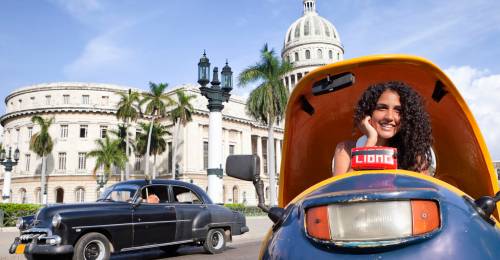 That distinctly Cuban vibe
The very best of culture and beach
Cuba's turbulent history can be felt everywhere from the magnificent Spanish buildings and cobblestone streets to the imposing Communist squares and Afro-Caribbean towns that pulsate with a distinctly different vibe. Much of the island's allure also lies in its beaches fringed by colourful reefs & crystal waters and its verdant landscapes of plantations and mountains.
Cuba Group Tours
Immerse yourself in Cuba's distinct character on one of our adventure-style group tours that use public transport to get around and stay at locally-owned properties and casa particulares, private homestays run by local families. With a maximum group size of 16 our tours are big enough to enjoy a sociable experience and small enough to get the most out of travelling with a knowledgeable tour leader. We also offer a range of optional activities and excursions so you can enjoy Cuba to the fullest.
Cuba tour reviews
Scoring an average traveller rating of 5 out of 5 based on 1 recent reviews — See All Cuba Reviews
Travelling on a tour to Cuba
Discover for yourself why Cuba is one of the Caribbean's top destinations. See the best of Cuba from the exuberant capital of Havana to the dramatic landscape of the Vinales Valley, where tobacco growing has changed little over the years. Relax on the stunning beaches of Playas del Estes, soak up the Afro-Caribbean flavour of Trinidad and explore towns built to repel pirate invaders with a labyrinth of streets.
When I travelled to Cuba I felt
Exhilarated, Energised and Frustrated.
"Cuba's unlike anywhere I have travelled. Caught between the then & now, colourful, crumbling, complex & challenging, it's full of contradictions & of..."
by Bronwyn McGee
Posted on 25 Sep 2015
Read More >
"
Our tour was amazing, lived up to and exceeded all of our expectations. Our tour leader is what made the difference, the knowledge he was able to share with us about his beautiful country was invaluable."
Cuba Travel Guide
Ensure you're properly planned for your trip to Cuba with our practical guide on everything to visas to weather.
Get to know Cuba
Recommended Reading
Enduring Cuba
by Zoe Bran
Waiting for Snow in Havana
by Carlos Eire
Trading with the Enemy
by Tom Miller
Did you know...?
Facts about Cuba
Cuba is the largest island in the Caribbean and includes more than 4,000 islands and cays.
There are no animals or plants in Cuba that are poisonous or lethal to humans.
Christmas was dropped as a holiday in 1969, when the Cuban government was pushing for a record sugar harvest.