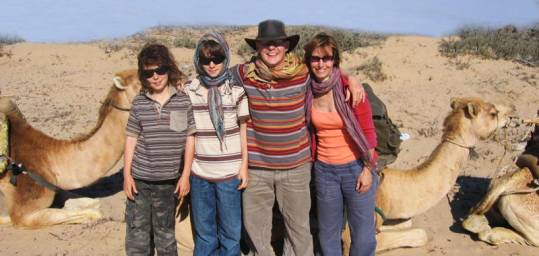 Fun Family Tours & Adventures
Want a family holiday with a difference? Take a look at our tours below, that cater specifically for parents travelling with young adults and children 5 to 16 years of age. Excursions have been carefully planned, transport is comfortable and clean, and hotels have been specifically chosen for their family friendly facilities. For example, all of our hotels in Egypt have a swimming pool, ensuring kids are kept entertained during free time, and allowing grown ups time to relax.
These family tours include a range of cultural, historical and active experiences to tantalise even the youngest traveller; whether it's riding a camel at the Pyramids, or sailing onboard a felucca in Aswan, climbing the Great Wall and flying kites in China or camping out in the Sahara Desert in Morocco!
Our family itineraries include an arrival day with no scheduled activities, allowing time for all the family to settle into the new environment and offer extra free time throughout the itinerary and on the last day for relaxation, fun in the sun and souvenir shopping. Travelling with On The Go, we'll take care of all the finer details to make sure you have a family holiday to remember!
Family Friendly Group Tour Departures
In addition to our family tours above we also offer a selection of 'family friendly' departures on some of our popular India group tours and African safaris. These are standard touring itineraries which welcome, but are not solely for families.
India is a fascinating place for teenagers to visit, there are elephants and tigers, forts and palaces, train journeys and rice boats, camel treks across vast deserts and tropical beaches. The minimum age on our group tours is 16, so for families with young adults, these are a good choice for a holiday with that extra bit of adventure. We also offer family friendly departures on a handful of our group tours for children aged 12 and above.
Take your tribe out to Africa - nature's playground! For a family holiday with a difference try one of our Southern Africa overland safaris that welcome parents with children aged 7 - 17. Nothing compares to seeing wildlife up close in its natural habitat and these action packed adventures are guaranteed to keep your little monkeys entertained! We also welcome children over 12 on the majority of our Africa Lodge Safaris
With regards to other destinations, we will always try our best to accommodate families whenever possible, although it is not always feasible on group tours. If in doubt, please contact us and we'll be happy to advise which of our tours can cater for families.
Other tours suitable for families
In addition to our specific family tours, the Jewel of the Nile group tour and Pyramid City weekend package in Egypt and the Expo in Shanghai and Chinese New Year in China, are also family-friendly and suitable for a younger audience. As are our range of Himalaya group tours, Sri Lanka private tours and Trans-Siberian adventures.
Private Journeys
Our private journeys in Jordan, Egypt, Africa, China, India, Morocco and Russia are also perfect for taking your little tribe abroad and if you still don't find what you are looking for, we are also more than happy to tailor-make a holiday, specific to your requirements. Please see our tailor-made section for further information.