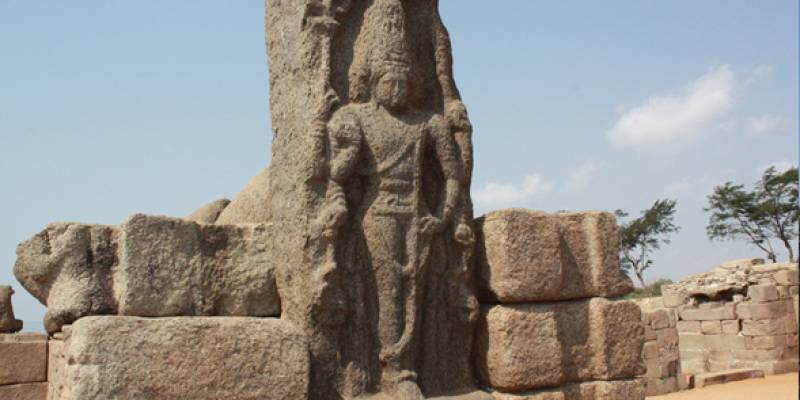 Tailormade Holidays and Tours To South India
Mahabalipuram
Mahabalipuram Tailormade Holidays
Mahabalipuram is one of history's intriguing enigmas. The ancient Mamallapuram, as Mahabalipuram was formerly known, was a flourishing port town of the Pallava rulers of south India, who chiseled in stone a fabulous "open-air museum" of sculpture. Experts say that there were seven pagodas or temples on the shores of Mahabalipuram. All but one were pillaged by the rapacious sea, though there is little underwater evidence that suggest they ever existed.
The Varaha Cave, a small rock-cut mandapam (hall), is a faceted and finished gem with four panels of the famous Pallava doorkeepers who wear an expression of "pious rapture," as Heinrich Zimmer, a leading expert on Mahabalipuram put it. In the Mahishamardini Cave, the Somaskanda sculpture radiates peace, power and wisdom while Lord Vishnu in omniscient repose is a masterpiece of dhwani (the art of suggestion) perfected by the Pallava sculptor.
Arjuna's Penance, perhaps the world's largest bas-relief and is, according to legend, believed that King Bhagiratha had to bring down to earth the celestial Ganga to purify and redeem the cursed souls of his ancestors.
The five rathas (chariots) are architectural precursors of the temples of south India. The smallest and the simplest is the Draupadi ratha and the largest is the multi-storeyed Dharmaraja ratha scoped from a monolithic rock. However, it is the Shore Temple that evokes the spell of Mahabalipuram. A three-in-one abode of god, a Vishnu temple sandwiched between two Shiva temples, it is quite stunning.
To get you started with planning your holiday to Mahabalipuram, we have showcased below some popular itineraries requested by our clients which we hope will inspire your visit to India Great Southern Getaway
15 days FROM $5,939
Discover exotic stone carved temples, princely palaces and colonial hill stations. Take a train journey on the scenic Blue Mountain Railway, cruise the backwaters of Kochi and spot elephant from your jungle hide-away at both Mudumalai and Nagarhole National Parks.
Tailormade Holidays to Mahabalipuram
On the Go are expert at planning holidays in India — tailored to suit your individual requirements. Please have a look at some of the tailormade itineraries below that we have created for our clients which include Mahabalipuram. Chariot Beach Resort, Mahabalipuram
The Chariot Beach is a beautiful resort set in tropical gardens. The rooms are all a good size and simply furnished. GRT Temple Bay, Mahabalipuram
GRT Temple Bay is a pretty resort-style property on the beachfront. With immaculately maintained grounds the hotel is set back from the road. Some rooms have a great view of the Shore Temple too. Ideal Beach Resort, Mahabalipuram
The Ideal Beach is a lovely resort set in lush, tropical gardens. The rooms are stylishly furnished and a good size.
For all our tours and tailor-made holidays we provide you with a clear categorisation of all hotels we use. The REGIONAL CATEGORY indicates the local rating of each hotel in each respective country. We have also rated each hotel using OUR CATEGORY, which will be in line with generally accepted western hotel grading standards.
Simple
Basic hotels and simple accommodation is a no frills option with an adventurous authentic feel.
Standard
Standard accommodation equates to a Western 3-star standard, always featuring en-suite rooms and usually a restaurant.
Superior
Superior accommodation equates to a Western 4-star standard, featuring en-suite rooms and usually a restaurant and often a swimming pool and/or a fitness centre.
Deluxe
Deluxe accommodation equates to a Western 5-star standard, usually featuring spacious, en-suite rooms, a restaurant, swimming pool and fitness centre and an array of amenities, excellent service and customer care.
Lavish
Lavish accommodation equates to a Western 5-star plus standard - the creme de la creme. Featuring spacious, en-suite rooms, a restaurant, swimming pool and fitness centre and an array of amenities, this accommodation is a cut above the rest. Sheer opulence!
Inspired?
Our team is standing by to help build your perfect Indian Subcontinent itinerary
Create Your Holiday