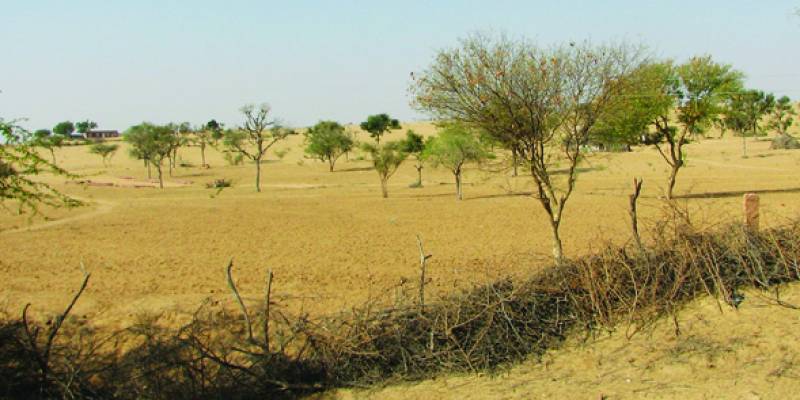 Tailormade Holidays and Tours To India: Rajasthan
Manvar
Manvar Tailormade Holidays
Set in the heart of Great Indian Thar Desert, Manvar lies between the cities of Jodhpur, Jaisalmer & Bikaner. It offers a rare opportunity to enjoy Rajasthan's desert life, culture, wildlife and beauty.
Manvar enables you to experience the adventure of being "off the beaten track" among the colorful desert people of Rajasthan. There are no grand sights but that is the point; here you will see a Rajasthan where way of life little-changed over the centuries. The journey into the desert is an opportunity to come in proximity of village life in one of the harshest conditions of the world.
The desert landscape is spellbinding. For miles altogether, there is nothing, but from this aridness groups of women appear and disappear in their colourful clothes, apparently going nowhere. For sheer excitement, an outing in a rugged four - wheel drive vehicle cannot be beaten. Camel treks give an opportunity to see the splendour of the Thar Desert.
Close by is Khichan, where thousands of migratory birds come every year from October to March . The villagers of Khichan have a very special relationship with these birds. During the winter season, over 8,000 - 10,000 birds can be seen at Khichan. This phenomenon was nurtured by one villager by the name of Ratan Lal Malu Jain, who began to feed these birds twice a day, several years ago. As the number of birds began to increase, he sought the help of his fellow villagers, who rallied to 'adopt' these birds.
Tailormade Holidays to Manvar
On the Go are expert at planning holidays in India — tailored to suit your individual requirements. Please have a look at some of the tailormade itineraries below that we have created for our clients which include Manvar.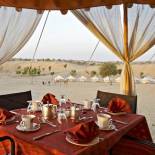 Manvar Camp, Manvar
Located 6 kms from the resort these tents are colorfully decorated, safari-style arranged in a semi-circle around a central 'durbar' Hal.
For all our tours and tailor-made holidays we provide you with a clear categorisation of all hotels we use. The REGIONAL CATEGORY indicates the local rating of each hotel in each respective country. We have also rated each hotel using OUR CATEGORY, which will be in line with generally accepted western hotel grading standards.
Simple
Basic hotels and simple accommodation is a no frills option with an adventurous authentic feel.
Standard
Standard accommodation equates to a Western 3-star standard, always featuring en-suite rooms and usually a restaurant.
Superior
Superior accommodation equates to a Western 4-star standard, featuring en-suite rooms and usually a restaurant and often a swimming pool and/or a fitness centre.
Deluxe
Deluxe accommodation equates to a Western 5-star standard, usually featuring spacious, en-suite rooms, a restaurant, swimming pool and fitness centre and an array of amenities, excellent service and customer care.
Lavish
Lavish accommodation equates to a Western 5-star plus standard - the creme de la creme. Featuring spacious, en-suite rooms, a restaurant, swimming pool and fitness centre and an array of amenities, this accommodation is a cut above the rest. Sheer opulence!
Inspired?
Our team is standing by to help build your perfect Indian Subcontinent itinerary
Create Your Holiday