To get you started with planning your holiday to Rishikesh, we have showcased below some popular itineraries requested by our clients which we hope will inspire your visit to India Lord Curzon Trail
12 days FROM $2,199
A wonderful trek through beautiful countryside, following a trail that winds through a series of pastures and shepherd camps, with superb views of the Indian Himalayas and the crossing of the Kauri Pass where views can be had of towering Nanda Devi (7816m). Ananda Spa
4 days FROM $2,899
Set amongst virgin forest in the Himalayan foothills, Ananda Spa is ranked in the top 10 Spa Hotels of the world and offers total rejuvenation in an environment of peace, solitude and luxury.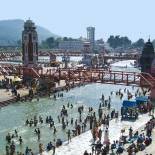 Rishikesh
4 days FROM $599
Gaining instant fame as the site where 'The Beatles' travelled to visit their guru, Rishikesh is an ideal place to meditate, study yoga or simply relax. This tranquil town is surrounded by beautiful mountains and bisected by the mighty Ganges.