Israel Tours
With a long coastline on the eastern Mediterranean Sea and a small window onto the Red Sea at the Gulf of Eilat, Israel offers restful beach breaks as well as a fascinating history. The three major monotheistic religions – Christianity, Islam and Judaism – all have ties to the region and the Holy Land is home to a vast mix of culture, making it a fascinating destination.
We offer a range of travel styles to Israel including group tours, private tours and tailor-made holidays. We also recommend combining a holiday to Israel with a tour of nearby Egypt and Jordan.
Israel
with On the Go Tours
Local tour guides
Lots of authentic experiences
Combo tours with Jordan and Egypt
3-4 star hotels
Complimentary airport transfers
Free time to explore on your own
Lots of local experiences
Get the true local flavour
Travelling beyond the sites, we've included a few interesting experiences on our guided group trips to Israel - walk the Via Dolorosa to the Church of the Holy Sepulchre, head for the sandy white beaches of Tel Aviv, discover mouthwatering Middle Eastern mezzes, tape a dip in the mineral rich Dead Sea and try you hand at a pavement side game of backgammon.
Styles of travel to Israel
On our group tours to the Holy Land you can visit all the key sites, from Jerusalem, Bethlehem and Tel Aviv, to the Dead Sea, Sea of Galilee and Nazareth. We also have a selection of group tours to Israel that include a visit to neighbouring Jordan and nearby Egypt too. With departures all year round, carefully planned itineraries, exciting sights and comfortable 3-4 star hotels the Holy Land is calling.
Our specialist travel consultants will create a bespoke tour tailored to your exact requirements, featuring your pick of quality hotels, the places you'd like to see and the experiences you'd like to have. Creating your dream holiday is our prerogative, so let us know when you'd like to go, your time-frame and budget, and we'll take it from there.
With private transportation, quality hotels and your own personalised local tour guide, exploring Israel has never been so simple. If group travel isn't quite your thing, our private Israel tours might be just the ticket. Discover the sacred cities of Jerusalem, Bethlehem and Nazareth, float in the Dead Sea and admire the beauty of the Sea of Galilee.
Israel tour reviews
Scoring an average customer rating of 4.75 out of 5 based on 12 recent reviews — See All Israel Reviews
Highlights of a tour to Israel
We offer group tours and private tours of Israel, including Nazareth, Galilee, Bethlehem and Jerusalem. With its colourful bazaars, tiny winding alleys and legendary sites like the Wailing Wall and the Church of the Sepulchre, exploring [Jerusalem is like taking a step back in time. Israel is also known for its diverse and picturesque landscapes, from the Negev Desert in the south to the mountain ranges of Galilee, Carmel, Golan and the impressive Great Rift Valley and it offers a wonderful range of attractions. Nothing quite beats a bit of beach time R&R at the end of a cultural tour and we recommend combining a tour of the Holy Lands with a few days at Eilat on the Red Sea of a spa at famed buoyant Dead Sea.
When I travelled to Israel I felt
Inspired
"We are all related. Travel reconnects our human family."
by Carole Jorgensen
Posted on 31 Jul 2015
Read More >
Recommended places to visit in Israel
Holy City
Jerusalem
At the forefront of Christianity, Judaism and Islam, Jerusalem is one of the oldest cities in the world and brimming with sacred sites, historic monuments and remarkably well-preserved architecture. Must-see sights include the beautiful Old City, stunning 7th century Dome of the Rock, revered Wailing Wall, Church of Holy Sepulchre, plus the amazing views from Mount of Olives.
Arab Capital
Nazareth
Best known as the home of Jesus and the Virgin Mary, Nazareth contains a number of Christian holy sites. The Old City has a charming architectural beauty with narrow cobbled lanes just begging to be explored, while modern day Nazareth on the other hand is a vibrant Arab city with a small town feel. Make sure you visit the Basilica of the Annunciation, St Gabriel's Church and the Greek Catholic Synagogue-Church.
The White City
Tel Aviv
Arguably the trendiest destination in The Middle East, Tel Aviv is where you'll find modern art galleries, cool cafes, artisan boutiques, fine dining and wonderful theatres. Set on a gorgeous stretch of the Mediterranean coast, this ever-changing metropolis is Israel's cultural capital but despite its modern vibe you can still discover remnants of its ancient past in Old Jaffa, just south of the city.
Pilgrimage site
Sea of Galilee
Best known for its Gospel associations with Jesus Christ, the Sea of Galilee is a natural pilgrimage sites for Christians, but there is so much more to it. As the largest freshwater lake in Israel with beaches, hiking trails and water sports, the area is also a prime recreational spot. Travellers will find the ancient fishing village of Capernaum and the holy city of Tiberias on its shores too.
Bob like a cork
Dead Sea
Once one of nature's best kept secrets, today the buoyant waters of the Dead Sea attract throngs of travellers every year in search of its therapeutic properties and astounding beauty. No trip to Israel would be complete without rejuvenating body and soul here – bob in its warm turquoise waters, slap on some mineral-rich Dead Sea mud and while away the day.
Birthplace of Jesus
Bethlehem
Nicknamed the City of David, Bethlehem is known as the cradle of biblical history and no visit to Israel would be complete without a stop here. The focal point of the city is Manger Square, where you can find the famous Church of Nativity, which Christians have long believed marks the site where Jesus Christ was born.
"
Hi Sarah. In between holidays at the moment (isn't life a bore :-). Had an absolutely wonderful and exhilarating time in Israel and the trip went beyond my expectations. The guide, Marc, was brilliant and extremely knowledgeable, and the small group of 14 got on famously, despite the varying age group (20 - 86) and nationalities. We were very lucky indeed. All in all though a most memorable trip, and I would definitely travel with On The Go Tours on a future occasion. "
The Inside Track
Our Latest Updates from across the globe
Video of the Week
Jerusalem: The Holy City
June 19, 2015 • OTG Team
With 5000 years of history, Jerusalem is an ancient city venerated by the three great monotheistic ...
Read Full Story
Video of the Week
Inspired by Israel
December 19, 2014 • OTG Team
In this week's video pick two brothers travelled to Israel to uncover all that it has to As ...
Read Full Story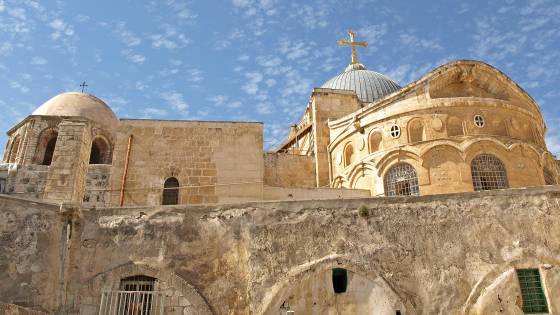 Photo Showcase
Top 10 things to do in Israel
April 16, 2014 • OTG Team
Israel is both fascinating and beautiful, rich in culture, steeped in history and home to some of at...
Read Full Story