Israel Private Tours
If you prefer not to travel as part of a group, experience the Holy Lands on your own private tour or alternatively enjoy an Israel holiday tailored exclusively to the needs of yourself and your family or friends. With private transportation included, a choice of high quality hotels and experienced local guides to show you around all of the key sites, plus local representatives available to offer further assistance should you require it, we're here to give you a truly unforgettable holiday to Israel.
Local tour guides
Lots of authentic experiences
See the real Israel
Upgrade hotels as required
Our group tours can be done on a private basis too
Top sites and hidden gems
Travel at your own pace
Free time to explore on your own
Tours depart on any day
Expert advice from our well-travelled team
Our Private tours to Israel
Tel Aviv & Jerusalem
4 days | FROM USD $879
Take a break in Tel Aviv, Israel's largest and liveliest city, draped along the beautiful Mediterranean Coast and explore the sites of holy Jerusalem, one of the world's oldest and most revered cities.
Countries Visited: Israel
Galilee to The Dead Sea
8 days | FROM USD $5,299
Private Tour. Starting in Tel Aviv, spend 8 days taking in the sites of Israel - from The Dead Sea and Jerusalem to the Golan Heights and Nazareth, take in all the key sites of this biblical land.
Countries Visited: Israel
Recommended highlights of Israel on a private tour
As well as being a site of pilgrimage, the Sea of Galilee also offers a host of outdoor adventures in a gorgeous setting. The Dead Sea is well known for its therapeutic waters and a perfect spot for a bit of spa pampering and rejuvenation. If some downtime and R&R on golden sands appeals, Israel's Mediterranean shoreline offers beautiful beaches and coastal charm. It would be a sin to miss Tel Aviv (no pun intended!) - a cultural and vibrant beach-side city that never sleeps, renowned for its lively nightlife, wonderful entertainment, arts, festivals and gastronomy.
The Inside Track
Our Latest Updates from across the globe
Video of the Week
Jerusalem: The Holy City
June 19, 2015 • OTG Team
With 5000 years of history, Jerusalem is an ancient city venerated by the three great monotheistic ...
Read Full Story
Video of the Week
Inspired by Israel
December 19, 2014 • OTG Team
In this week's video pick two brothers travelled to Israel to uncover all that it has to As ...
Read Full Story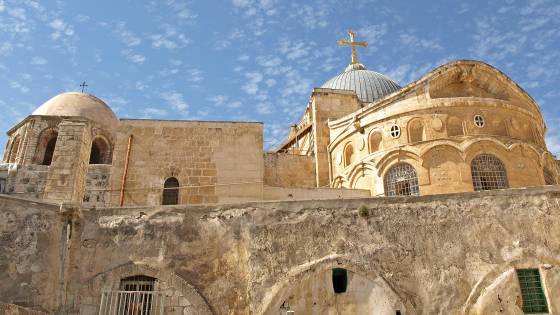 Photo Showcase
Top 10 things to do in Israel
April 16, 2014 • OTG Team
Israel is both fascinating and beautiful, rich in culture, steeped in history and home to some of at...
Read Full Story