Visit Japan!
Land of the Rising Sun - 14 days
Explore Tokyo, Kyoto & Hiroshima, learn how to prepare Japanese cuisine, visit mountainous Hakone, cycle through rural Hida and spend the night on Miyajima Island.
View Tour
Japan Tours
Japan is a charming confluence of new and old. From glimmering skyscrapers and flashing neon lights, to Geishas and quaint traditional tea shops, Japan's distinct character sets it apart from the rest of Asia. Whether bedding down for the night in a traditional inn, sitting on a woven mat eating sushi or soaking in a natural hot spring, Japan offers travellers a unique cultural experience unlike any other. We offer exciting Japan festival group tours as well as private tours that you can take at your own pace and tailormade holidays perfectly put together just for you.
Award winning tours
Guaranteed departures
3-4 star hotels
Local tour guides
Lots of authentic experiences
Complimentary arrival transfer
See the real Japan
Festivals and all the best sites too
Cherry Blossoms
Unique Local Experiences in Japan
Japan is simply stunning during the beautiful Cherry Blossom season and a perfect time to visit. You'll also get to travel beyond the sites on our tours of Japan and immerse yourself in the local way of life - try your hand at cooking Tempura and Chicken Teriyaki at a local cooking class, sip a cup of Japanese tea with a Geisha in Kyoto, take a dip in a traditional Japanese onsen or spend a night in a traditional Japanese inn - a Ryokan.
Highlights of or Japan Tours
In Tokyo, discover a capital city hurtling headlong into the future as the crux of the latest trends, hippest fashions and must-have gadgets. And in Osaka, the country's second city, uncover trendy restaurants, cool bars and unrivalled nightlife amongst the city's skyscrapers. In the culturally rich city of Kyoto, sacred shrines can be found tucked in among shopping arcades, time-honoured tea houses nestle among modern businesses and the traditional Geisha can be found in the historic Gion district.
When I travelled to Japan I felt
Super happy and warm!
"I love to travel. Now that I have a 1 year old, I intend to continue travelling. I think theres nothing more invaluable than seeing the world and..."
by karina lee
Posted on 25 Jul 2015
Read More >
Our Top Pick for Japan
#1 Kyoto
Kyoto is one of the most culturally rich cities in Asia. Home to 17 UNESCO World Heritage sites, over 1,600 Buddhist temples and 400 Shinto shrines, this ancient city showcases the heart and soul of traditional Japan. an...
Read More >
More about our tours to Japan
Japan Tailor made Holidays
Japan's distinct character sets it apart from the rest of Asia and there's so much to see and do here. Highlights include Tokyo, historic Kyoto, chic Osaka, the stunning Japanese alps, Hiroshima, picturesque Miyajima Island and of course, iconic Mount Fuji in Hakone National Park. Tell us where you want to go and what you want to see and we'll put together a tailormade itinerary to Japan designed especially for you.
Japan Festival Tours
For something extra special, why not check out one of our small group festival tours, timed perfectly to coincide with the festivities of cherry blossom season in spring, the changing of the leaves and the Takayama Festival in autumn, and the snow-covered wilderness of Japan's northern island come winter at the Sapporo Snow Festival.
Japan Private Tours
Join us in Japan on one of our four private tours. Given Japan's excellent transport system, getting around is fairly hassle free and easy to combine a wealth of cultural sights and experiences in one tour. Whether you'd like to shop in Tokyo, experience Osaka vibrant nightlight, meet geishas in Kyoto or soak in a hot spring in Kinosaki Onsen - our private tours take in most of the highlights of Japan. Alternatively, we'd be happy to create a tailormade holiday to Japan for your specific requirements.
Travel beyond the city lights
A high speed rail journey out of the city reveals another side of Japan, one that is often missed by those passing briefly through this fascinating country. Beyond the city lights spectacular scenery and otherworldly landscapes abound, be it the spectacular Japanese Alps, colourful coral reefs of Okinawa or the forested mountains of Kyoto.
With a bounty of regional specialities and world-class restaurants, food lovers will discover culinary paradise in Japan's extraordinary cuisine. Whether you want to sample sushi – the country's most famous dish, opt for a tasty bowl of udon soup paired with deep fried tempura or try raw horse – a local delicacy in Matsumoto, washed down with a healthy serving of sake, the choices are endless.
"
We have loved every minute of the tour. It was a surprising mixture of discovering Japan. The information provided by the tour operator was perfect. We know exactly what to do when and every ticket was already there. nice hotels and very knowledgable and flexible guides. We highly recommend this tour."
The Inside Track
Our Latest Updates from across the globe Festivals and Events
Let it snow in Sapporo
December 29, 2014 • OTG Team
For seven days every February the capital of Hokkaido, Japan's wild northern island, transforms a ...
Read Full Story
Video of the Week
Love Japan
October 17, 2014 • OTG Team
Often when we think of Japan the first thing that springs to mind is Tokyo, a buzzing city that is ...
Read Full Story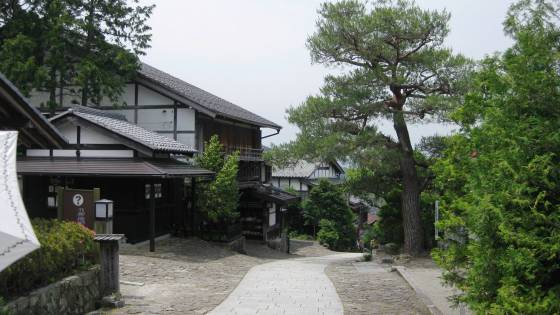 Photo Showcase
Konichiwa Japan
June 25, 2014 • OTG Team
Our very own Cherylyn Antao recently returned from a trip to Japan. In this week's photo she...
Read Full Story