Jordan Tours
Win a trip to Jordan for 2 with flights!
Jordan is perhaps best known for the lost city of Petra with its famous Treasury and Monastery. Delve deeper into Jordan and you'll find the red desert sands of Wadi Rum and the welcoming Bedouin tribes, the coral-filled Gulf of Aqaba, the healing waters of the Dead Sea, and Amman, Jordan's modern capital city.
Travelling with us, you'll see the very best of Jordan, be it on one of our group tours escorted by our expert local tour guides, or our range of private tours, star gazing events or a tailor made holiday. We also recommend combining a visit to nearby Egypt or Israel with your holiday to Jordan.
Jordan
with On the Go Tours
Local tour guides
Award winning tours
Combo tours with Egypt and Israel
2 day visit to Petra on all tours
Choice of travel styles
Complimentary airport transfers
Off the beaten Track
Experience the Jordanian way of life
Travelling on our on our guided groups, you get to camp out in Wadi Rum and experience Bedouin life, learn to cook traditional Jordanian food, buy seasonal fruits at road side stalls from local villagers, watch unleavened bread being made on an open fire and get off the beaten track and take the secret entrance into Petra.
Styles of travel to Jordan
Travelling on a group tour to Jordan with us you can relax with the knowledge that you'll be taken care of every step of the way. Escorted by an expert local guide with accommodation comfortable 3-4 star hotels, included airport transfers, lots of sightseeing at key highlights and hidden gems too, plus plenty of free time, we've got Jordan covered.
If you have something specific in mind and would like to create your own dream itinerary to The Hashemite Kingdom, then our team of tailor made consultants would be happy to arrange this for you. Having extensively travelled to the region themselves they can suggest sights, activities and experiences to be had, ensuring that your holiday to Jordan is one of a kind and tailored to you.
Consider doing something out of the ordinary this Christmas and New Year with a trip to Jordan on one of our special festive departures. Whether you want to wake up on Christmas morning in the Rose City of Petra, or welcome in the New Year under a blanket of stars in Wadi Rum, you are bound to go home having had a truly memorable Christmas or New Year - the perfect way to top off 2015!
With private transportation, a choice of high quality hotels and the personalised services of an experienced local guide to show you around, our private tours are the perfect way to explore Jordan if you don't want to travel as part of a group tour. See the key highlights and hidden gems of Jordan at your own pace for the holiday of a lifetime.
Jordan tour reviews
Scoring an average customer rating of 4.71 out of 5 based on 28 recent reviews — See All Jordan Reviews
See the best of Jordan with us
All our tours start in Jordan's vibrant capital Amman and we also include a visit to the Dead Sea as well as 2 nights in Petra, giving you lots of time to explore this amazing site.
Get off road in the vast red landscape of Wadi Rum and dance round a crackling bonfire, wander down the Siq and iconic Monastery of Petra by day, marvel at the brilliant starry sky above the facade of the Treasury by night; float in the buoyant waters of the Dead Sea; take in incredible views of the Promised Land from sacred Mt Nebo; explore medieval crusader castles or trek through the Dana Nature Reserve.
When I travelled to Jordan I felt
Peaceful
"Wadi Rum was one of the highlight of my trip to Jordan."
by Francis Deault
Posted on 04 Aug 2015
Read More >
Recommended places to visit in Jordan
The Lost City
Petra
Hidden away in a secluded valley amidst the mountainous Jordanian landscape, it is no wonder why Petra was lost to the world for hundreds of years before its rediscovery in the 1800s. With the winding narrow passage way of the Siq, impressive Treasury facade, a beautiful hilltop monastery and numerous other monuments you'll need at least two days at this impressive archaeological site. Plus why not visit at night, when the entire site is illuminated in the glow of candle light.
Red desertscape
Wadi Rum
Renowned for its sandstone landscape of mountains and valleys, natural arches, towering cliffs, narrow gorges and dramatic ramps and caverns formed over millions of years, the Valley of the Moon is nothing less than spectacular. The best way of experiencing Wadi Rum for yourself is by witnessing the sunset over the vast silent horizon and spending a night under the stars.
Roman ruins
Jerash
Dating back some 2000 years, the ancient town of Jerash is brimming with remarkably well-preserved ruins that are testament to its grandiose past as a thriving Roman hub. Colonnaded streets marked by chariots, the remains of a once magnificent theatre, public squares, ruinous temples and the impressive Arch of Hadrian are just some of Jerash's many treasures.
Capital city
Amman
Modern day Amman is a thriving Arabian city with two very different vibes. In the west you'll find trendy cafes and art galleries, bustling shops and coffee houses spilling into the streets, while in the east there very much remains a more traditional way of life and numerous ancient sites to explore. Both areas are well-worth discovering to see two different aspects of Jordanian city life.
Sacred site
Mt Nebo
Set in the relaxed town of Madaba in central Jordan, Mt Nebo is perhaps one of the most sacred sites in the entire nation. Believed to be where Moses first caught sight of the Promised Land, it offers incredible panoramic views of the Jordan River Valley as well as the northern shore of the Dead Sea. A trek up to the summit is well worth the huffing and puffing!
Red Sea relaxation
Aqaba
While there are so many intriguing historical sites to explore and cultural experiences to be had in Jordan, sometimes all one desires is a little R&R. If this is the case then look no further than the laid-back Red Sea city of Aqaba. Fringed with palm-trees and sandy beaches with gorgeous warm waters brimming with colourful coral reefs, a few days of relaxation here certainly won't go amiss.
Bob like a cork
Dead Sea
Whether you fancy bobbing like a cork or lathering yourself with mineral-rich mud on the shore, a visit to the Dead Sea is an absolute must for any trip to Jordan. The rugged coastline and buoyant blue waters of this popular site have been attracting travellers for centuries that come in search of its beauty and healing properties. Wade in and have a read while lazily floating across the horizon.
"
Greatest ever holiday I had. Touring around Jordan and celebrating New Year in Wadi Rum desert in Bedouin camp. We visited many places - Umm Qays, Jerash, Karak, Petra and Amman. We had the greatest tour guide - Ogla Nawafleh. Would highly recommend to anyone who wants to visit Jordan."
The Inside Track
Our Latest Updates from across the globe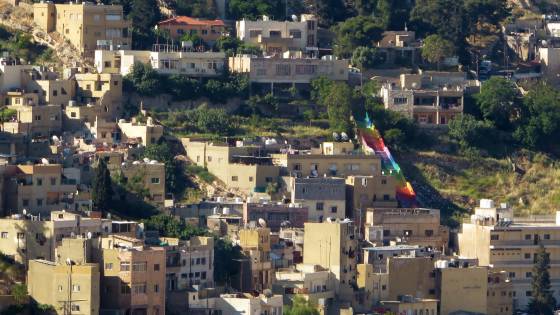 Photo Showcase
Extra time in Jordan
June 10, 2015 • Guest Bloggers
While the bustling capital of Amman, vast red desert landscape of Wadi Rum and the once lost city a...
Read Full Story News Tips and Trivia
Different views of Petra
May 25, 2015 • OTG Team
If I ask you to picture the country of Jordan, I can almost guarantee that one particular image to ...
Read Full Story Extra Time in...
Citadels, souks & museums in Amman
January 5, 2015 • OTG Team
If you've got an afternoon or evening to spare in Amman at the start or end of your tour, why to...
Read Full Story