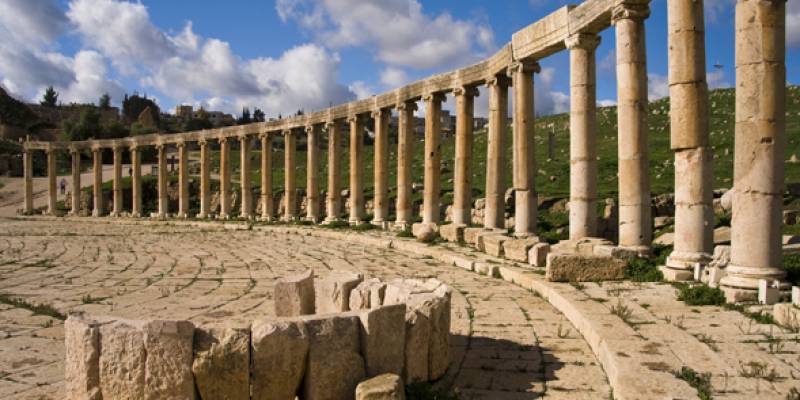 Tailormade Holidays and Tours To Jordan
Jerash
Jerash Tailormade Holidays
It is easy to make a day trip to Jerash from Jordan's capital. After all, Jerash is only around 45km north of Amman. Second only to Petra in tourist appeal, the 2,000 year-old Graeco-Roman ruins of Jerash which are set in the bowl of a well-watered valley are recognised as one of the best-preserved member cities of the Decapolis, a confederation of 10 Graeco-Roman cities.
When Emperor Hadrian paid a visit in 129 AD, the place was buzzing. The citizens threw up a Triumphal Arch for Emperor Hadrian, which still stands today. Exemplifying the finesse of Roman urban life, Jerash possesses a large number of striking monuments including Hadrian's Arch, an impressive Hippodrome which as a sports field once held up to 15,000 spectators (small by Roman standards when it is considered the Circus Maximus in Rome could accommodate 157,000!), two immense temples dedicated to Zeus and Artemis, a unique oval Forum which gracefully links the main north-south axis of Jerash, a colonnaded street paved with original stones and the rut marks of chariots, a nymphaeum replete with ancient fountains trimmed with dolphins, two theatres, one of which offers amazing acoustic abilities even today and an almost complete circuit of city walls. Most of Jerash's monuments were built by donations of the city's wealthy citizens. From AD350, a large Christian community lived in Jerash, and between AD400-600, more than thirteen churches were built, many with superb mosaic floors.
Thanks to expert excavation and great preservation, Jerash is a joy to visit and explore.
To get you started with planning your holiday to Jerash, we have showcased below some popular itineraries requested by our clients which we hope will inspire your visit to Jordan
Inspired?
Our team is standing by to help build your perfect The Middle East itinerary
Create Your Holiday