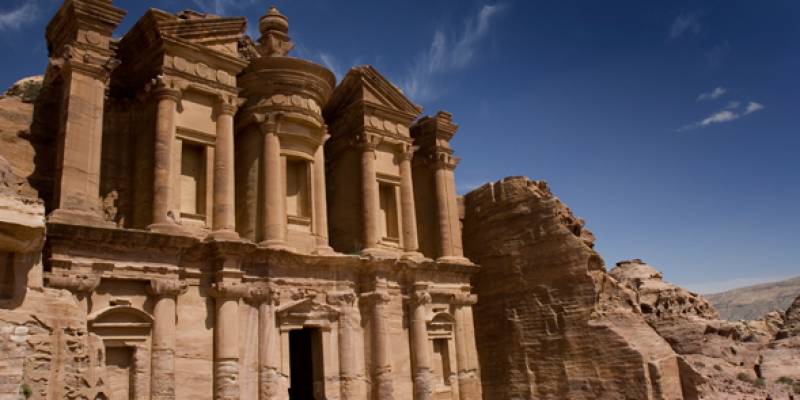 About Petra
A holiday in Jordan would not be complete without a visit to the remarkable rose city of Petra, which was once the thriving capital of the Nabataean empire. Nestled in a secluded valley surrounded by Jordan's rugged mountains, Petra was left deserted and hidden from the world for hundreds of years. After being rediscovered in the 1800s, the lost city of Petra is now not only Jordan's leading tourist attraction, it's also one of the world's most incredible archaeological sites, and was recently voted as one of the New Seven Wonders of the World.
Travel on foot or horseback down a towering narrow canyon known as The Siq to reach The Treasury, a magnificent facade carved deep into the rock face. Petra is home to over 800 registered sites including 500 tombs, an 8000 seat amphitheatre and a Roman rock carved street. The ancient capital's largest and most iconic monument is the Monastery which can be found at the top of a steep sandstone trail and is well worth the climb. Perhaps the most incredible way to experience the mystic splendour of Petra for the first time is by night, when the Treasury is illuminated by the glow of thousands candles on the floor and stars in the sky, accompanied by a backdrop of hauntingly beautiful Bedouin music.
Petra Tailor made suggestions
Here are some of the recent tailor made itineraries we have created for our clients which include a visit to Petra.