Kenya Safari Tours
Kenya boasts the most spectacular stretch of the Great Rift Valley, mighty Mt Kenya and the stunning savannah plains of the Masai Mara, Lake Nakuru with its flock of pink flamingos and a pristine Indian Ocean coast.
An undoubted highlight is Kenya's premier game reserve, the Masai Mara. Earning its name from the Masai tribes people and the Mara River which divides it, the reserve is famous for its exceptional population of game and the annual Great Migration of the wildebeest between August and October each year. The Masai Mara is perhaps most famous for its lions, though all the other members of the Big 5 roam the reserve too.
Kenya is a classic African destination, with wonderful safari opportunities and we offer a number of travel styles from adventurous overland style camping trips to lodge accommodated small group safaris as well as tailor made holidays.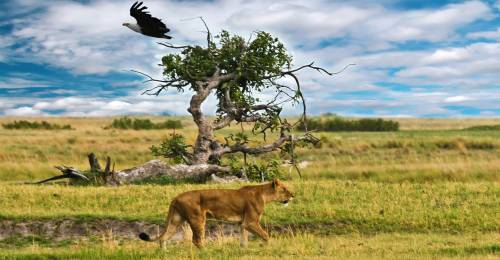 Styles of Travel to Kenya
Early Bird and Group Discounts
The FAB-FOUR special
Book any Overland Camping Safari as a group of 4 and you will each receive 7% off. Or take advantage of our early bird discount - book any Overland Camping Safari of 11 days or more, 6 months in advance and receive 5% off. Cannot be used in conjunction with any other offer and excludes our Mt Kilimanjaro Climb.
Overland Budget Accommodation Upgrade Available
Our overland safaris in Kenya cover some of Africa's finest national parks including the Masai Mara and Lake Nakuru. All our overland safaris are led by an experienced and passionate crew of three - a tour leader, driver and cook who have travelled extensively throughout the region and have the first-hand knowledge and skills to ensure you have a memorable and hassle-free holiday. Our tours include an airport arrival transfer, many of your meals, game drives, camping equipment and guiding - and at the end of your adventure you're bound to find yourself sharing tales of your travels over a cool Tusker beer with fellow travellers in Nairobi.
Kenya Lodge accommodated safaris
Our accommodated safaris are ideal if you prefer to tour in comfort with 3-4 star standard lodges, hotels and tented chalets used throughout and road travel undertaken by private European-standard vehicles. Group sizes are small with a maximum of 6 travellers and our experienced local guides accompany you from day 1. Discover the Big 5 and see the very best of Kenya or combine with a trip to neighbouring Tanzania.
Kenya Private Safaris
If you would like to experience Kenya at a more leisurely pace, fancy a little luxury or prefer not to travel in a group on a date of your choosing, our private safaris are just the answer. Visit Kenya's wildlife-rich national parks or head to Tanzania next door and visit the incredible Serengeti.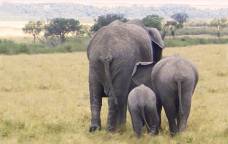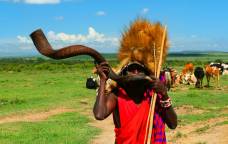 Explore Nairobi's sites and beyond with our selection of day tours - visit the intriguing National Museum and Snake Park, amble through vibrant local markets, visit the lovable elephant calves at the David Sheldrick Wildlife Trust and feed the gentle giants at the Giraffe Centre.
Kenya tour reviews
Scoring an average traveller rating of 4.67 out of 5 based on 15 recent reviews — See All Kenya Reviews
Travelling to Kenya with us
See the iconic red-robed, spear-clad Masai Warriors and other fascinating tribes, go in search of the Big Five and enjoy world class game viewing in the Masai Mara, Amboseli, Samburu and Tsavo, witness the astounding spectacle of the annual wildebeest migration and relax on pristine sun-drenched, white sand beaches in Mombasa and Malindi.
When I travelled to Kenya I felt
Free, peaceful, humble and absorbed
"Going on safari was nothing like I've ever done before. To see the animals free and wild, fending for themselves and thriving was a magnificent sight...."
by Samantha Mann
Posted on 04 Oct 2015
Read More >
Our top picks For a safari in Kenya
Our Top Pick for Kenya
#1 Amboseli
Amboseli National Reserve is at the foot of Mt Kilimanjaro, close to the Tanzanian border. Amboseli is one of the smaller reserves but it has a wide range of wildlife, even the endangered black rhino. Meaning a of in...
Read More >
"
I wanted to thank you to you, the team at "on the go tours" and the great tour managers/cooks in Africa.
My partner & I had an amazing, trouble free and no hiccups holiday. The staff on the tours were extremely knowledgeable, friendly, polite with amazing eye sights! "
Kenya Travel Guide
Plan for your safari in Kenya with our handy guide on travel essentials from when to go to what to expect.
Get to know Kenya
Recommended Reading
African Diary
by Bill Bryson
It's Our Turn to Eat
by Michela Wrong
A Grain of Wheat
by Ngugi wa Thiong'o
Did you know...?
Facts about Kenya
Despite producing some of the best coffee in the world, it is largely considered an export product and Kenyans prefer tea.
The first African woman to win the Nobel Peace Prize was Kenyan environmentalist Professor Maathai in 2004.
Paleontologists believe people may first have inhabited Kenya some 2 million years ago.