Kenya Tailor made Safaris
Whether you want to meet red-robed Masai Warriors, view world-class game in the Masai Mara or relax on the sun-drenched beaches in Mombasa, Kenya is a classically beautiful African destination.
When we plan a holiday for you our expert team of tailor-made consultants will put together an itinerary to suit your needs, incorporating your interests and passions with everything that you would like to see and do along the way, be it spotting wildlife on safari, meeting the locals or trying regional cuisine.

Itinerary Ideas
Generate some great itinerary ideas with our trip finder:
Places You Are Interested In:
Create Your Wish List
Our top picks for a holiday to Kenya
Most people come to Kenya to go on safari and there are a fantastic array of national parks from the big five rich Masai Mara to the flamingo haven of Lake Nakuru, Kenya's wildlife opportunities will fail to disappoint! Add to this the colonial gems of Karen Blixen's house in Nairobi and Elsemere near Naivasha and you've got the perfect African holiday. Below we've picked out some of the most popular spots in Kenya to inspire you.
The Masai Mara is a game reserve in south-western Kenya, which is effectively the northern continuation of the Serengeti National Park in Tanzania. Named for the Masai tribes people, who are the traditional inhabitants of the area and the Mara River, which divides it, the reserve is famous for its exceptional population of game and the annual migration of the wildebeest every September and October, a migration so immense to be called the Great Migration. Thousands of wildebeest die in the due a ...
Read More 
Lake Nakuru is a shallow soda lake, renowned for its huge concentration of flamingos and over 460 species of birds. Lake Nakuru National Park began in 1961 as a small protected territory, only encompassing the famous lake of the same name, and the surrounding mountainous vicinity. Now it has been extended to include a large part of the area's grassland savannahs and woodland slopes, and covers an area of roughly 188 km sq. Lake Nakuru itself is one of the Rift Valley soda lakes. The alkaline ...
Read More 
Lake Naivasha is a freshwater lake, unlike many in the region, which are soda lakes. The lake is shallow and the area varies depending on the rainfall, ranging from 114 to 990 square kilometres. Strong afternoon winds can cause the lake to get very rough quite suddenly. The local Masai called the lake Nai'posha, meaning "rough water", which the British later spelled incorrectly as Naivasha. The region was first settled in the 1930s by the notorious British 'Happy Valley' set who bought a ...
Read More 
Amboseli National Reserve is at the foot of Mt Kilimanjaro, close to the Tanzanian border. Amboseli is one of the smaller reserves but it has a wide range of wildlife, even the endangered black rhino. Meaning a "place of water" in Masai, Amboseli has an endless water supply filtered through thousands of feet of volcanic rock from Kilimanjaro's snow melt, which form into two water springs in the reserve. However, if the rainy season is particurlarly dry, Amboseli changes into a dusty plain in ...
Read More 
Apart from being Kenya's capital and the main centre of government and commerce, Nairobi is the most significant city in East Africa and an important player on the pan-African stage. It is the diplomatic base for many counties in Africa, with its broad spectrum of international embassies and headquarters for the United Nations, multi-national companies, non-government organizations (NGOs) and press correspondents. It's also the centre of the growing safari business of East Africa. Nairobi ...
Read More 
Samburu National Reserve is situated on the banks of the Ewaso Ngiro River in the dry northern Kenya. The river Uaso Nyiro is the lifeline and the nerve center of this Reserve and is bustling with a huge population of crocodiles. It can be entered via the Ngare Mare and Buffalo Springs gates. Once inside the reserve, there are two mountains visible: Koitogor and Ololokwe. All three big cats, lion, cheetah and leopard, can be found here, as well as elephants, buffalos and hippos. Also seen in ...
Read More 
Tsavo National Park is one of the largest parks in Kenya and indeed the world. At almost 22,000 km² Tsavo's diverse habitats, which range from forests and volcanic hills to vast open plains, savannahs, waterholes and rivers, are home to a wonderful variety of wildlife including the Big Five. The Tsavo West National Park is covered in volcanic cones, rocky outcrops and lava flows. Tall vegetation makes game spotting here a little trickier than in some of the other parks. The Big Five can ...
Read More 
Mount Kenya is the second highest mountain in Africa. It lies a few km away from the equator but is still heavily glaciated. Rising 5,199 meters above the sea level, Mt Kenya is one of the world's largest freestanding volcanic mountains; the volcano is extinct and the scenery is breathtaking. On expedition to Mt Kenya, you will find the scenic snow-capped peaks, magnificent cliffs and glaciers, spectacular waterfalls and valleys, and rolling slopes with thick forest cover. Mount Kenya has even ...
Read More 
Discover Nairobi
Most trips to Kenya start or end in the capital Nairobi and although you may be keen to get out of the city and into the countryside where all the amazing wildlife is, it isn't a bad idea to spend a couple of days here. There's plenty to do like the David Sheldrick Elephant Orphanage and Karen Blixen's house in the aptly named suburb of Karen as well as some great culinary delights like delicious nyama choma (barbecued meat) at Carnivores restaurant!
Inspirations for your safari to Kenya
Make your tailor made holiday to Kenya really special. Take a look at some of our unique things to do whilst visiting Kenya.
Take to the skies
Hot Air Ballooning in the Masai Mara
If you fancy a real African treat then why not take a hot air balloon safari over the Masai Mara? At first light you'll take to the African sky and soar above the Mara, spotting the animal's morning movements. Once your balloon ride is complete you return to earth and are greeted with a delicious champagne breakfast in the middle of the bush – an experience not to be missed!
Fancy a brew?
Tea at Joy Adamson's house
Home to the Born Free foundation – Elsemere is where Joy Adamson famously lived when she brought up Elsa the lion cub. Nowadays it is a place to walk around, learn about the foundation, have some tea and cakes and soak up a real authentic colonial Kenyan atmosphere. Located near Lake Naivasha it is a great place to visit when in the area.
Lofty retreat
Stay at Giraffe Manor
In one of Nairobi's leafy suburbs sits the famous Giraffe Manor – one of the city's most iconic buildings. Guests can spend the night here in true colonial style and enjoy breakfast with the giraffes – who will happily poke their ling necks through the windows for a peak and hopefully a taste of your breakfast! You can also learn lots about these giraffes at the AFEW Giraffe Centre across the lawn.
Is it an antelope is it a giraffe?
Spot Gerenuks in Samburu
In the centre of Kenya – 350km north of Nairobi sits Samburu National Reserve. Home to all manner of different African animals including the lesser seen Grevy's zebra, the reticulated giraffe, Kirk's dik-dik and the famous gerenuk! Gerenuk's necks are very long – hence their name means 'giraffe necked' and they browse rather than graze for food often standing on their hind legs to eat from trees!
Kenya: Top accommodation picks
For all our tours and tailor-made holidays we provide you with a clear categorisation of all hotels we use. The REGIONAL CATEGORY indicates the local rating of each hotel in each respective country. We have also rated each hotel using OUR CATEGORY, which will be in line with generally accepted western hotel grading standards.
Simple
Basic hotels and simple accommodation is a no frills option with an adventurous authentic feel.
Standard
Standard accommodation equates to a Western 3-star standard, always featuring en-suite rooms and usually a restaurant.
Superior
Superior accommodation equates to a Western 4-star standard, featuring en-suite rooms and usually a restaurant and often a swimming pool and/or a fitness centre.
Deluxe
Deluxe accommodation equates to a Western 5-star standard, usually featuring spacious, en-suite rooms, a restaurant, swimming pool and fitness centre and an array of amenities, excellent service and customer care.
Lavish
Lavish accommodation equates to a Western 5-star plus standard - the creme de la creme. Featuring spacious, en-suite rooms, a restaurant, swimming pool and fitness centre and an array of amenities, this accommodation is a cut above the rest. Sheer opulence!
Land of the Masai
Boasting the most spectacular stretch of the Great Rift Valley, mighty Mount Kenya and the stunning savannah plains of the Masai Mara, not to mention Lake Nakuru with its flock of pink flamingos and a pristine Indian Ocean coast, Kenya is a startlingly beautiful, classic African destination. See the iconic red-robed, spear clad Masai Warriors and enjoy world class game viewing in the Masai Mara, Amboseli, Tsavo and Samburu including the stunning great wildebeest migration spectacle every year!
The Inside Track
Our Latest Updates from across the globe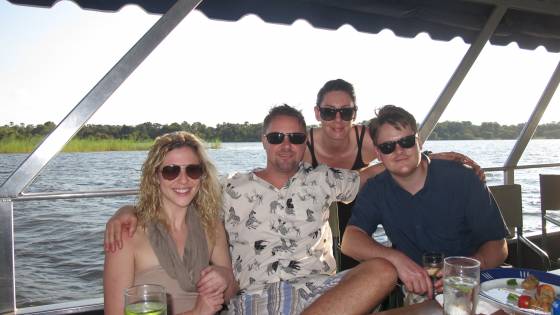 Photo Showcase
Overlanding from Vic Falls to Jo'burg
May 6, 2015 • OTG Team
Our own Miles Walker recently returned from Africa after travelling on an overland adventure from to...
Read Full Story News Tips and Trivia
Best places to visit in June
April 6, 2015 • OTG Team
The ninth part in a twelve part series on the best places to visit when. June is all about the and ...
Read Full Story
Video of the Week
Soaring over Africa
March 20, 2015 • OTG Team
As much as it is easy to appreciate the natural beauty of Africa at eye level, nothing quite to it ...
Read Full Story