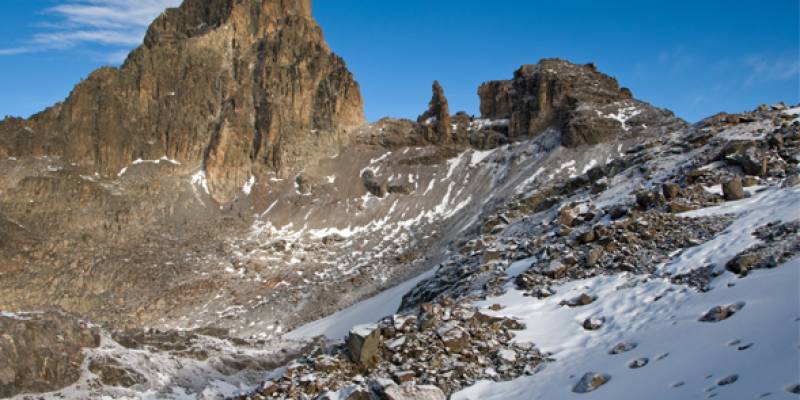 About Mt Kenya
Mount Kenya is the second highest mountain in Africa. It lies a few km away from the equator but is still heavily glaciated. Rising 5,199 meters above the sea level, Mt Kenya is one of the world's largest freestanding volcanic mountains; the volcano is extinct and the scenery is breathtaking. On expedition to Mt Kenya, you will find the scenic snow-capped peaks, magnificent cliffs and glaciers, spectacular waterfalls and valleys, and rolling slopes with thick forest cover. Mount Kenya has even been declared a UNESCO World Heritage Site for its outstanding ecology.
Truly a paradise for adventure seekers, Mt Kenya has some of the finest hiking and trekking routes in the world. The mountain offers easy as well as challenging ascents with breathtaking scenery, especially from the top at dawns. The highest peaks of Batian(5, 199m) and Nelion (5, 188m) can only be accessed by experienced and tough mountaineers, while Lenana can be reached by any fit trekker.
On Mt Kenya trek, you can enjoy exceptional views of tarns and alpine meadows on its higher slopes and lush rainforest and thickets of bamboo on lower slopes. Among major wildlife attractions in Mt Kenya include Elephant, Leopard, Buffalo, Sykes Monkeys, Albino Zebra, Antelope, Black and White Colobus, Black Rhino, Olive Baboon, Bush Pig and Hyena. Among birds Sunbirds, Hyrax and Eagles are commonly seen here.
The climate has a typical equatorial mountain climate which Hedberg described as winter every night and summer every day.
Mt Kenya Hotels
If you are planning a Mt Kenya holiday, have a look at some of the accommodation that we recommend. 'Our Rating' indicates how we feel each property rates according to normal Western hotel standards. 'Local Rating' indicates how the property is categorised/rated locally: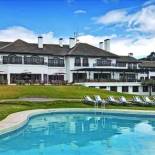 Mount Kenya Safari Club Mt Kenya
With magnificent views of majestic Mount Kenya, the Fairmont Mount Kenya Safari Club Resort's 120 luxuriously appointed hotel rooms, set in over 100 acres of landscaped gardens, offer a unique blend of comfort, relaxation and adventure.
For all our tours and tailor-made holidays we provide you with a clear categorisation of all hotels we use. The REGIONAL CATEGORY indicates the local rating of each hotel in each respective country. We have also rated each hotel using OUR CATEGORY, which will be in line with generally accepted western hotel grading standards.
Simple
Basic hotels and simple accommodation is a no frills option with an adventurous authentic feel.
Standard
Standard accommodation equates to a Western 3-star standard, always featuring en-suite rooms and usually a restaurant.
Superior
Superior accommodation equates to a Western 4-star standard, featuring en-suite rooms and usually a restaurant and often a swimming pool and/or a fitness centre.
Deluxe
Deluxe accommodation equates to a Western 5-star standard, usually featuring spacious, en-suite rooms, a restaurant, swimming pool and fitness centre and an array of amenities, excellent service and customer care.
Lavish
Lavish accommodation equates to a Western 5-star plus standard - the creme de la creme. Featuring spacious, en-suite rooms, a restaurant, swimming pool and fitness centre and an array of amenities, this accommodation is a cut above the rest. Sheer opulence!
Mt Kenya Tailor made suggestions
Here are some of the recent tailor made itineraries we have created for our clients which include a visit to Mt Kenya.