An island
Adventure!
1000 VIEWS OF MADAGASCAR
Discover rare lemurs, colourful tribes, stunning national parks, tropical beaches, bustling markets and ever-changing scenery.
View Tour
Holidays to Madagascar
Madagascar, set 400 kilometres off the east coast of Africa, enveloped by the clear warm waters of the Indian Ocean. The large island of Madagascar is know for its beautiful untouched beaches, pristine coral reefs, palm fringed tropical island archipelagos and bizarre but wonderful wildlife. Madagascar's landscape is equally diverse, with lush wet rainforests and dry spiny deserts, lunar landscapes of limestone formations, uninhabited off-shore islands, beaches and baobabs. Discover the highlights of Madagascar on our 1000 Views of Madagascar tour or let us tailormake your dream holiday to Madagascar.
Land of Lemurs
97% of its wildlife species are unique to Madagascar
Madagascar has the highest bio diversity on the planet, with an incredible 97% of the species being unique to the island, including over 50 types of lemurs - the island's star attraction!
1000 Views of Madagascar
11 days | FROM USD $2,669 | STARTS/ENDS: Antananarivo
An island of adventure! Discover rare lemurs, colourful tribes, stunning national parks, tropical beaches, bustling markets and ever-changing scenery in 11 breathtaking days.
Countries Visited:
Highlights of Madagascar
Island hop from Nosy Be, the largest of Madagascar's offshore islands to beautiful Saint Marie with its almost Caribbean flavour. Whether it be whale watching or bird watching, world class diving or snorkelling, sailing on a dhow, trekking through the wildlife rich rainforest or simply lazing on a deserted beach, Madagascar cannot fail to delight. With a tailor made safari your own safari and spend as much time relaxing in the sunshine as you like or meet the varied wildlife of Madagascar at the Andasibe Special Reserve, Ranomafana National Park and Isalo National Park or on Nosy Be Lokobe Nature Reserve.
When I travelled to Madagascar I felt
Awestruck
"...by how happy the very poor people of Madagascar were - especially the children."
by Peggy Tondr
Posted on 12 Jul 2015
Read More >
The Inside Track
Our Latest Updates from across the globe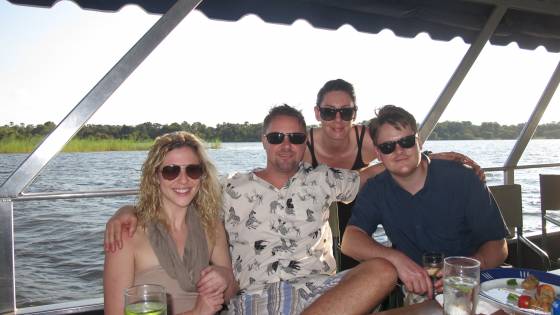 Photo Showcase
Overlanding from Vic Falls to Jo'burg
May 6, 2015 • OTG Team
Our own Miles Walker recently returned from Africa after travelling on an overland adventure from to...
Read Full Story News Tips and Trivia
Best places to visit in June
April 6, 2015 • OTG Team
The ninth part in a twelve part series on the best places to visit when. June is all about the and ...
Read Full Story
Video of the Week
Soaring over Africa
March 20, 2015 • OTG Team
As much as it is easy to appreciate the natural beauty of Africa at eye level, nothing quite to it ...
Read Full Story