Morocco Tours
Uncover an exotic mix of imperial cities, bustling souks, striking landscapes, spicy aromas and a kaleidoscope of culture in Morocco.
Camel trek across the Sahara, bed down in a Berber camp, discover unspoilt kasbahs, lose yourself in the labyrinthine alleyways off Marrakech's famed Djemaa el Fna Square and travel back in time to wander through the ancient medina of medieval Fes. With enchanting imperial cities, impressive Ait Benhaddou, with its starring role in a number of famous movies, and the laid back Atlantic coast in Essaouira, Morocco is a mouth watering holiday destination unlike any other.
Choose from our range of travel styles to Morocco, from group tours, special Christmas and New Year trips, trekking in the high Atlas, family adventures and tailor made holidays designed specifically for you.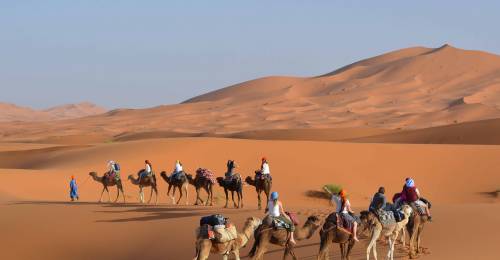 Styles of Travel to Morocco
Get that true Moroccan flavour
Travelling with us, you'll get to sample Argan Oil and honey along Atlas Mountain trails, have a go at bartering in the souks of Djemma el Fna, spend a night with Berbers in the vast Sahara Desert, meander through Fes el Bali's ancient medina, tuck into a tasty Moroccan Tagine and lots more fun local experiences in Morocco.
Morocco Group Tours
Commencing in Marrakech, all of our adventures are led by knowledgeable and experienced Moroccan tour leaders. We include an arrival transfer and all the top spots, offer guided sightseeing and specialist local guides along the way and many wonderful meals each day. Range across Moorish and Roman ruins or camel trek across the Sahara. Bed down under a blanket of stars, laze on the beach in Essouira, discover unspoilt kasbahs and Marrakech's famed Djemaa el Fna Square. Or head to Fes whose ancient medina is a hive of activity, offering a heady mix of incredible sights and sounds. read more
Morocco XMAS and New Year Escapes
Have that perfect Christmas and New Year break on our Christmas and New Year breaks in Morocco which follow similar itineraries and inclusions to those of our regular group itineraries. Experience Marrakech with its bustling souks, visit beautiful Todra Gorge, soak up the fresh mountain air of the rugged Atlas mountains, explore Ait Benhaddou, an incredible fortified kasbah and relax by the beach in laid back Essaouira. We've planned our trips so that you spend Christmas Day and New Year's eve in a truly special spot - Christmas at the foot of Todra Gorge and New Year's eve in either magical Marrakech or in Essaouira on Morocco's stunning Atlantic coast.
Morocco is an exciting holiday destination irrespective of age and our family holidays have been designed in particular for children aged 5 - 15 years with special 'teens' trips for youth teenagers. All of our family-friendly itineraries to Morocco include a range of cultural, historical and active experiences to captivate children and teens; whether it's riding a camel in the Sahara, exploring the the maze like alleys in the markets of Marrakech, learning to surf in Taghazoute or simply taking it each in laid back beach-side Essaouira on Morocco's Atlantic coast. read more
On our private journeys you'll get a taste of the real Morocco – visit captivating Marrakech, vibrant souks and ancient Kasbahs, the fortified Kasbah of Ait Benhaddou, the vast Sahara desert, Fes - the world's oldest medieval city, the High Atlas Mountains and coastal Essaouira.
Morocco tour reviews
Scoring an average traveller rating of 4.62 out of 5 based on 29 recent reviews — See All Morocco Reviews
Experience the Real Morocco
The aromas and sounds of ancient medinas and colourful souks in Marrakech will leave you spinning whilst the imperial cities of Fes and Meknes will leave you utterly enchanted. Iconic Casablanca preserves its Hispanic-Moorish influence whilst Chefchaouen captivates with its pretty blue buildings and mountain setting.
There's adventure in abundance on the hiking trails of the Atlas Mountains and the massive sand dunes of Erg Chebbi and the Sahara desert. The fortified city of Ait Benhaddou, famous for it's part in a number of famous movies is a real highlight and if you love the sea, Essaouira on the Atlantic coast is ideal to wile away a few days in.
When I travelled to Morocco I felt
Exhausted and euphoric at the same time!
"After a ten hour mini bus journey from Marrakech to the Sahara desert I was full of anticipation to get there. I was introduced to my camel, named And..."
by Jennifer Potter
Posted on 28 Sep 2015
Read More >
"
The tour was really great. Mustapha was a really informative, happy and personable guide. He is a tribute to your company. Our driver was fabulous. I felt completely safe the whole time and comfortable. I really enjoyed this tour and would not hesitate to recommend it to others. Thank for such a great experience."
Morocco Travel Guide
Here's our handy little guide on travel to Morocco to help you properly prepare for your trip.
Get to know Morocco
Recommended Reading
The Caliph's House
by Tahir Shah
Lords of the Atlas
by Gavin Maxwell
Hideous Kinky
by Esther Freud
Did you know...?
Facts about Morocco
Morocco is home to the oldest university in the world - located in Fes, al-Qarawiyin university is still in use today.
In Moroccan culture, traditionally the liver and not the heart, is considered to be the symbol of love.
Many films have been made in Morocco but Casablanca is not one of them - it was largely shot in a Hollywood studio!