Morocco Family Tours
Morocco is an exciting holiday destination irrespective of age and our family holidays have been designed in particular for children aged 5 - 15 yrs and our teens tour for youth aged 12 - 17yrs. All of our family-friendly tours to Morocco include a range of cultural, historical and active experiences to captivate children and teens; whether it's riding a camel in the Sahara, exploring the the maze like alleys in the markets of Marrakech, learning to surf in Taghazoute or simply taking it each in laid back beach-side Essaouira on Morocco's Atlantic coast.
Comfortable 3-star hotels with pools
Lots of interesting and educational activities
Tours for children aged 5-15
Special tour for teenagers
See the real Morocco
Arrival day with no activities so you can settle in
Plenty of beach time and free time to explore
Complimentary airport transfers, any day, any time
Expert advice from our well-travelled team
Travelling to Morocco on one of our family tours
Careful planning has gone into our family tours and all the hotels you'll stay at are family friendly. Where possible we try to ensure hotels have a swimming pool or other leisure facilities so that children and young adults are kept entertained whilst parents get a little time to relax. No activities are planned for your arrival day, you will be met at the airport and transferred to your hotel and once checked in you have the rest of the day free to settle in. Perhaps head off and explore your new surroundings: our family tours begin in Marrakech and it's famous Djemaa el Fna Square really comes to life in the evening.
The best of culture and beach on a family holiday to Morocco
You'll fell like you've stepped back in time in the souks of Marrakech and the colours, sounds and smells of winding alleyways will keep children entertained for hours. Film buffs will appreciate Ouarzazate in central Morocco, known as the movie capital of Morocco where Hollywood blockbusters like the The Mummy and James Bond's The Living Daylights were filmed. And the ultimate highlight for your little Alladins is camel trekking in the Saharan desert followed by a nights camping under the stars in a traditional Berber camp. For a relaxing finish to your Moroccan holiday our Kasbahs, Kids & Coast tour offers a 2 night stay in the laid back beachside fishing village of Essaouira. For the more adventurous join our Kasbahs, Kids & Surf tour and finish your adventure with 2 nights in Taghazoute with some surfing lessons included as well.
The Inside Track
Our Latest Updates from across the globe Festivals and Events
The migration of the Berbers in Morocco
May 18, 2015 • OTG Team
Ditch the smart phone, tablet and all those other technological crutches we've become so used ...
Read Full Story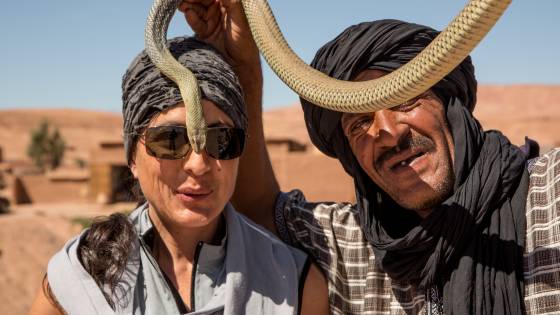 Photo Showcase
The faces of Morocco
March 25, 2015 • OTG Team
While the alluring mix of imperial cities, bustling souks, spectacular landscapes and spicy are ...
Read Full Story
Video of the Week
A Moroccan Medley
January 23, 2015 • OTG Team
The simple definition of a medley is a varied mixture of people and things. But one can easily to an...
Read Full Story