Morocco Tailor made Holidays
As a country of bold contrasts and striking juxtapositions, Morocco is an intriguing place to explore with something different waiting around every corner.
When we design a tailormade itinerary to Morocco for you, we'll share our first-hand knowledge of Morocco with you and help you plan the trip of a lifetime. You can enjoy the sights and delights of this fascinating country at your own pace, from imperial cities to Saharan sands and everything in between.

Itinerary Ideas
Generate some great itinerary ideas with our trip finder:
Places You Are Interested In:
Create Your Wish List
Places we recommend for a holiday in Morocco
The exotic country of Morocco is a land of sensory overload – with a coastline on the Mediterranean Sea, a border with the Western Sahara and the distinct culture of Islam pervading throughout, it casts a spell that's difficult to resist. It may only be a short hop, skip and a jump away from Europe but culturally its worlds apart. Whatever you interest, Morocco is bound to impress.
One of the first sights you will see as you enter Marrakech, is the Koutoubia Mosque, with its 230 foot high minaret, dating back to the 12th century. Djemâa el-Fna, the central square, is best seen in the evening when it's overflowing with food stalls, cooking stalls, dancers, acrobats, fortune tellers, snake charmers, musicians and henna artists. It is an assault on the senses, from aromatic smells, colourful sights and an abundance of sound. The souks have a variety of goods for and ...
Read More 
Stretching 2,400kms through Morocco to Tunisia, the mountain range includes the Rock of Gibraltar. The trekking ranges from a stroll to a strenuous trek to the highest summit in North Africa, Jebel Toubkal. The Moroccan Grand Atlas includes the Middle Atlas, High Atlas and Anti-Atlas. Its easy to take a one day trek, so you don't have to be super fit. Mountain villages of Berber people still exist today, living a simple life and it's a way to experience a side of Morocco that many see. ...
Read More 
The oldest and largest medieval city in the world, Fes is a bustling hive of activity. The medina is a must – a heady mix of aromas, sounds and sights from the tanneries, spice tubs, carpets, pottery and leather goods. There are still some 200,00 people that live in the Medina, which has an old world feel to it. To navigate, follow the tourist circuits or hire a guide, as it is very easy to get lost within the medina! There are 5 circuits, each with a different colour, each with a different as ...
Read More 
Originally encircled by the old walls, the town of Essaouira has now extended beyond the walls, but the town is still small enough to explore on foot. The 18th century town is laid back and is a popular destination for windsurfing and kite surfing, due to the wave forming winds in summer and spring. The beach is in front of the Medina and there are plenty of cafés with terraces. Blue doors and window frames abound as do the artists shops and jewellery stalls. Islands are scattered around, in ...
Read More 
High up in the Rif Mountains, Chefchaouen is a beautiful blue door and white-walled medina that was originally a Berber post. Only visited by 3 Westerners up until 920 when Spanish troops invaded, Chefchaouen was once considered a city that was impossible to be visited by a Christian. The main square is the heart of Chefchaouen, with the Kasbah (built back in the 18th century), central mosque and cafes with authentic Moroccan style menus. The market is a mix of traditional Moroccan and very ...
Read More 
Aït Benhaddou is a 'fortified city' situated along the former caravan route between the Sahara and Marrakech, used to carry salt across the Sahara and bring back gold, ivory and slaves. It is situated on a hill along the Ouarzazate River and boasts some beautiful examples of kasbahs, some of which remain inhabited. Granted UNESCO World Heritage listing in 1987, the site had been the setting for many films including Lawrence of Arabia, Gladiator, The Last Temptation of Christ, The Mummy ...
Read More 
Todra Gorge is situated on the remote east side of the High Atlas Mountains in. The gorge has carved out cliff-sided canyons on the final 40 km through the mountains. The final 600 m of the Todra gorge are the most spectacular as the canyon narrows to a flat stony track as little as 10m wide in places with sheer and smooth rock walls up to 160 m high on each side. The rock face changes colour during the day, ranging from a rosy red to a dull tan. It is easy to hike in the gorge and there are ...
Read More 
The dunes of Erg Chebbi is a strikingly strange natural formation. On the top of the flattest area you could imagine, suddenly a long mountain of sand rises. This mountain is surrounded by flat and desolate nature on all sides, and you could end up wondering if it really is real. Locals have long talked of the myths and legends of these beautiful dunes. One legend tells us that the dunes of Erg Chebbi were created by God as a punishment to the locals of nearby Merzouga after they refused to a ...
Read More 
Morocco tailor made reviews
Scoring an average customer rating of 5 out of 5 based on 1 recent reviews — See All Reviews
More to the capital
Lying on the Atlantic Coast, the Moroccan capital of Rabat is an imperial city with elegant tree-lined boulevards and an unhurried charm, but there is so much more to it than that. The abandoned necropolis of Chellah is one of Rabat's most evocative sights with outstanding ruins, while the Kasbah des Oudaias commands striking views from its cliff-top perch. Other notable attractions include the enormous minaret of the Hassan tower and the remarkable frescoes of St Agatha's Crypt.
Inspirations for a holiday in Morocco
Want to create a tailor made itinerary to Morocco that is out of the ordinary? Take a look at our pick of unique things to see and do on holiday to spice up your holiday to this magical country.
Visit the film capital
Lights, camera, action!
As the film capital of Morocco, Ouarazazate has acted as the backdrop in many famous films from classics like Gladiator to modern flicks like Prince of Persia and has also been featured in the increasingly popular Game of Thrones television series. Pay a visit to the film studio, set over 20 hectares of land, and see familiar setting from your favourite onscreen action.
Learn to surf
Swells of Taghazoute
Set on Morocco's stunning Atlantic Coast, the laidback fishing village of Taghazout has become mecca for surfers thanks to its world-class swells. If you fancy tackling the waves yourself consider heading here for a few days of sun, sand and surf. Spend the days learning how to handle a surf board and the evenings relaxing in a hammock with a cool beer in hand.
Cook local cuisine
Prepare food in Fes
Whether an adventurous gourmand or amateur chef, Fes is the perfect place to put on that apron and try your hand at preparing traditional Moroccan cuisine. Discover the aromas and spices of local gastronomy, learn about where ingredients are sourced, prepare a meal with the help of an expert chef and then sample the fruits of your labour. The trick will be recreating the dishes back home!
Pamper yourself
Traditional Hammam
If you are searching for a truly authentic Moroccan experience then you cannot go wrong with a traditional hammam. Playing a significant role in local culture, most Moroccans will frequent a hammam at least once a week. Whether you choose a public or private hammam, prepare to be sloshed with water, scrubbed down with olive soap and masked in mineral-rich clay. Opt for an argan oil massage to top it all off.
Rise to the challenge
Mt Toubkal
Trek to the summit of Mt Toubkal, the highest peak in North Africa, across rugged mountain terrain, through earthen Berber village clinging tenaciously to valley sides, taking in stunning panoramic vistas along the way. Upon reaching the summit you'll be greeted with breathtaking views across the High Atlas Mountains with the orange dunes of the Saharan desert in the far distance.
Be star struck
Hotel Saharan Sky
Home to Morocco's first private observatory, the Hotel Saharan Sky boasts a rich inventory of astronomical equipment. Whether you have experience handling telescopes or are new to star gazing, someone will be at hand to guide you through the solar system. Spend an incredible evening star gazing here and then consider heading out into the Sahara for a night under the stars.
Some of our top hotel picks
For all our tours and tailor-made holidays we provide you with a clear categorisation of all hotels we use. The REGIONAL CATEGORY indicates the local rating of each hotel in each respective country. We have also rated each hotel using OUR CATEGORY, which will be in line with generally accepted western hotel grading standards.
Simple
Basic hotels and simple accommodation is a no frills option with an adventurous authentic feel.
Standard
Standard accommodation equates to a Western 3-star standard, always featuring en-suite rooms and usually a restaurant.
Superior
Superior accommodation equates to a Western 4-star standard, featuring en-suite rooms and usually a restaurant and often a swimming pool and/or a fitness centre.
Deluxe
Deluxe accommodation equates to a Western 5-star standard, usually featuring spacious, en-suite rooms, a restaurant, swimming pool and fitness centre and an array of amenities, excellent service and customer care.
Lavish
Lavish accommodation equates to a Western 5-star plus standard - the creme de la creme. Featuring spacious, en-suite rooms, a restaurant, swimming pool and fitness centre and an array of amenities, this accommodation is a cut above the rest. Sheer opulence!
Unique accommodation
Where you spend the night should be an experience in itself and in Morocco you cannot go amiss with a traditional Moroccan riad. Unlike modern hotels, riads do not offer a wide range of facilities but they make up for this with warm hospitality, an abundance of old world charm and sumptuous traditional decor. To get off the beaten track, consider staying in an eco lodge or converted Kasbah in the heart of the Atlas Mountains, or spend the night in a desert camp amongst the vast rolling dunes of the Sahara.
The Inside Track
Our Latest Updates from across the globe Festivals and Events
The migration of the Berbers in Morocco
May 18, 2015 • OTG Team
Ditch the smart phone, tablet and all those other technological crutches we've become so used ...
Read Full Story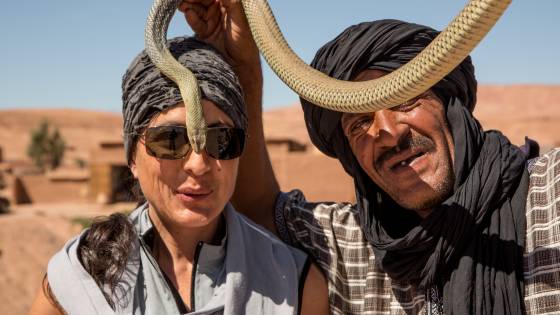 Photo Showcase
The faces of Morocco
March 25, 2015 • OTG Team
While the alluring mix of imperial cities, bustling souks, spectacular landscapes and spicy are ...
Read Full Story
Video of the Week
A Moroccan Medley
January 23, 2015 • OTG Team
The simple definition of a medley is a varied mixture of people and things. But one can easily to an...
Read Full Story