Morocco XMAS and New Year Tours
Make this Christmas and New Year really special on one of our festive tours to Morocco. Experience Marrakech with its bustling souks, visit beautiful Todra Gorge, soak up the fresh mountain air of the rugged Atlas mountains, explore Ait Benhaddou, an incredible fortified kasbah and relax by the beach in laid back Essaouira. We've planned our tours so that you spend Christmas Day and New Year's eve in a truly special spot - Christmas at the foot of Todra Gorge and New Year's eve in either magical Marrakech or in Essaouira on Morocco's stunning Atlantic coast.
3-4 star hotels
Average group size of 18 and maximum of 28
Free time to explore on your own
Local tour guides
Lots of authentic experiences
Complimentary airport transfers
Camel Trekking & desert camp in the Sahara
Guaranteed departures
Lots of included meals
See the real Morocco
Our XMAS and New Year tours in Morocco
Christmas in Morocco
8 days | FROM USD $1,389
Make your way to magical Morocco this Christmas, a short hop from Europe but worlds apart. An exotic land of spices, ancient Kasbahs, rolling Saharan sands, verdant valleys and bustling souks.
Countries Visited: Morocco
Rock the Kasbah
10 Days | FROM USD $1,599
A Christmas of changing colours at Todra Gorge, impressive Kasbahs at Aït Benhaddou, camping under Saharan stars and ringing in the New Year in enchanting Marrakech, Guaranteed to be a festive season to remember!
Countries Visited: Morocco
Surf the New Year
11 Days | FROM USD $1,749
Spend a cracking Christmas exploring the Atlas, snap up some bargains in the souks of Marrakech and ring in the New Year beachside in Essaouira, on Morocco's stunning Atlantic coast!
Countries Visited: Morocco
Head to Magical Morocco for Christmas and New Years Eve
Have that perfect Christmas and New Year break on our Christmas and New Year tours in Morocco which follow similar itineraries and inclusiones to those of our regular group tours in Morocco. There's the aromas and sounds of ancient medinas and colourful souks in Marrakech, the enchanting imperial cities of Fes and Meknes, the fortified city of Ait Benhaddou and its starring role in a number of famous movies and the laid back Atlantic coast in Essaouira where you can happily wile away sun-kissed days.
The Inside Track
Our Latest Updates from across the globe Festivals and Events
The migration of the Berbers in Morocco
May 18, 2015 • OTG Team
Ditch the smart phone, tablet and all those other technological crutches we've become so used ...
Read Full Story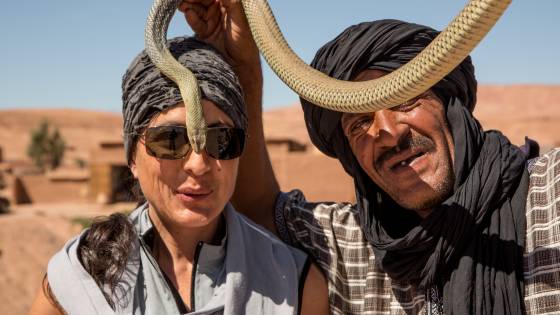 Photo Showcase
The faces of Morocco
March 25, 2015 • OTG Team
While the alluring mix of imperial cities, bustling souks, spectacular landscapes and spicy are ...
Read Full Story
Video of the Week
A Moroccan Medley
January 23, 2015 • OTG Team
The simple definition of a medley is a varied mixture of people and things. But one can easily to an...
Read Full Story