Morocco Tours
Uncover an exotic mix of imperial cities, bustling souks, striking landscapes, spicy aromas and a kaleidoscope of culture in Morocco.
Camel trek across the Sahara, bed down in a Berber camp, discover unspoilt kasbahs, lose yourself in the labyrinthine alleyways off Marrakech's famed Djemaa el Fna Square and travel back in time to wander through the ancient medina of medieval Fes. Choose from our range of travel styles to Morocco, from group tours, special Christmas and New Year tours, private tours, trekking in the high Atlas, family tours and tailor-made holidays, designed specifically for you.
Morocco
with On the Go Tours
Local tour guides
Complimentary arrival transfer
Expert advice from our well-travelled team
Camel Trekking & desert camp in the Sahara
Free time to explore on your own
See the real Morocco
Unique local experiences
Get that true Moroccan flavour
Travelling with us, you'll get to sample Argan Oil and honey along Atlas Mountain trails, have a go at bartering in the souks of Djemma el Fna, spend a night with Berbers in the vast Sahara Desert, meander through Fes el Bali's ancient medina, tuck into a tasty Moroccan Tagine and lots more fun local experiences in Morocco.
Styles of travel to Morocco
All of our group tours in Morocco are lead by an experienced local tour guide, with specialist guides at key sites along the way too. We include an arrival airport transfer, accommodation at quality 3-4 star hotels and lots of included meals ensuring you are taken care of throughout your holiday. Highlights of our group tours include camel trekking across the Sahara, a bit of R&R in coastal Essaouira and the famed Djemaa el Fna in Marrakech.
Create a bespoke holiday to Morocco with the help of our team of tailor made consultants. Sharing their firsthand knowledge of the region with you, they will help you plan your ideal holiday to Morocco ensuring that you see all the key highlights, explore some hidden gems off the beaten track, travel in a style that suits you, all whilst keeping your budget and time-frame in mind.
Celebrate in style this festive season by spending Christmas Day and New Year's Eve in magical Morocco. Depending on when you decide to go you could wake up on Christmas morning in beautiful Todra Gorge and ring in the New Year in either the hustle and bustle of Marrakech or beachside in Essaouira – the choice is yours!
Take the entire family out to Morocco for a holiday with a difference. Guaranteed to captivate old and young alike, our family tours to Morocco are perfect for 5-15 year olds and we've also got a tour especially for families travelling with teens between the ages of 12-17 years. On tour families can expect a range of cultural, historical and active experiences, as well as plenty of pool time too.
Travelling at your own pace, our private tours of Morocco are the perfect way to explore the sights and delights of this fascinating country without travelling as part of a group tour. Explore captivating Marrakech and its vibrant souks; discover ancient Kasbahs in Ait Benhaddou; spend the night in the vast Sahara desert, discover Fes - the world's oldest medieval city and trek through the High Atlas Mountains, on a journey to discover the real Morocco.
Morocco tour reviews
Scoring an average customer rating of 4.57 out of 5 based on 30 recent reviews — See All Morocco Reviews
Experience the Real Morocco
The aromas and sounds of ancient medinas and colourful souks in Marrakech will leave you spinning whilst the imperial cities of Fes and Meknes will leave you utterly enchanted. Iconic Casablanca preserves its Hispanic-Moorish influence whilst Chefchaouen captivates with its pretty blue buildings and mountain setting.
There's adventure in abundance on the hiking trails of the Atlas Mountains and the massive sand dunes of Erg Chebbi and the Sahara desert. The fortified city of Ait Benhaddou, famous for it's part in a number of famous movies is a real highlight and if you love the sea, Essouira on the Atlantic coast is ideal to wile away a few days in.
When I travelled to Morocco I felt
Great, enjoyed the company and Morocco.
"The On The Go Tour of (Total) Morocco was outstanding. There were 7 folks on the tour, plus a driver and guide, in a comfortable 15-passenger van. ..."
by Ian Hyslop
Posted on 03 Aug 2015
Read More >
"
The tour was really great. Mustapha was a really informative, happy and personable guide. He is a tribute to your company. Our driver was fabulous. I felt completely safe the whole time and comfortable. I really enjoyed this tour and would not hesitate to recommend it to others. Thank for such a great experience."
The Inside Track
Our Latest Updates from across the globe Festivals and Events
The migration of the Berbers in Morocco
May 18, 2015 • OTG Team
Ditch the smart phone, tablet and all those other technological crutches we've become so used ...
Read Full Story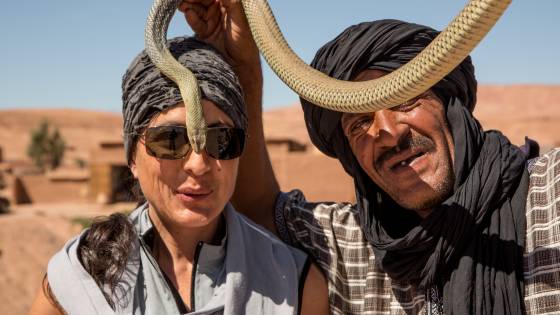 Photo Showcase
The faces of Morocco
March 25, 2015 • OTG Team
While the alluring mix of imperial cities, bustling souks, spectacular landscapes and spicy are ...
Read Full Story
Video of the Week
A Moroccan Medley
January 23, 2015 • OTG Team
The simple definition of a medley is a varied mixture of people and things. But one can easily to an...
Read Full Story