Fish River
Canyon
Southern Experience - 22 Days
Take in a perfect African sunset with views along the edge of Fish River Canyon, the second largest canyon on earth.
View Tour
Namibia Safari Tours
Namibia, wedged between the dusty plains of the Kalahari Desert and the chilly Atlantic Ocean, is a country of striking natural beauty. The vast shifting sand sea of the ancient Namib Desert and the iconic apricot coloured dunes of Namib-Naukluft National Park stand in stark contrast to the blackened trees of the surreal Petrified Forest, the harsh but beautiful Skeleton Coast and the tropical waterways of the Caprivi Strip. Whether you wish to explore Namibia on an overland camping safari, a lodge accommodated safari, or do it your own way on a tailormade holiday, it's an enchanting destination that won't fail to impress.
Camping & lodge accommodated safaris
Lots of authentic experiences
Top sites and hidden gems
Excellent value
See the real Namibia
Local tour guides
Guaranteed departures
International travellers of a wide age range
Expert advice from our well-travelled team
The Etosha pan
One of the world's finest game parks
Now less than a quarter of its original size, Etosha National Park still remains one of the world's finest game parks, and is renowned for its wonderful floodlit waterholes, which are great for game viewing at night. The Etosha Pan, which dominates the park, is usually dry, but fills with water briefly in the summer months, when it attracts pelicans and flamingos in particular. Perennial spring attracts a variety of game and birds throughout the year, including the endangered black rhino and the endemic black face impala.
Highlights of a safari to Namibia
Namibia has an abundance of wildlife and is home to Etosha National Park, one of Africa's finest national parks, where big game roam on the park's ethereal silvery pan and gather to drink at the floodlit waterholes, a unique experience and a highlight on any safari. Namibia boasts spectacular scenery and wildlife, coupled with Sossusvlei, the world's largest sand dunes; the Namib Desert, the world's oldest desert and Fish River Canyon, the second largest canyon in the world. Not to mention ancient rock art, desert adapted animals and the fascinating Himba tribe, which make Namibia a truly unique and enchanting wilderness destination.
When I travelled to Namibia I felt
Relaxed, carefree, happy
"I have not traveled much in my life, but would really love to. I've been wanting to travel since I can remember, but have never had enough money to ..."
by Louine Schwartz
Posted on 04 Aug 2015
Read More >
Our top picks For a safari in Namibia
Our Top Pick for Namibia
#1 Fish River Canyon
The Fish River Canyon is located the south of Namibia. It is the second largest canyon in the world and the largest in Africa, as well as the second most visited tourist attraction in Namibia. It features a gigantic in a...
Read More >
More about our safaris to Namibia
"
Toni was very impressive as a tour leader - very well organised. Everything ran to schedule and she took care of everything. Our cook was brilliant too, every meal was creative and delicious and we've never had the same meal twice. He made sure we never went hungry. You could see he took great pride in his work. He was also very lovely and genuine man.
All our crew was brilliant and made the trip most enjoyable!"
The Inside Track
Our Latest Updates from across the globe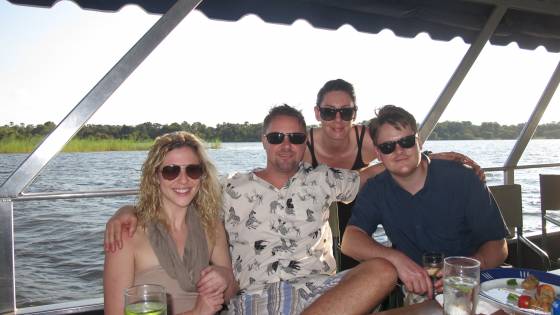 Photo Showcase
Overlanding from Vic Falls to Jo'burg
May 6, 2015 • OTG Team
Our own Miles Walker recently returned from Africa after travelling on an overland adventure from to...
Read Full Story News Tips and Trivia
Best places to visit in June
April 6, 2015 • OTG Team
The ninth part in a twelve part series on the best places to visit when. June is all about the and ...
Read Full Story
Video of the Week
Soaring over Africa
March 20, 2015 • OTG Team
As much as it is easy to appreciate the natural beauty of Africa at eye level, nothing quite to it ...
Read Full Story