Peru Tours
Win a trip to Peru for 2 with flights!
Discover the best of Peru on our selection of tours and tailor made holidays to the land of the Incas. Brimming with archaeological treasures from Machu Picchu to the little-visited sites of the north it's little wonder that Peru is one of South America's most popular destinations.
Peru claims a sizeable portion of the Amazon rain forest - a must-see on any visit - and is also home to Lake Titicaca where indigenous cultures still live in the ways of old. History echoes through the cities of Lima and Cuzco, filled with world-class museums, fine colonial buildings and ancient ruins. There's plenty more to this fascinating country including one of the world's deepest canyons in the Colca Valley and the mysterious geoglyphs at Nazca too.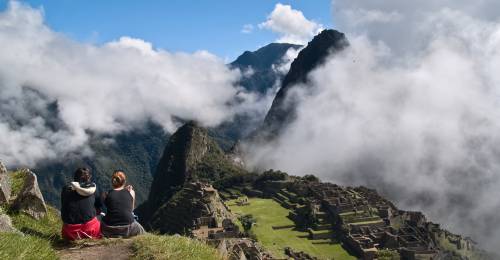 Get off the Beaten track in Peru
On our tours to Peru you'll get a true flavour of the country - spend a night with a local family on Lake Titicaca's Amantani Island, sample Cuzco's vibrant nightlife, cruise out to the wildlife rich Ballestas Islands, go fishing for piranhas in the Amazon, explore the colourful Pisaq Market and make your way up to Machu Picchu, trekking the famous Inca Trail or embarking on the spectacular and lesser known Lares Trek.
Peru Group Tours
Trek the ancient Inca Trail, witness Machu Picchu at dawn and come face to face with the wildlife of the Amazon on a journey through Peru with us. With an average group size of 12, all of our trips in Peru are fully escorted by our tour leaders who will point you in the right direction at each port of call, whether it is where to shop, eat or spot wildlife. On the majority of our trips we use local public transport and stay in a range of locally-owned accommodation from simple hotels and guesthouses to campsites, homestays and jungle lodges with plenty of local character. read more
Browse our selection of private tours that take in some of Peru's most loved places. These itineraries are also a good place to get some inspiration for a tailor made holiday. read more
Peru tour reviews
Scoring an average traveller rating of 5 out of 5 based on 2 recent reviews — See All Peru Reviews
The routes to Machu Picchu
All of our group tours in Peru include a visit to the legendary lost city of Machu Picchu. The most famous Inca path through the Andes is known simply as the Inca Trail, the Royal Route to Machu Picchu. The spectacular 44 kilometre trail crosses three stunning high passes and weaves between many ancient archaeological sites, culminating at the famous Lost City of the Incas. An alternative route up to Machu Picchu is through the picturesque Lares Valley which is nestled in the Andes and has all the natural beauty of the Inca Trail but without the crowds. For a less physically demanding trip to Machu Picchu, travel the scenic rail journey with incredible views of the Andes.
When I travelled to Peru I felt
Alive
"I have travelled to a few countries in Central and South America and hope to visit more in the future."
by Corinne Corre
Posted on 23 Sep 2015
Read More >
"
A very enjoyable holiday with a good group & mix of people & a very good tour leader who is obvioulsy very enthusiastic about his home country of Peru. As well as they key activities such as Lake Titicaca, Inca Trail, Machu Picchu & Amazon Rain Forest also had the opportunity of experiencing the Peruvian way of life & culture. A great experience."
Peru Travel Guide
A well-prepared trip can make all the difference so to help you we've put together an essential guide on travel to Peru.
Get to know Peru
Recommended Reading
Conversation in the Cathedral
by Mario Vargas Llosa
The Conquest of the Incas
by John Hemming
At Play in the Fields of the Lord
by Peter Matthiessen
Did you know...?
Facts about Peru
Peru is home to the world's deepest canyon and highest navigable lake - the incredible Lake Titicaca.
Second only to India, Peru has one of the largest numbers of Shamans in the world.
In Peru, it is tradition to give friends and family yellow underpants on New Year's Eve.