Kruger
National Park
Kruger Walking Safari - 4 days
Get close to the Big Five in Greater Kruger National Park, with game walks led by specialist rangers..
View Tour
South Africa Safari Tours
South Africa, the Rainbow Nation, is as diverse as it is beautiful, with a kaleidoscope of cultures, 11 official languages and strong influences from India, China, Malaysia and Europe. It's the ultimate holiday cocktail of cosmopolitan cities, world-renowned game reserves, rugged mountain ranges, beautiful beaches and a fascinating cultural heritage. Depending on your preference, we have a number of different safari styles to South Africa - adventurous overland camping safaris, lodge accommodated small group safaris and tailor-made holidays.
Camping & lodge accommodated safaris
Lots of authentic experiences
Top sites and hidden gems
Excellent value
See the real South Africa
Local tour guides
Guaranteed departures
International travellers of a wide age range
Expert advice from our well-travelled team
The Winelands
Explore Stellenbosch, Paarl and Franschhoek
From the heart of The Winelands, explore Stellenbosch, the second oldest town in South Africa, with some of the world's finest wines, oak tree lined streets and quaint little arts & craft shops. Paarl, predominantly Afrikaans speaking, is nestled in the Berg River Valley with a number of traditional-styled wine farms and Franschhoek, South Africa's very own French Quarter, is a quaint little town with world-renowned wine cellars.
Highlights of South Africa
Stand atop iconic Table Mountain in Cape Town, soak up the spectacular views from God's Window in Mpumalanga, go in search of the Big Five in Kruger National Park or visit the UNESCO-listed and jewel of South Africa, the St Lucia wetlands. Drive the scenic Garden Route, a spectacular stretch of coastline running between George and Port Elizabeth. Trek in the Drakensberg Mountains, sample fine wines in Stellenbosch and discover pristine coral reefs, diving in Maputaland. Discover the enchanting Kingdoms of Swaziland, Lesotho and more! Whether you explore it on an overland safari, a lodge safari or a tailormade holiday, you'll soon discover that South Africa truly is a world in one country.
When I travelled to South Africa I felt
Privileged
"This elephant was part of a wildlife management program. He was supposed to have been culled. The manager of this program took him in along with them..."
by Megan Brown
Posted on 30 Jul 2015
Read More >
Our top picks for South Africa
Our Top Pick for South Africa
#1 Kruger N.P.
Stretching virtually all the way along the border with Mozambique, it's said that Kruger has the greatest variety of wildlife in Africa. Lion, elephant, leopard, cheetah, giraffe are present as are a profusion of in to...
Read More >
More about our safaris to South Africa
"
Hi Sarah, I just wanted to let you know what a fantastic time I had and to say thank you for all your help and advise beforehand! As an individual traveller I was put at ease by the fantastic, professional and friendly crew. I can honesty say it was the best holiday I have ever had!"
South Africa Travel Guide
The Inside Track
Our Latest Updates from across the globe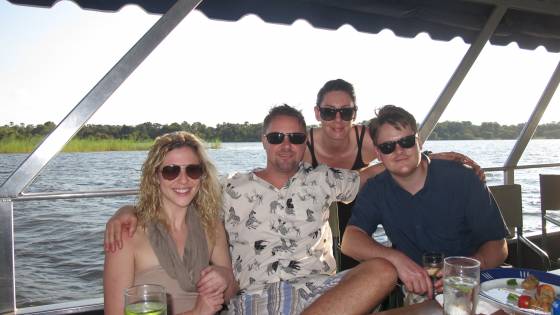 Photo Showcase
Overlanding from Vic Falls to Jo'burg
May 6, 2015 • OTG Team
Our own Miles Walker recently returned from Africa after travelling on an overland adventure from to...
Read Full Story News Tips and Trivia
Best places to visit in June
April 6, 2015 • OTG Team
The ninth part in a twelve part series on the best places to visit when. June is all about the and ...
Read Full Story
Video of the Week
Soaring over Africa
March 20, 2015 • OTG Team
As much as it is easy to appreciate the natural beauty of Africa at eye level, nothing quite to it ...
Read Full Story