South Africa Safari Tours
South Africa, the Rainbow Nation, is as diverse as it is beautiful, with a kaleidoscope of cultures, 11 official languages and strong influences from India, China, Malaysia and Europe. It's the ultimate holiday cocktail of cosmopolitan cities, world-renowned game reserves, rugged mountain ranges, beautiful beaches and a fascinating cultural heritage.
The Garden Route, a spectacular scenic stretch of coastline which runs between George and Port Elizabeth is a real highlight. Draw cards include Knysna, Oudtshoorn, renowned for its Ostrichs & the nearby Cango Caves and Plettenberg Bay, with its miles of exquisite golden beaches.
Depending on your preference, we have a number of different safari styles to South Africa - adventurous overland camping safaris, lodge accommodated small group safaris and tailor-made holidays.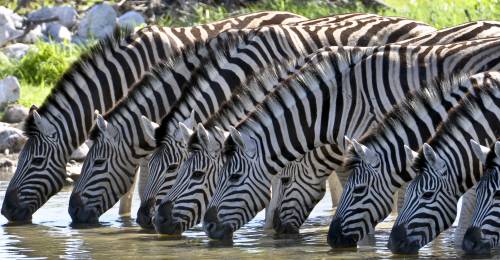 Styles of Travel to South Africa
Explore Stellenbosch, Paarl and Franschhoek
From the heart of The Winelands, explore Stellenbosch, the second oldest town in South Africa, with some of the world's finest wines, oak tree lined streets and quaint little arts & craft shops. Paarl, predominantly Afrikaans speaking, is nestled in the Berg River Valley with a number of traditional-styled wine farms and Franschhoek, South Africa's very own French Quarter, is a quaint little town with world-renowned wine cellars.
South Africa Overland Safaris
Overland Budget Accommodation Upgrade Available
Head out on an exhilarating overland safari through South Africa and beyond with our range of expedition style adventures. Travel by specially modified trucks with an experienced crew of three, camp in the wild and get stuck in with general duties as you travel from Cape Town or Johannesburg to any number of national parks throughout the continent on our longer multi-country safaris.
South Africa Lodge accommodated safaris
See the very best of South Africa and end each day with the comfort of a proper bed on one of our lodge accommodated safaris. With a maximum group size of 12-14 passengers, you'll stay in a variety of standard to mid-range properties from rustic huts to private mountain reserves. You'll be well looked after with fully equipped vehicles for all transportation and the services of our trusty local guides.
South Africa Private Safaris
Whether you're looking for a quick safari in the Kruger National Park or self-drive along South Africa's famed Garden Route, we have a selection of private journeys to suit. Incorporate some beach time with a South Africa and Mozambique combo tour or visit the spectacular Victoria Falls in neighbouring Zimbabwe departing on a day of your choosing and staying at your preferred standard of accommodation.
Highlights of South Africa
Stand atop iconic Table Mountain in Cape Town, soak up the spectacular views from God's Window in Mpumalanga, go in search of the Big Five Kruger National Park or visit the UNESCO-listed and jewel of South Africa, the St Lucia wetlands. Drive the scenic Garden Route, a spectacular stretch of coastline running between George and Port Elizabeth. Trek in the Drakensberg Mountains, sample fine wines in Stellenbosch and discover pristine coral reefs, diving in Maputaland. Discover the enchanting Kingdoms of Swaziland, Lesotho and more! Whether you explore it on an overland safari, a lodge safari or a tailormade holiday, you'll soon discover that South Africa truly is a world in one country.
When I travelled to South Africa I felt
Mesmerised
"I am studying wildlife media so any of my holidays are centred around animals. I love taking photos of them."
by abigail harden
Posted on 08 Oct 2015
Read More >
Our top picks for South Africa
Our Top Pick for South Africa
#1 Kruger N.P.
Stretching virtually all the way along the border with Mozambique, it's said that Kruger has the greatest variety of wildlife in Africa. Lion, elephant, leopard, cheetah, giraffe are present as are a profusion of in to...
Read More >
"
Hi Sarah, I just wanted to let you know what a fantastic time I had and to say thank you for all your help and advise beforehand! As an individual traveller I was put at ease by the fantastic, professional and friendly crew. I can honesty say it was the best holiday I have ever had!"
South Africa Travel Guide
To help you plan your trip we've put together an essential guide on travel to South Africa covering the weather, visas and what to expect on safari.
Get to know South Africa
Recommended Reading
Long Walk to Freedom
by Nelson Mandela
Tomorrow is Another Country
by Allister Sparks
Disgrace
by JM Coetzee
Did you know...?
Facts about South Africa
Table Mountain has over 1,500 species of plants, more than the entire United Kingdom.
South Africa is home to the second highest waterfall in the world, Tugela Falls where the water tumbles down 2,789 feet.
The oldest remains of modern humans, over 100,000 years old, were found in Klasies River Cave in the Eastern Cape.