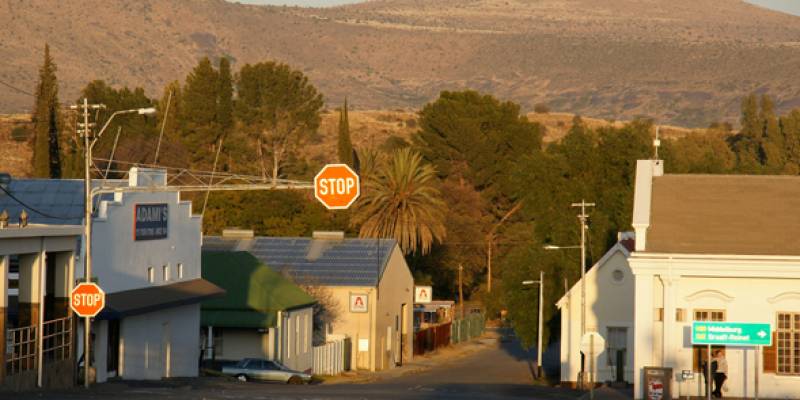 About Cradock
Lying on the banks of the Great Fish River is the historical town of Cradock - a tranquil and typical Karoo farming town. Cradock is regarded today as the capital of the Cape Midlands and renowned for its production of some of the best wool and mohair in the country.
Cradock has witnessed much of South Africa's history - the Great Trek originated here and from neighbouring districts; and the ostrich boom of the early 1900s graced farmers in the area with a prosperity only now resurging with the demand for fine leather and low-cholesterol meat. Cradock is probably best known for its natural sulphur spring, now the source of the town's modern spa that draws people from all over the country to experience both its open-air and indoor heated pools.
The original part of town is graced with some of the finest buildings, like the Dutch Reformed Church, a national monument and designed to look like London's St Martin's-in-the-field, and the Olive Shreiner House Museum, devoted to the authoress's life and works. Olive was said to write the novel 'The Story of an African Farm' whilst working as a governess on farms in the district, and much of her early life was spent in the town.
The town's streets are lined with Ilex Oak Trees, particularly on Dundas Street, where they have been declared a national monument. The Great Fish River Museum - shows what it was like to live as a settler during the second British occupation of the Cape.
Cradock Hotels
If you are planning a Cradock holiday, have a look at some of the accommodation that we recommend. 'Our Rating' indicates how we feel each property rates according to normal Western hotel standards. 'Local Rating' indicates how the property is categorised/rated locally: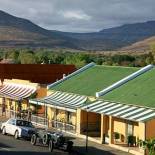 Die Tuishuise Cradock
Built in 1840, Die Tuishuise has been beautifully restored to their former splendour to recreate the gracious bygone era. All rooms are tastefully decorated with their own distinctive theme of antique furniture and period prints. Guests can enjoy dinner in the Manor House that serves delicious Karoo and South African cuisine. Why not indulge in a unique African Hum and Sun massage at the one site Spa? A great way to feel rejuvenated! Perfectly located on Market Street in Cradock.
For all our tours and tailor-made holidays we provide you with a clear categorisation of all hotels we use. The REGIONAL CATEGORY indicates the local rating of each hotel in each respective country. We have also rated each hotel using OUR CATEGORY, which will be in line with generally accepted western hotel grading standards.
Simple
Basic hotels and simple accommodation is a no frills option with an adventurous authentic feel.
Standard
Standard accommodation equates to a Western 3-star standard, always featuring en-suite rooms and usually a restaurant.
Superior
Superior accommodation equates to a Western 4-star standard, featuring en-suite rooms and usually a restaurant and often a swimming pool and/or a fitness centre.
Deluxe
Deluxe accommodation equates to a Western 5-star standard, usually featuring spacious, en-suite rooms, a restaurant, swimming pool and fitness centre and an array of amenities, excellent service and customer care.
Lavish
Lavish accommodation equates to a Western 5-star plus standard - the creme de la creme. Featuring spacious, en-suite rooms, a restaurant, swimming pool and fitness centre and an array of amenities, this accommodation is a cut above the rest. Sheer opulence!
Cradock Tailor made suggestions
Here are some of the recent tailor made itineraries we have created for our clients which include a visit to Cradock.