Sri Lanka Tailor made Holidays
With no fewer than eight UNESCO World Heritage Sites, the small island nation of Sri Lanka is brimming with a wealth of sacred sites, ancient cities, exotic wildlife, lush tea plantations and incredible landscapes. With a personalised itinerary carefully put together by our expert tailormade team, you can enjoy the sights and delights of Sri Lanka at your own pace – seeing what you want to see, when you want to see it - combining all the best sites of the cultural triangle with relaxing Indian Ocean beach-side bliss.

Itinerary Ideas
Generate some great itinerary ideas with our trip finder:
Places You Are Interested In:
Create Your Wish List
See the main highlights of Sri Lanka on holiday with us
Just a stone's throw from India this tropical island nation is steeped in history with ancient Buddhist cities, remnants of the spice trade, elegant colonial hill stations and lush tea plantations. The best of Sri Lanka's wonders can be found within the island's Cultural Triangle including the impressive Sigiriya rock fortress, remarkable cave temples of Dambulla, plus the sacred cities of Polonnaruwa, Kandy and Anuradhapura.
Situated in central Sri Lanka, Dambulla is most famous for its Rock Temples. This stunning complex of 5 caves contain over 150 images of Buddha including an impressive 15 metre statue carved out of the cave rock in the first cave, Devaraja Viharaya. The second cave, the Temple of the Great King is the most spectacular measuring 52m in length and 23m in width. It contains the statues of two kings, Nissanka Malla and Valagamba but the biggest draw card for the cave is the main Buddha statue, ...
Read More 
Bentota and Beruwela are separated by the Bentota River in the south west of Sri Lanka. Bentota is to the south and Beruwela to the north. The two towns are located 55 km south of Colombo and lie on the Indian Ocean coast. Bentota is famous for it's pristine beaches and earned a notable position in the Forbes Best Beaches in Asia Awards in 2010. This is even more impressive considering this was one of the beaches damaged by the 2004 tsunami. The area offers a whole host of watersports and ...
Read More 
The Hill Capital of Kandy was the last bastion of the Sinhala kings and is a charming city offering a living record of a magnificent past and is set around an attractive man-made lake in scenic hill country. It is also the site of Sri Lanka's greatest annual spectacle, the Esala Perahera festival, a 10-day event held usually in late July or early August – celebrating the sacred tooth allegedly snatched from Buddha's funeral pyre, which now rests in Kandy's Dalada Maligawa (Temple of ...
Read More 
Sigiriya, meaning 'lion rock' in Sinhalese, is an ancient rock fortress and palace surrounded by jungle in central Sri Lanka. The entrance to the tip of the palace was designed in the shape of a lion's mouth. A UNESCO World Heritage Site, and declared the 8th Wonder of the World, it is enclosed by the remains of an extensive network of gardens and reservoirs. These gardens are some of the oldest landscaped gardens in the world and include water, boulder and terraced gardens. From the ...
Read More 
Sri Lanka's cool hill country, which offers a welcome antidote to the heat of the coast and low-lying plains. Situated amongst verdant tea plantations and at an elevation of 1,990 m, Nuwara Eliya is one of the highest and most attractive towns in Sri Lanka's hill region. Built by English tea growers, it remained their favourite hill station during colonial times. Nuwara Eliya boasts the best golf course in Sri Lanka and is home to the impressive Hakgala Botanical Gardens, which you visit the ...
Read More 
The second largest national park in Sri Lanka, Yala is situated in the Southeast part of the island, 300 kilometres from Colombo. The park has 44 species of mammals and 215 species of birds. The park has one of the highest concentrations in the world and around 350 Asian elephants. Also present are sloth bears, golden palm civets, Sri Lankan krait and crocodiles. The coastline around the park is visited by leatherback and loggerhead sea turtles. Yala National Park has a variety of ecosystems ...
Read More 
Anuradhapura is a fascinating ancient city of the Sinhala kings, the first capital and undoubtedly the grandest city of ancient Sri Lanka. Sri Maha Bodhi (Sacred Bo-Tree) was brought to Sri Lanka as a sapling from the tree under which Buddha is said to have become enlightened, at over 2,200 years old it is the oldest historically documented tree in the world. The 1600 stone columns of Brazen Palace (2nd century B.C), which are all that is left of a magnificent multi-storied residence for monks. ...
Read More 
Capital of Sri Lanka, Colombo is a city filled with good hotels, restaurants, shopping and every form of transport imaginable! Just off the north end of Galle Road is the Fort, once a colonial stronghold but now the site of many government buildings. To the south is Galle Face Green, a seaside expanse where informal cricket games are played out amongst city folk. Just east of the Fort is the Pettah, the traditional bazaar where you can enjoy a colourful retail experience. The two World Trade to ...
Read More 
Sri Lanka tailor made reviews
Scoring an average customer rating of 4.6 out of 5 based on 5 recent reviews — See All Reviews
Indian Ocean Bliss
Sri Lanka's beautiful southern coast has miles of beautiful, pristine sandy beaches and coves. The south is very scenic, wonderfully relaxed and less developed than the popular south west coast. Tangalle is an idyllic seaside town which boasts some of the best beaches on the island and it is also a breeding ground for marine turtles. Snorkelling and diving off the coast here is very popular and there are plenty of other water sports on offer.
Inspirations for a holiday in Sri Lanka
While Sri Lanka's famous sites are sure to impress consider adding on some hidden gems and authentic local experiences on to your travels too. Here are some of our recommended things to see and do to get you started.
Cheer from the sidelines
Cricket match
As the nation's most popular sport and favourite pastime amongst locals, you simply cannot leave Sri Lanka without witnessing at least one cricket match. Whether it is cheering from the sidelines of a friendly game on the beach or from the buzzing stalls of a cricket ground in Colombo or Kandy, revel in the electric atmosphere as the runs come in.
Embark on a pilgrimage
Climb Adam's Peak
Soaring out of Sri Lanka's hill country, Adam's Peak is perhaps one of the most sacred pilgrimage sites on this Tear Drop Isle. A mysterious shallow depression at the summit of the mountain has resulted in numerous myths and legends with many religions staking claim to its origination – from being the footprint or Buddha to where Adam stood when cast down from Heaven. Whatever your belief, a climb up to the summit is well-worth it and commands incredible views.
Uncover colonial Sri Lanka
Dutch Galle
Set on the southern coast, this charming town is an intoxicating confluence of traditional Sri Lankan culture and Dutch-colonial architecture set against a tropical backdrop. Highlights here include the UNESCO-listed Galle Fort which is brimming with shops and cafes, and the National Museum with plenty of artefacts on display. Visit Galle on a day trip from Colombo, spend a couple nights here, or combine it with a relaxing beach stay.
Go wild on safari
Nine national parks
For a small island nation Sri Lanka is certainly not lacking in natural beauty and wildlife, which can be seen in its nine national parks and seven bird sanctuaries. Sri Lanka is home to over 43 endangered species, including the Blue Whale and Asian Elephant, as well as sloth, leopard and sea turtle. From Yala National Park to Horton Plains and Udawalawe, take a walk on the wild side on a wildlife safari.
Practise your bargaining skills
The Pettah
If you want to search out a bargain in Colombo, then you cannot go amiss in the Pettah district. Here you'll discover a network of open air markets and bazaars selling anything from colourful textiles, aromatic spices, sizzling street food and handcrafted souvenirs. With notable landmarks and an intriguing mix of cultures, ethnicities and religions, this is a fascinating place to spend a few hours.
Go whale watching
Mirissa
Enjoying an enviable location on the southern coast of Sri Lanka, just 200 kilometres from the equator, the small seaside town of Mirissa is a sun-seekers paradise. The sandy crescent shaped palm-fringed beach is the perfect place to soak up the rays while offshore wildlife enthusiasts can go in search of whales, dolphins, turtles and manta rays, which are often spotted in the warm turquoise waters.
Some of our top hotel picks
For all our tours and tailor-made holidays we provide you with a clear categorisation of all hotels we use. The REGIONAL CATEGORY indicates the local rating of each hotel in each respective country. We have also rated each hotel using OUR CATEGORY, which will be in line with generally accepted western hotel grading standards.
Simple
Basic hotels and simple accommodation is a no frills option with an adventurous authentic feel.
Standard
Standard accommodation equates to a Western 3-star standard, always featuring en-suite rooms and usually a restaurant.
Superior
Superior accommodation equates to a Western 4-star standard, featuring en-suite rooms and usually a restaurant and often a swimming pool and/or a fitness centre.
Deluxe
Deluxe accommodation equates to a Western 5-star standard, usually featuring spacious, en-suite rooms, a restaurant, swimming pool and fitness centre and an array of amenities, excellent service and customer care.
Lavish
Lavish accommodation equates to a Western 5-star plus standard - the creme de la creme. Featuring spacious, en-suite rooms, a restaurant, swimming pool and fitness centre and an array of amenities, this accommodation is a cut above the rest. Sheer opulence!
Sri Lanka's Tea Country
Along with aromatic spices and colourful gems, Ceylon tea is one of Sri Lanka's biggest exports and no trip to this island nation would be complete without trying it for yourself. Grown in the cool hill country each plantation produces tea with its own unique characteristics, but on the whole it is renowned around the world for its high quality, distinct aroma and delicious flavour. Watch tea pickers do their rounds, learn about the island's history in the tea industry and enjoy a cuppa.
The Inside Track
Our Latest Updates from across the globe
Video of the Week
Sri Lanka – Island of Dharma
May 29, 2015 • OTG Team
Just off the coast of India is the beautiful island nation of Sri Lanka, brimming with beautiful tea...
Read Full Story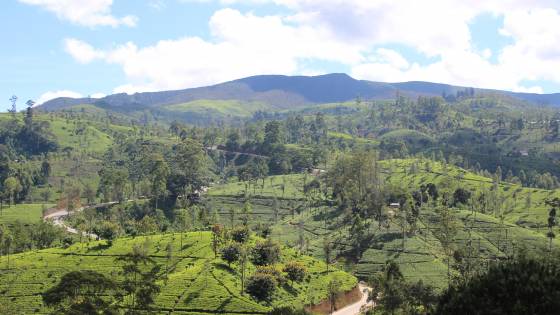 Photo Showcase
First impressions of Sri Lanka
February 18, 2015 • OTG Team
Kate Filer recently experienced Sri Lanka for the first time when she travelled on our 8 day Caves ...
Read Full Story
Video of the Week
Impressions of Sri Lanka
January 30, 2015 • OTG Team
The weekend is just around the corner and we are daydreaming about where we'd like to fly off ...
Read Full Story