Sri Lanka Tours
Lying just off the southern tip of India is picturesque Sri Lanka. With over 2,000 years of history, Sri Lanka has a rich cultural heritage and a wealth of sacred sites, ancient cities, lush tea plantations and incredible landscapes.
Unsurprisingly, UNESCO has recognised eight World Heritage sites in Sri Lanka, several of which are located in what is known as the cultural triangle. As an experienced tour operator in Sri Lanka, we offer a diverse number of tours to Sri Lanka and we look forward to welcoming you on holiday to the Teardrop Isle soon.
Sri Lanka
with On the Go Tours
Local tour guides
Lots of authentic experiences
Award winning tours
Guaranteed departures
Free time to explore on your own
See the real Sri Lanka
Authentic local experiences
Experience the local way of life in Sri Lanka
On our tours in Sri Lanka you'll have the chance to dine with a local family near Sigiriya, witness the colourful parade of elephants during the annual Kandy Festival, taste a delightful blend of tea at Nuwara Eliya and watch a game of cricket with the locals on the Galle Face Green.
Styles of travel in Sri Lanka
You'll get a true impression of local culture on our group tours in Sri Lanka - see ancient temples, rock fortresses and caves of the island's famous cultural triangle, plus visit spice gardens, tea plantations and national parks too. There's also the opportunity to relax on one of Sri Lanka's many beautiful sun kissed beaches, a fantastic way to top off a culture-rich tour.
With a personalised itinerary carefully put together by our expert tailormade team, you can enjoy the sights and delights of Sri Lanka at your own pace – seeing what you want to see, when you want to see it - combining all the best sites of the cultural triangle with a bit of beach side R&R on Indian Ocean as well.
Soak up the sun on a beautiful Indian Ocean beach with out our Sri Lanka beach holidays. With a choice of two of the best 4 & 5 star beach front properties in Kalutara, you'll be picked up from Colombo airport and driven to your hotel. So all you need to do is enjoy the outdoor pools, a stunning beach front location and a whole host of facilities from Ayurvedic Spas to fabulous restaurants.
With well-planned itineraries visiting Sri Lanka's most loved places and gems off the beaten track, we're here to help you experience the true local flavour of Sri Lanka. We can tweak any of our suggested private tour itineraries to your requirements with upgraded hotels, a few more days of sightseeing or simply more time spent in a particular location.
Sri Lanka tour reviews
Scoring an average customer rating of 4.17 out of 5 based on 6 recent reviews — See All Sri Lanka Reviews
Travelling to Sri Lanka with us
On our tours in Sri Lanka you can meet elephants at the Pinnawala Elephant Orphanage, head out on safari in Yala and Udawalawe National Parks or soak up plenty of the sunshine on Sri Lanka's gorgeous beaches. For great insight into Sri Lanka's history and culture, time your visit to coincide with one of its many festivals. On our Colombo Caves & Kandy Festival tour you attend the famous Kandy Festival, one of the most important Buddhist festivals in the Sri Lankan calendar.
When I travelled to Sri Lanka I felt
Awesome
"Ancient city of Anuradhapura, beautiful Buddhas everywhere."
by berto voigt
Posted on 01 Aug 2015
Read More >
Recommended places to visit in Sri Lanka
Rock Fortress
Sigiriya
Perched 370 metres above verdant jungle, the mysterious remains of this 5th century granite rock fortress are well worth exploring. The summit of Sigiriya is accessed by a steep staircase that climbs up the side of the rock, with a collection of Heavenly Maiden frescoes which can be seen en route. The top affords spectacular views of the jungle below and mountains in the distance.
Tea Plantation
Nuwara Eliya
Tea is one of Sri Lanka's biggest exports and they sure are proud of it. Witness tea pickers harvesting the crop and enjoy a cup of delicious pure Ceylon tea in the factory of the Nuwara Eliya tea plantation. Once a colonial favourite, this attractive town is a charming confluence of old world England and modern day Sri Lanka surrounded by picturesque hill country.
Cave Temple
Dambulla
This UNESCO-Listed cave temple is one of the best-preserved and most impressive in all of Sri Lanka, and it's not difficult to see why.
Dambulla
is made up of five different caves, each one of covered with wall to ceiling mural paintings and scattered with statues and sculptures of Buddha.
Beach Bliss
Kalutara
A huge white expanse of sand framed by swaying palm-trees on one side and a beautiful turquoise sea on the other, it doesn't get much better than Kalutara. Whether you want to snorkel, learn how to surf or simply kick back, relax and top up your tan, this is the place to be.
Spice it up
Spice Gardens
Sugar, spice and everything nice! Learn about some of Sri Lanka's most famous spices and what they are used for at a traditional Spice Garden. Wander around the grounds, watch a cooking demonstration that puts some of the spices to use and choose to buy some to take home with you.
National Park
Udawalawe
Go wild on a jeep safari in Udawalawe National Park, home to elephants, deer, wild boar, buffao, jackal and much more. Home to over 400 elephants, this is probably the best place to catch a glimpse of a Sri Lankan elephant in the wild, plus there are sloth bears too!
Sacred site
Temple of the Tooth
Said to house a tooth of Buddha enclosed within a golden casket, The Temple of the Tooth is perhaps the most famous in Sri Lanka. Pop in here on a visit to the hill city of Kandy and if you go in the evening you may be lucky enough to catch a daily cultural display that takes place in the temple complex.
"
Our guide opened my eyes to what a beautiful, vibrant, hectic, exciting country India is. And what a contrast Sri Lanka was - tropical & calm! Thank you for a great time. "
The Inside Track
Our Latest Updates from across the globe
Video of the Week
Sri Lanka – Island of Dharma
May 29, 2015 • OTG Team
Just off the coast of India is the beautiful island nation of Sri Lanka, brimming with beautiful tea...
Read Full Story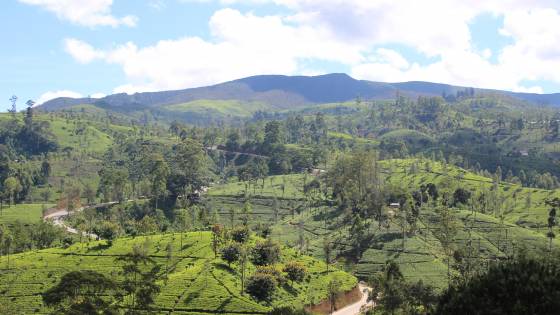 Photo Showcase
First impressions of Sri Lanka
February 18, 2015 • OTG Team
Kate Filer recently experienced Sri Lanka for the first time when she travelled on our 8 day Caves ...
Read Full Story
Video of the Week
Impressions of Sri Lanka
January 30, 2015 • OTG Team
The weekend is just around the corner and we are daydreaming about where we'd like to fly off ...
Read Full Story