Tanzania Safari Tours
Win a trip to Tanzania for 2 with flights!
Tanzania is a country of outstanding natural beauty, wonderful wildlife and rich culture, with over 120 tribal groups. For many it's the ultimate safari country, which is not surprising for a country that has more land devoted to national parks than any other wildlife destination, covering an incredible 33,660 km² and including the UNESCO-listed Serengeti, the setting for the famed wildebeest migration and Ngorongoro Crater, a vast volcanic crater ring, teeming with animals. Tanzania is also home to Mt Kilimanjaro, the world's tallest free-standing mountain and Zanzibar, an idyllic tropical getaway, ideal for some blissful beach time.
We have a number of different travel styles to Tanzania - from camping based overland truck trips, small group lodge accommodated safaris, to tailor made holidays and day tours.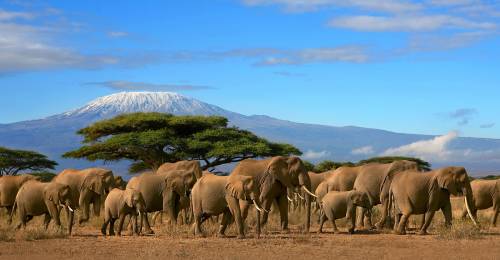 Styles of Travel to Tanzania
The 8th natural wonder of the world
Ngorongoro Crater is a vast and unbroken volcanic crater ring, that's home to nearly every species of African animal. Deservedly referred to as Africa's Eden and the 8th Natural Wonder of the World, where zebra, buffalo and wildebeest graze amongst the predatory lion, cheetah and hyena, whilst pink flamingos and hippos gather at the waters edge. Ngorongoro Crater is also one of the last remaining areas in Tanzania where you can see the endangered Black Rhino.
Tanzania Overland Safaris
Overland Budget Accommodation Upgrade Available
Our overland camping safaris in Tanzania range from 8 to 57 days, taking in not just the main highlights of Tanzania, but several of Africa's finest national parks on our multi-country safaris. The Ngorongoro Crater is certainly one of Tanzania's biggest draw cards and UNESCO-listed Serengeti is the largest and most popular of Tanzania's national parks, both visited on all our overland safaris. Combining truck transportation and camping in tents is the most cost-effective way of visiting Tanzania and it gets you off the beaten track too.
Tanzania Lodge accommodated safaris
For a little extra comfort whilst on safari our Tanzania lodge accommodated trips, which have a maximum group size of 15, may be just the ticket. Staying in a variety of standard to mid range lodges, tented chalets, set within beautiful surroundings, you'll be accompanied by a knowledgeable and experienced guide who is also your driver. On our lodge accommodated safaris to Tanzania, you'll get to explore Lake Manyara, Tarangire National Park, the Serengeti, Ngorongoro Crater, Amboseli ,Lake Manyara, Tarangire, Lake Nakuru and more.
Tanzania Private Safaris
Have that perfect holiday on one of our private safaris to Tanzania, combining a world class safari with a bit of R&R on the beaches of Zanzibar. Tanzania has renowned parks for spotting wildlife - Tarangire, the Serengeti, Ngorongoro Crater - where you'll be sure to spot the big 5. On our private safaris to Tanzania, you'll travel at your own pace, we can assist with handpicking the accommodation that's just right for you too.
Guided by an English-speaking tour guide you can explore the island of Zanzibar including charming Stone Town and a spice tour on one of our day tours of Tanzania. Or gain insight into the history and culture of Tanzania with a visit to the National Museum, Makumbusho Village Museum and explore the sleepy seaside town of Bagamoyo.
Tanzania tour reviews
Scoring an average traveller rating of 4.75 out of 5 based on 12 recent reviews — See All Tanzania Reviews
Serengeti National Park
UNESCO-listed Serengeti is the largest and most popular of Tanzania's national parks. Sprawled across 14,763km² of sun burnt savannahs, dotted with acacia trees, the Serengeti offers arguably the most scintillating game-viewing in Africa. Between the Serengeti and the Masai Mara, a million or more wildebeest and hundreds of thousands of zebra and gazelle complete their great circulatory migration in search of green pasture. Where there is such a large mobile meat supply there are predators and the Serengeti is renowned for its impressive lion sightings, with leopards, cheetahs, jackals and hyenas never far away.
When I travelled to Tanzania I felt
Amazing
"...being so close to the nature is the best. I love travelling because it gives me opportunity to learn about other cultures and meet amazing people."
by Katarzyna Drabek
Posted on 02 Oct 2015
Read More >
Our top picks For a safari in Tanzania
Our Top Pick for Tanzania
#1 Ngorongoro Crater
The Ngorongoro Crater is a natural amphitheatre created about 2 million years ago when the cone of a volcano collapsed into itself, leaving a 100 sq. mile cauldron-like cavity. This caldera, protected by a circular high...
Read More >
"
Hi Ryan. Thanks for all your help with booking the Wildlife Express tour, just wanted to let you know it was fantastic mate! Gorillas next time ... Nick"
Tanzania Travel Guide
A well-planned trip can make all the difference between good and great so cover all bases with our useful guide on travelling to Tanzania.
Get to know Tanzania
Recommended Reading
Paradise
by Abdulrazak Gurnah
The Tree Where Man Was Born
by Peter Matthiessen
The Gunny Sack
by MG Vassanji
Did you know...?
Facts about Tanzania
Tanzania is one of the largest countries in Africa and home to the continent's highest point, Mt. Kilimanjaro.
Over 120 different languages are spoken in Tanzania, including the Bantu languages with over 535 dialects.
A third of the country is occupied by national parks including Africa's largest nature reserve, the Serengeti.