Safari and
Beach
East Africa Encompassed - 16 days
Ngorongoro Crater, Serengeti National Park and the azure waters of Zanzibar.
More
Tanzania Safari Tours
Win a trip to Africa for 2 with flights!
Tanzania is a country of outstanding natural beauty, wonderful wildlife and rich culture, with over 120 tribal groups. For many it's the ultimate safari country, which is not surprising for a country that has more land devoted to national parks than any other wildlife destination, covering an incredible 33,660 km² and including the UNESCO-listed Serengeti, the setting for the famed wildebeest migration and Ngorongoro Crater, a vast volcanic crater ring, teeming with animals. Tanzania is also home to Mt Kilimanjaro, the world's tallest free-standing mountain and Zanzibar, an idyllic tropical getaway, ideal for some blissful beach time.
Camping & lodge accommodated safaris
Lots of authentic experiences
Top sites and hidden gems
Excellent value
See the real Tanzania
Local tour guides
Guaranteed departures
International travellers of a wide age range
Expert advice from our well-travelled team
The Ngorongoro Crater
The 8th natural wonder of the world
Ngorongoro Crater is a vast and unbroken volcanic crater ring, that's home to nearly every species of African animal. Deservedly referred to as Africa's Eden and the 8th Natural Wonder of the World, where zebra, buffalo and wildebeest graze amongst the predatory lion, cheetah and hyena, whilst pink flamingos and hippos gather at the waters edge. Ngorongoro Crater is also one of the last remaining areas in Tanzania where you can see the endangered Black Rhino.
Serengeti National Park
UNESCO-listed Serengeti is the largest and most popular of Tanzania's national parks. Sprawled across 14,763km² of sun burnt savannahs, dotted with acacia trees, the Serengeti offers arguably the most scintillating game-viewing in Africa. Between the Serengeti and the Masai Mara, a million or more wildebeest and hundreds of thousands of zebra and gazelle complete their great circulatory migration in search of green pasture. Where there is such a large mobile meat supply there are predators and the Serengeti is renowned for its impressive lion sightings, with leopards, cheetahs, jackals and hyenas never far away.
When I travelled to Tanzania I felt
incredible
"We drove around for hours looking for a leopard, the last on our list of game to see and finally came upon one. We were so very lucky, she gave us a ..."
by Ellen Kelly
Posted on 30 Jul 2015
Read More >
Our top picks For a safari in Tanzania
Our Top Pick for Tanzania
#1 Ngorongoro Crater
The Ngorongoro Crater is a natural amphitheatre created about 2 million years ago when the cone of a volcano collapsed into itself, leaving a 100 sq. mile cauldron-like cavity. This caldera, protected by a circular high...
Read More >
More about our safaris to Tanzania
"
Hi Ryan. Thanks for all your help with booking the Wildlife Express tour, just wanted to let you know it was fantastic mate! Gorillas next time ... Nick"
The Inside Track
Our Latest Updates from across the globe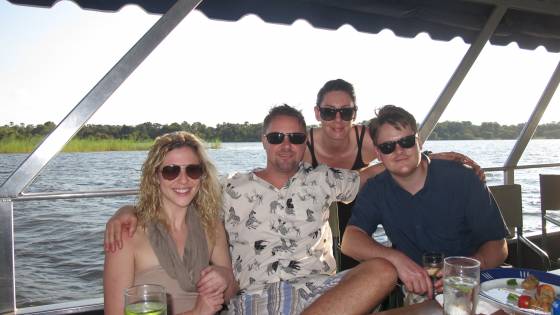 Photo Showcase
Overlanding from Vic Falls to Jo'burg
May 6, 2015 • OTG Team
Our own Miles Walker recently returned from Africa after travelling on an overland adventure from to...
Read Full Story News Tips and Trivia
Best places to visit in June
April 6, 2015 • OTG Team
The ninth part in a twelve part series on the best places to visit when. June is all about the and ...
Read Full Story
Video of the Week
Soaring over Africa
March 20, 2015 • OTG Team
As much as it is easy to appreciate the natural beauty of Africa at eye level, nothing quite to it ...
Read Full Story