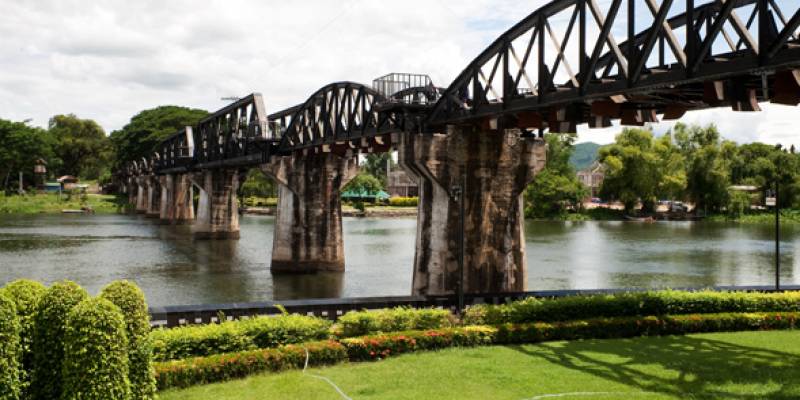 Tailormade Holidays and Tours To Thailand
Kanchanaburi
Kanchanaburi Tailormade Holidays
Set in a verdant valley in western Thailand, the small town of Kanchanaburi is a popular getaway for those looking to escape the hustle and bustle of Bangkok without going as far afield as Chiang Mai. While Kanchanburi offers beautiful scenery and an abundance of short trekking routes, what brings most foreign visitors here is the infamous Bridge on the River Kwai. Immortalised by the novel and film of the same name, this landmark forms part of the notorious Death Railway, which was built during the Second World War.
Running from Bangkok to Yangon in Burma, the railway was constructed by Allied Prisoners of War and Asian laborious, many of whom died during construction due to poor working conditions. Today the bridge acts as a stark reminder to the struggles these men had to endure, and can be crossed by foot or by rail. Other sites in Kanchanaburi dedicated to the events of World War II include several war cemeteries, the Thai-Burma Railway Centre, World War II Museum & Art Gallery and JEATH War Museum.
Tailormade Holidays to Kanchanaburi
On the Go are expert at planning holidays in Thailand — tailored to suit your individual requirements. Please have a look at some of the tailormade itineraries below that we have created for our clients which include Kanchanaburi.
Inspired?
Our team is standing by to help build your perfect Southeast Asia itinerary
Create Your Holiday