Turkey tours
Win a trip to Turkey for 2 with flights!
All our tours of Turkey kick off in Ottoman Istanbul - a fascinating city to explore and the only city in the world to straddle two continents.
With landmarks such as the Blue Mosque in Istanbul, the Roman ruins of Ephesus and Pergamum, the surreal landscapes of Cappadocia and the calcium deposits forming the 'Cotton Castles' of Pamukkale, Turkey is an extraordinary holiday destination. Add to that the sparkling coast of Fethiye, the battlefields and memorials of Gallipoli, and you have a host of great reasons to visit this amazing country.
Whether you want to explore the sights of Turkey on a group tour, with the entire family or at your own pace on a tailor-made holiday, we're bound to have something that suits you. Alternatively, consider doing something different this festive season and spend Christmas in Turkey.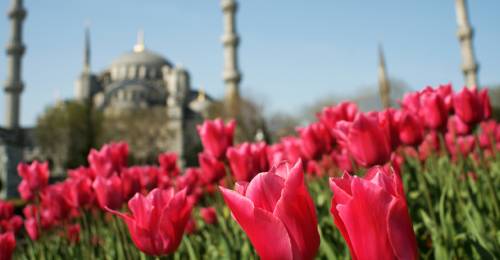 Styles of Travel to Turkey
Immerse yourself in the local way of life
Travelling on one of our group tours of Turkey you'll enjoy plenty of interesting local experiences - watch the amazing whirling dervishes, stop off at local villages, for a traditional lunch, sample some pistachio studded Turkish delight in Istanbul's exotic Spice Market, indulge in some wine tasting in Sirince and pamper yourself at a traditional Turkish bathhouse.
Turkey Group Tours
We have a range of group tours to suit all interests from short city breaks that focus on Istanbul and Gallipoli to Remembrance Day tours that commemorate those that died in WWI. Opt to end in Marmaris where you can enjoy some beach-side bliss or head to Turkey this Christmas for a festive holiday with a difference. There's also the choice to combine Turkey with neighbouring Greece or the ancient wonders of Egypt.
Set sail from the Mediterranean resort of Marmaris or Bodrum for a relaxing 8 day cruise through crystal clear waters, stopping to visit Turkey's unspoilt offshore islands and beautiful coves on a traditional gulet. Turkey's proximity to Greece also makes it the perfect starting point for languid cruises around the stunning Dodecanese islands.
Turkey is an exciting family holiday destination with something for everyone - the old, the young and the in-between, and we welcome children as young as 5 years old. On our family tours we kick off in Istanbul with time to explore the exotic spice markets before heading to Troy where you can climb into the mammoth wooden horse and then follow the coast to Kusadasi for the wet and wild Aquapark. We include an arrival day with no scheduled activities, allowing you some time to settle in before the adventure begins.
We have a number of private tours to Turkey which take in the popular sites as well as hidden gems off the beaten track. Explore the coast from Istanbul to Marmaris, follow a different route along the Black Sea visiting charming historic towns, discover the surreal landscapes of Cappadocia, marvel at brilliantly preserved ancient amphitheatres, island hop your way to Athens or combine classical touring with Mediterranean sailing.
Turkey Day Trips
Whether travelling to Turkey on business or pleasure, join us for a day tour of some of the country's most famous sights from the stunning Blue Mosque and opulent Dolmabahce Palace in Istanbul to the ancient classical sites of Ephesus and Pergammum along the coast.
Turkey tour reviews
Scoring an average traveller rating of 4.63 out of 5 based on 86 recent reviews — See All Turkey Reviews
Travelling to Turkey with us
We offer a range of tours and holidays in Turkey, including city breaks, group tours, family holidays, private tours, tailormade holidays and our annual ANZAC Day tours. In addition we also have tours which combine the highlights of Turkey with some of its neighbouring nations such as Greece, home to breathtaking islands and fascinating ancient ruins, Georgia, a fantasy land of magnificent castles and stunning high valleys and Armenia, home to rocky highlands and shimmering lakes - making for that perfect twin or triple centre holiday.
When I travelled to Turkey I felt
Amazed
"I went on the Turkey Unplugged tour with On The Go and enjoyed it so much. The hot air balloon has been my best travel experience so far!! Loved of..."
by Renee Pieterse
Posted on 19 Sep 2015
Read More >
RECOMMENDED PLACES TO VISIT IN TURKEY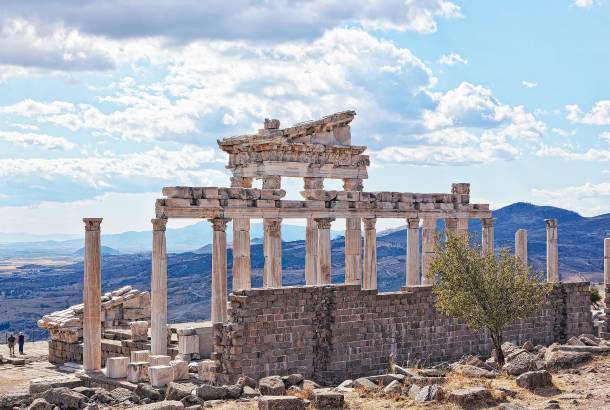 Ancient wonder
Pergamum
A picturesque cable car ride takes you to the ancient ruins of Pergamum – famed for its very impressive but vertigo-inducing Hellenistic theatre as well as the Temple of Trajan. The views from this remarkable site are worth the journey alone – be sure to walk behind the city to see the stunning lakeside view that sits behind the site.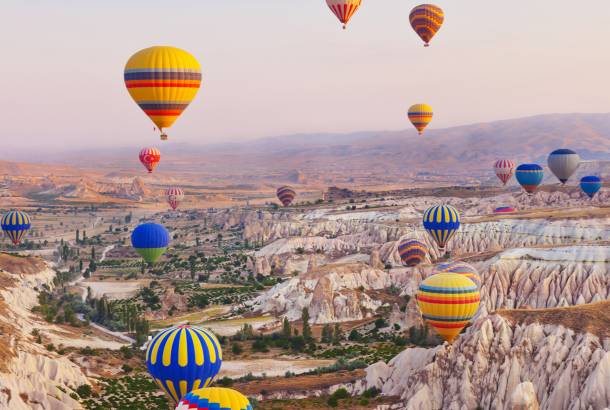 Lunar landscape
Cappadocia
Every trip to Turkey really should include Cappadocia. The bizarre rock formations of Turkey's Central Anatolia are famous the world over. Fairy-like chimneys tower over the special landscape and the Goreme Open Air Museum is a must see. The site is particularly spectacular first thing in the morning when you can opt to take an unforgettable balloon ride over the area.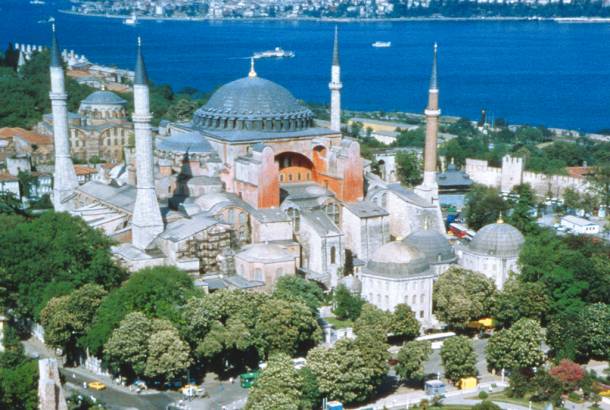 Ottoman Capital
Istanbul
The gateway to the east and most people's starting point in Turkey. Istanbul is a city that needs little introduction – spanning both Europe and Asia it is one of the world's most fascinating cities with one of the most beautiful harbours. With minarets gleaming in the sunshine and the sound of the call to prayer ringing across the city – it is a place not to be missed.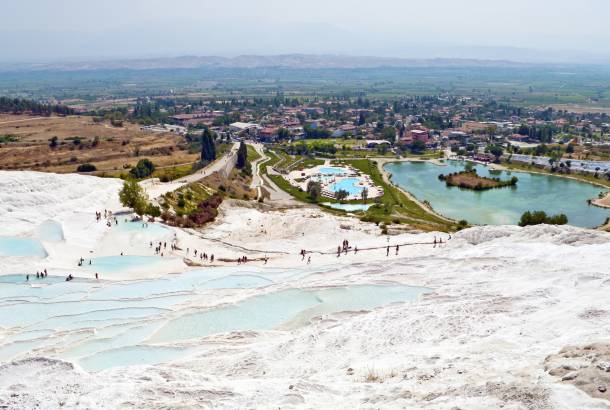 Cotton Castles
Pamukkale
One of Turkey's most famous sites, Pamukkale is another wonder of nature. Calcium rich mineral waters have cascaded over the cliff's edge creating these amazing travertines. A quick dip in the warm soothing waters is a must – most hotels in the area take advantage of this geothermal wonderland and have naturally heated pools as wonderful spa facilities!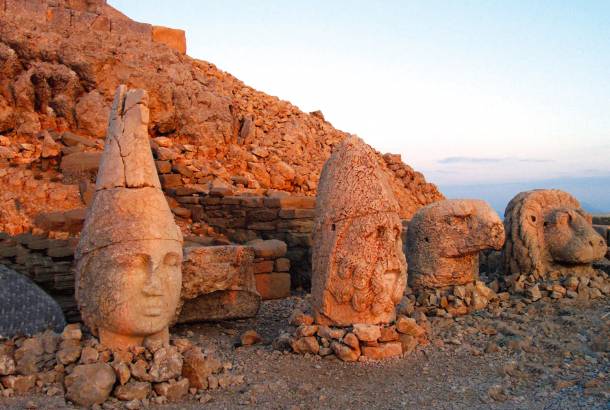 Mountain top tombs
Nemrut Dagi
First discovered by a German engineer in 1881, Nemrut Dagi in Eastern Turkey is a remote mountain top (Mount Nemrut) scattered with statues. Believed to be made for a pre-Roman local king who wanted statues of himself and the gods (who he believed to be his family!). Several earthquakes later and most of the statues are now headless with the heads either in neat rows on the ground looking up!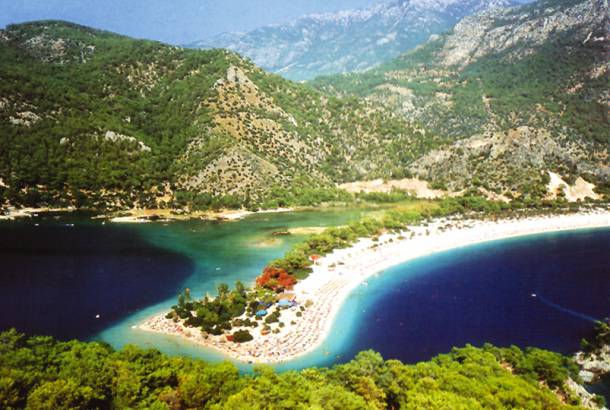 Blue Lagoon
Oludeniz
Blended with turquoise and aqua marine, it is easy to see why Oludeniz, a stunning secluded bay on a beautiful blue lagoon is one of the most photographed beaches in Turkey. Construction is prohibited here and it is also a national nature reserve so it is one of Turkey's best beaches to visit. Paragliding is a big thing here and it gives you a fantastic view of the bay from the air.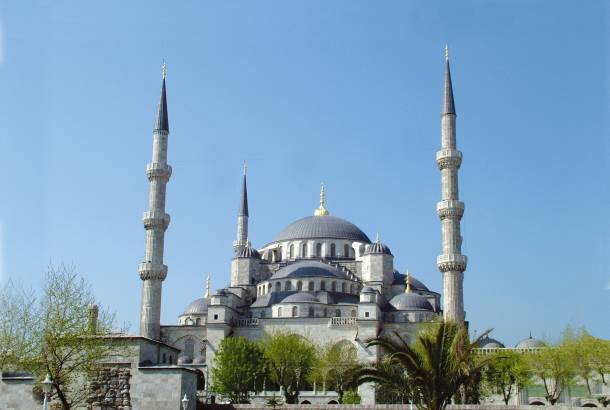 Ottoman Splendour
The Blue Mosque
Commissioned by a young Sultan Ahmed and built between 1609 and 1616 the Blue Mosque is one of the world's most famous mosques. Getting its name from the stunning blue tiling on the mosque's interior, the Blue Mosque is iconic Istanbul at its best. It is also only the second mosque ever to have 6 minarets, after Ka'aba in Mecca, Saudi Arabia.
"
We thoroughly enjoyed this tour, such a beautiful country for history, food and its friendly people. We learnt so much about Turkey's history from our wonderful guide Mehmet, he has such a wealth of knowledge. He certainly deserves Tour Guide of the Year. Thank you for such a wonderful tour. "
Turkey Travel Guide
Know before you go and prepare for your trip with our useful planning points for travel to Turkey.
Get to know Turkey
Recommended Reading
Birds Without Wings
by Louis de Bernieres
Istanbul: Poetry by Place
by Ates Orga
Crescent and Star: Turkey Between Two Worlds
by Stephen Kinzer
Did you know...?
Facts about Turkey
The first church to be built by man is situated in Antakya and Turkey is also home to the oldest known human settlement.
The trojan horse made for the 2004 film Troy now sits in the city of Canakkale.
The longest single word in Turkish has 70 letters and loosely translates as "to make unsuccessful ones"!
Turkey Travel Advice:
We keep a close eye on the latest travel updates to Turkey and follow the advice of the British Foreign Office. The safety of our travellers is paramount and we recommend that you check the latest travel updates from the relevant advisory body in your country prior to travel.
Due to ongoing conflict in the Middle East region, travel advice to Turkey does change from time to time. The FCO has recently placed travel restrictions to Eastern Turkey, specifically the region bordering Syria, and due to this travel advice we are no longer offering touring arrangements to this area of Turkey. Our standard tours to Turkey remain unaffected and the main tourist sites of Istanbul, Cappadocia, Pamukkale and the Aegean coastline are considered safe to visit.
Online travel resources for Turkey:
REFER TO: Rough Guides, Fodors, Bradt, Frommers, Footprints, CN Traveller and World Travel Guide.
ALSO SEE: The official Turkey Tourist Organisation site and the latest Turkey Weather Updates from the BBC.
TURKEY TRAVEL BLOGS: Here's a few blogs on travelling to Turkey that we love - Turkish Travel Blog, Istanbul Eats and Turkey From The Inside.