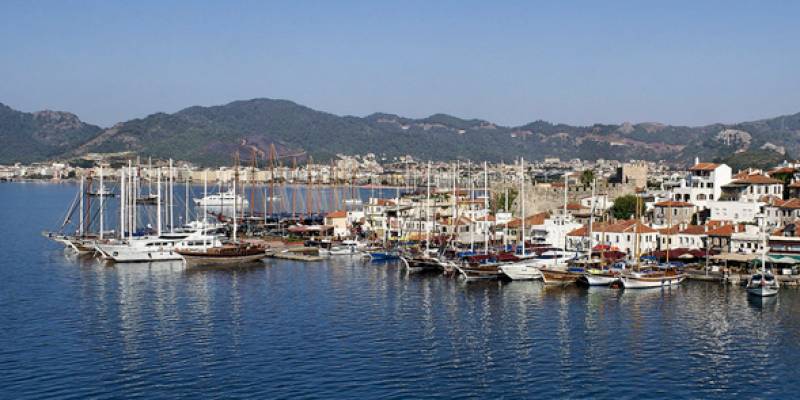 Tailormade Holidays and Tours To Turkey: Aegean
Marmaris
Marmaris Tailormade Holidays
Marmaris is a busy resort town with beautiful beaches on one side and pine-clad mountains on the other. Once a sleepy fishing town, Marmaris changed in the 1980's, becoming a popular resort town. Founded in the 6th century, Marmaris was an important town during the Hellenistic Age and Ottoman Empire.
Marmaris castle was rebuilt from scratch in 1522 by the Ottoman sultan Süleyman the Magnificent and since 1979, renovation work has been continuing at the castle, in order to restore it back to original condition. The castle was converted into a museum and there are seven galleries, of which the largest is being used as an exhibition hall and the courtyard is decorated with seasonal flowers. There is also a small Ottoman caravanserai built by Süleyman's mother Ayse Hafsa Sultan.
There is a lovely old quarter with cobblestones and a beautiful marina. In the old quarter, the Mugla houses are under preservation orders and there are some fine examples of the Mugla architecture. There are plenty of restaurants and bars all around the marina area. All along the nearby beaches, a variety of watersports are on offer - choose from catamaran trips, parasailing, water skiing, sailing and scuba diving.
To get you started with planning your holiday to Marmaris, we have showcased below some popular itineraries requested by our clients which we hope will inspire your visit to Turkey
Tailormade Holidays to Marmaris
On the Go are expert at planning holidays in Turkey — tailored to suit your individual requirements. Please have a look at some of the tailormade itineraries below that we have created for our clients which include Marmaris. Anemon Hotel, Marmaris
Just a stone's throw from the beach, the Anemon Hotel welcomes guests in its grand marble lobby. Rooms are comfortable with modern amenities and excellent en suite facilities. The buffet breakfast is plentiful and the Sensus Wine and Cheese Boutique is well worth a visit. Starting the day with a traditional Turkish Bath is our top tip! Well located just two blocks from the beach on the main boulevard. Maritim Hotel Grand Azur, Marmaris
The Maritim Grand Azur is a modern and and lively hotel with contemporary rooms. There is a choice of restaurants and a good range of fitness facilities. Orsmaris Boutique Hotel, Marmaris
Örsmaris Boutique hotel was completely renovated in 2006. The hotel offers a warm and inviting athmosphere with a professional approach and excellent service.
For all our tours and tailor-made holidays we provide you with a clear categorisation of all hotels we use. The REGIONAL CATEGORY indicates the local rating of each hotel in each respective country. We have also rated each hotel using OUR CATEGORY, which will be in line with generally accepted western hotel grading standards.
Simple
Basic hotels and simple accommodation is a no frills option with an adventurous authentic feel.
Standard
Standard accommodation equates to a Western 3-star standard, always featuring en-suite rooms and usually a restaurant.
Superior
Superior accommodation equates to a Western 4-star standard, featuring en-suite rooms and usually a restaurant and often a swimming pool and/or a fitness centre.
Deluxe
Deluxe accommodation equates to a Western 5-star standard, usually featuring spacious, en-suite rooms, a restaurant, swimming pool and fitness centre and an array of amenities, excellent service and customer care.
Lavish
Lavish accommodation equates to a Western 5-star plus standard - the creme de la creme. Featuring spacious, en-suite rooms, a restaurant, swimming pool and fitness centre and an array of amenities, this accommodation is a cut above the rest. Sheer opulence!
Inspired?
Our team is standing by to help build your perfect Europe itinerary
Create Your Holiday