Vietnam Tours
Book 1 VERY VIETNAM tour by 31 August and get 1 half price.
With its soaring northern mountains, sunny southern regions and gorgeous coastline, Vietnam is filled with natural beauty. Travelling to Vietnam with us you'll get to enjoy delicious Vietnamese cuisine, visit all the highlights, discover tradition and history in charming rural villages, and see the dynamic new face of Asia in the hubbub of Vietnam's thriving cities.
We offer a variety of travel styles to Vietnam - from guided group tours and tailor-made holidays to colorful festival tours and family adventures for young adults too. We include a complimentary Vietnam tourist visa as well as airport transfers any time of day or night on all our tours.
Vietnam
with On the Go Tours
Vietnam visa included
Local tour guides
Complimentary arrival transfer
Award winning tours
Expert local guides at certain sites of interest
Guaranteed departures
Unique local experiences
Get that true local flavour
Travelling beyond the sites, on our group tours to Vietnam you'll get to experience the local way of life - ride a bike through the Vietnamese countryside, sample locally made delicacies in the Mekong Delta, sow and plough the fields of Tra Que, take a class of Tai Chi at Halong Bay and learn to make traditional Vietnamese Rice paper rolls and pancakes.
Styles of travel to Vietnam
Led by our experienced tour leaders, you'll discover both highlights and hidden gems of Vietnam with your tour group and have a bit of free time to explore on your own as well. Staying at comfortable 4 star and hotels, group size is typically 15-20 travellers and some of our tours combine Vietnam with close by Cambodia, Laos and Thailand too.
Discover the best of Vietnam on holiday with us. Sail through the limestone peaks of Halong Bay, relax in laidback Hoi An, trek off the beaten track in Sapa and visit the floating markets of the Mekong delta. Our team of tailor made consultants are on hand to help you create that perfect holiday ensuring that your trip to Vietnam is like no other.
If you prefer not to travel as part of a group to Vietnam, our private tours allow you to get off the beaten track and travel at your own pace on a holiday tailored exclusively to the needs of yourself and your family or friends. And if one of our group tour itineraries fits the bill, this can be arranged on a private basis too.
Vietnam tour reviews
Scoring an average customer rating of 4.76 out of 5 based on 68 recent reviews — See All Vietnam Reviews
Highlights of our Vietnam Tours
In Vietnam, sail through the lofty limestone peaks of Halong Bay, discover the cascading rice paddies of Sapa, soak in the age-old charm of Hoi An, cruise along the narrow canals of the Mekong Delta and explore the buzzing metropolis of Saigon. A lot of our tour to Vietnam also combine the highlights of neighbouring Cambodia where you'll discover the legendary temples of Angkor, take a boat ride to the floating villages of Tonle Sap Lake and visit the beautiful Royal Palace Complex in Phnom Penh.
When I travelled to Vietnam I felt
rewarded!
"I came across this spot whilst cycling around the city of Hoi An. As I stopped and sat for a few moments I reflected on my experiences so far and felt..."
by Charlotte Stevens
Posted on 03 Aug 2015
Read More >
TRAVEL TO VIETNAM FOR THE FULL MOON FESTIVAL
The Full Moon Festival in Vietnam originated as an autumn harvest festival and today is the second most important celebration in the country. Lanterns are released into the night sky or onto a river and moon cakes are eaten with family and friends. Join us to celebrate the Full Moon Festival in charming Hoi An, where the festivities are at their best.
"
One of the best experiences I've ever had in my life and out tour guide (Tran Binh Nguyen) was exceptional. He made our tour fantastic!! Thank you On the Go for providing the opportunity for us to experience Vietnam in an amazing way. "
The Inside Track
Our Latest Updates from across the globe News Tips and Trivia
Under the spell of Hoi An
June 22, 2015 • OTG Team
Sitting back in Hoi An after many years absence, it's comforting to know that this ancient town as...
Read Full Story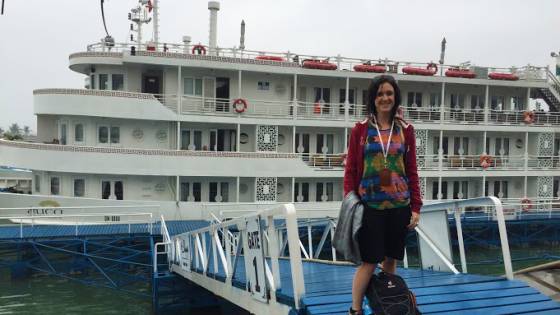 Photo Showcase
Junk boats, rickshaws & bicycles
June 3, 2015 • Guest Bloggers
In March this year, guest blogger Emma Drummond took some time out to embark on a foreign adventure....
Read Full Story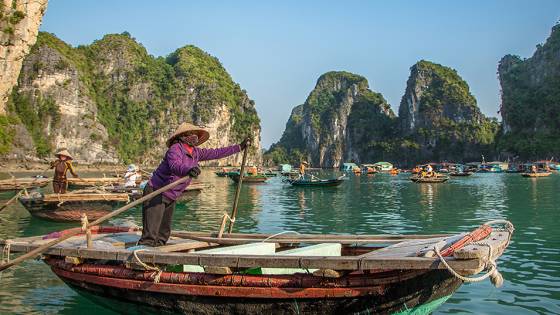 Photo Showcase
Which Vietnam tour is for you?
February 4, 2015 • OTG Team
If Vietnam is on your bucket list, then now is the time to tick it off. We've just launched a 2 1 ...
Read Full Story