Island
Getaway
Simply Zanzibar - 5 days
Historic Stone Town, magnificent white sandy beaches and the crystal clear waters of the Indian Ocean - pure paradise!
View Safaris
Holidays to Zanzibar
Win a trip to Africa for 2 with flights!
With pristine white sand beaches and the azure Indian Ocean, Zanzibar is a little slice of paradise, and has many stunning beach resorts including Kiwengwa on the east coast and Nungwi in the north. It also offers some of the best diving in the world, with lush coral reefs and a diverse range of sea life including dolphins, turtles, whale shark and manta-rays.
Historic and UNESCO listed Stone Town
Safaris with Kenya and Tanzania too
Zanzibars famous spice plantations
Pristine white sandy beaches
The spice island
Stone Town and the Spice Plantations
Zanzibar has a fascinating history as it was the centre of the slave and spice trades in the 1800s and UNESCO-listed Stone Town, with its labyrinth of narrow streets, ancient buildings and bustling bazaars, is at its cultural heart. Known as The Spice Island, no visit to Zanzibar would be complete without a visit to the spice plantations, a true delight for your senses.
ZANZIBAR DREAMING
The azure waters and soft white sands of Zanzibar offer an idyllic end to an action packed safari or a relaxing interlude during one of our longer overland adventures.
No visit to Zanzibar would be complete without a visit to the spice plantations. Delight your senses on a guided tour and learn about the assortment of spices, such as cloves, cardamom, cinnamon and nutmeg, and their various uses. It was the spice plantations that brought the beginnings of Zanzibar's infamous slave trade dating back to the 1840s, which you can learn all about on a tour of historic Stone Town.
When I travelled to Zanzibar I felt
'Hakuna Matata'
"...pretty much sums it up. I didn't think Zanzibar and jam packed went together, I was wrong... We fed giant tortoises on prison island, swam with..."
by Nicola Booyse
Posted on 12 May 2015
Read More >
More about our safaris and holidays to Zanzibar
"
I can honestly say I've enjoyed every bit of this trip from start to end. I don't have one bad word to say. it has exceeded my expectations, everyone has been very helpful and fun. The crew did an awesome job! Thank you."
The Inside Track
Our Latest Updates from across the globe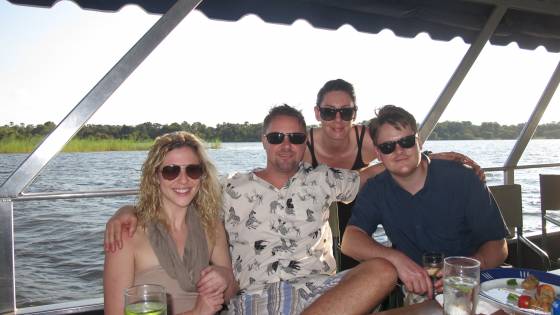 Photo Showcase
Overlanding from Vic Falls to Jo'burg
May 6, 2015 • OTG Team
Our own Miles Walker recently returned from Africa after travelling on an overland adventure from to...
Read Full Story News Tips and Trivia
Best places to visit in June
April 6, 2015 • OTG Team
The ninth part in a twelve part series on the best places to visit when. June is all about the and ...
Read Full Story
Video of the Week
Soaring over Africa
March 20, 2015 • OTG Team
As much as it is easy to appreciate the natural beauty of Africa at eye level, nothing quite to it ...
Read Full Story