The snow-capped mountains, time-worn temples and the Buddhist stupas of Nepal and Tibet never fail to inspire and ignite the imagination. For hundreds of years the Tibetan plateau was isolated from the rest of the world and shrouded in mystery, but today it is open to visitors and ripe for exploration. These two enchanting and spiritual destinations offer plenty to do and see making it difficult to know where to start. This week's photo showcase highlights our pick of the top ten things to do in Nepal and Tibet accompanied by some stunning imagery.
Dusk off those hiking boots and head to the Himalayas!
1. Nepal: Kathmandu
A cosmopolitan and charming city, Nepal's capital is a wonderful place to start any journey in the Himalayas. Brimming with history, time-worn temples and ancient pagodas, Kathmandu has plenty to captivate even the well-seasoned traveller. Highlights include the Swayambhunath Pagoda (pictured), the colossal Bodhnath and the King's Palace. Those searching for spectacular temples and shrines will find them in Durbar Square - in Kathmandu, or in Patan Durbar Square in the nearby town of Patan.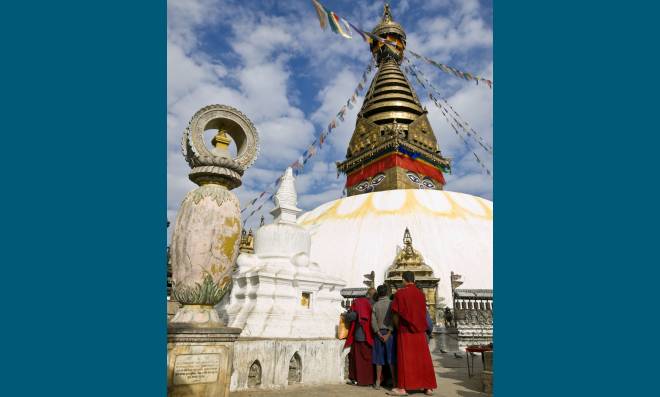 2. Nepal: Pokhara
With picturesque lakes and stunning panoramic views, it's no wonder by Pokhara is a favourite amongst travellers travelling to the Himalayas. Lake Phewa is undoubtedly one of Pokhara's main attractions. This idyllic lake is a wonderful place to kick back and relax, with brightly painted wooden boats bobbing on its surface and sailboats for rent. To add to this, Pokhara is also the gateway to the magnificent Annapurna mountain range, which includes the 10th highest mountain in the world.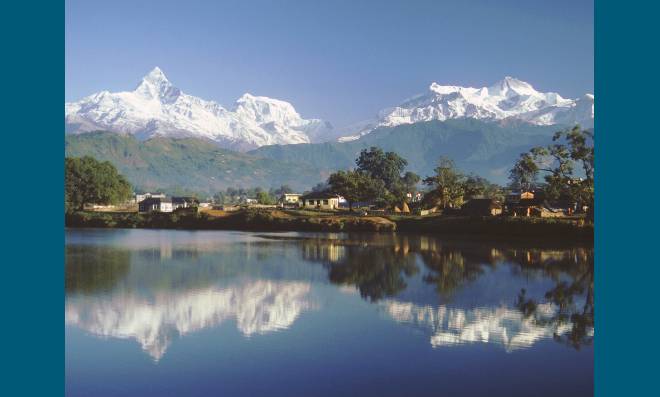 3. Nepal: Chitwan National Park
While most travellers come to Nepal in search of magnificent mountain ranges, ancient monasteries and spiritual well-being, its national parks are not to be forgotten. Established in 1973, Chitwan National Park was the first in the country and was set up to protect its unique ecosystem. Spanning some 932 square kilometres, Chitwan is home to the endangered one-horned rhinoceros, tiger and gharial crocodile, along with many other common species of wild animals and birds.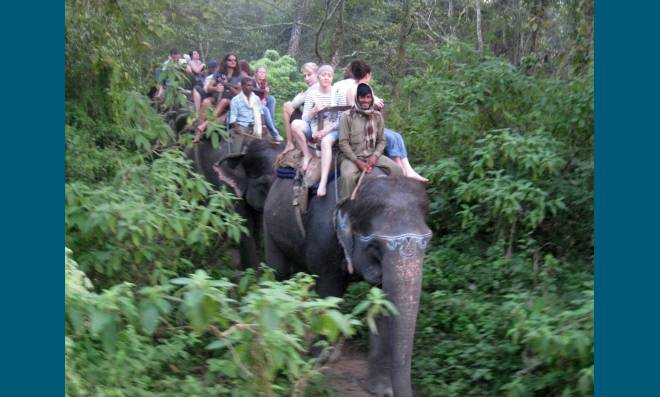 4. Nepal: Bhaktapur
The historic town of Bhaktapur is just a short distance from Kathmandu and yet worlds apart. It has retained its traditional way of life, with centuries-old traditions and trades, and traffic free streets. The town is home to beautifully carved Malla dynasty palaces and pagodas and the cobblestone streets, temples, shrines and squares are full of character. As Kathmandu offers a higher standard of accommodation than Bhaktapur, we recommend staying in the capital.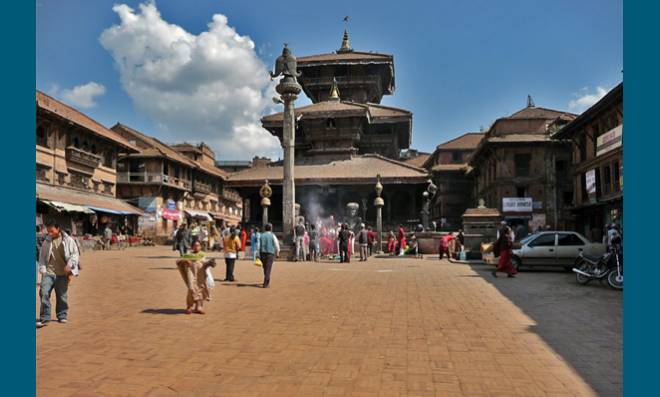 5. Nepal: Gokyo Lakes
Located in Sagarmatha National Park in north-eastern Nepal, the surreal turquoise blue waters of the Gokyo Lakes are the highest freshwater lakes in the world, and simply stunning. If time allows these lakes are best seen from above, on a trek around the region. The region is also a great alternative for those who fancy a trekking holiday, but are intimidated by the lofty heights of Everest itself. Tranquil and beautiful, see if you can capture a photo as the sun sets over the lakes. 6. Tibet: Lhasa
As the capital of Tibet since the 7th century, Lhasa enjoys an enviable remote location at an altitude of some 3650 metres – making it one of the highest cities in the world. Lhasa is also regarded as an important religious centre by Tibetan Buddhists, as the traditional seat of the Dalai Lama. Dominating the cityscape is Potala Palace, towering 117 metres above the city on Marpo Hill. Other highlights include the Norbulingka Palace and UNESCO-Listed Jokhang Temple.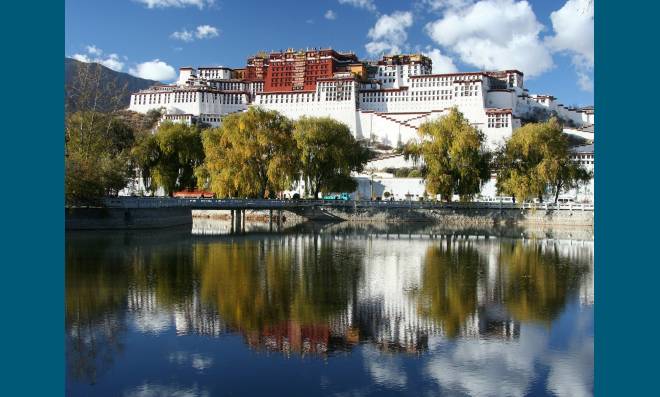 7. Tibet: Shigatse
Sitting at an elevation of 3900 metres, Shigatse beats even the lofty altitude of Lhasa and is the second largest city in Tibet. This prosperous Buddhist city is home to the Tashilunpo Monastery, a huge compound made up of striking golden-roofed buildings and cobbled lanes which date back to 1447 when it was founded by Gendren Drup, the first Dalai Lama. The Maitreya Chapel is not to be missed, having taken 4 years and 1000 artists to complete the job.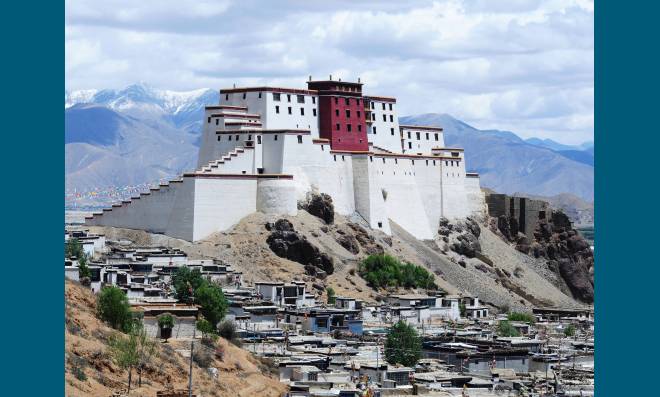 8. Tibet: Gyantse
Located in the scenic Nyang-chu Valley, Gyantse is one of Tibet's largest towns. Key highlights and most dominant landmarks are the impressive Gyantse Dzong fortress which towers above the town on a rocky outcrop and the spectacular white, four-tier Gyantse Kumbum, the largest chorten in Tibet. Inside there are numerous chapels decorated with exquisite murals and statues and the views from the upper levels are spectacular!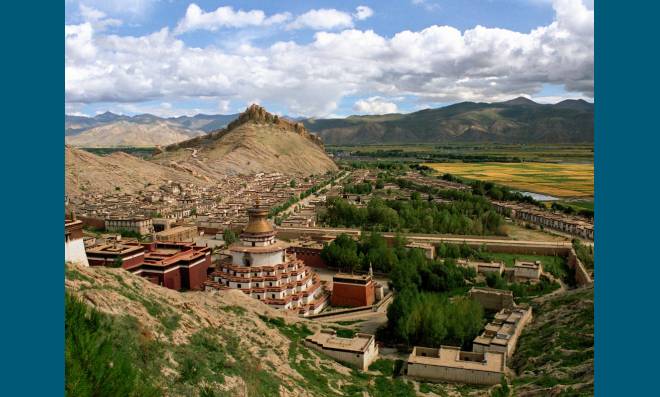 9. Lalung La Pass: Tibet
When driving from Tibet to Nepal you may get the chance to travel along the steep Lalung La Pass. Here you'll be treated to some amazing views of the Himalayas and Everest, before a sharp decent along narrow windy roads, through lush forested mountainsides and deep gorges. Simply beautiful!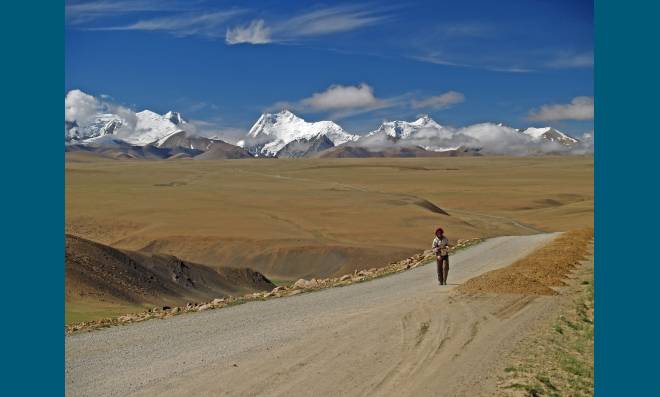 10. Everest Base Camp: Nepal & Tibet
Standing at 8,848 metres above sea level, Everest is the world's highest mountain and one of its most famous. Travellers today flock to Everest Base Camp for challenging trekking amongst incredible panoramic landscapes of rugged snow-capped peaks for a glimpse of the mountain of divine proportions and legendary history. Are you up for the challenge?