Our very own Rachel Armstrong recently returned from Southeast Asia after travelling on our 9 day Very Vietnam tour, journeying from Hanoi in the north to the Mekong Delta in the south taking in the key highlights along the way. In this week's photo showcase Rachel tells us about some of her favourite memories, from the quirks of street life and the creative art of water puppetry in Hanoi, to the haunting beauty of Halong Bay's hidden caves and people watching at floating markets in the Mekong Delta.
To find out more about Rachel's trip, please email her at Rachel@onthegotours.com.
1. Vietnamese barber shop
Vietnam is filled with many unique and curious sights at every turn, and sidewalk barber shops are no exception. These small businesses are a common sight on the streets of bustling cities like Hanoi and Ho Chi Minh, as well as smaller towns dotted around the country.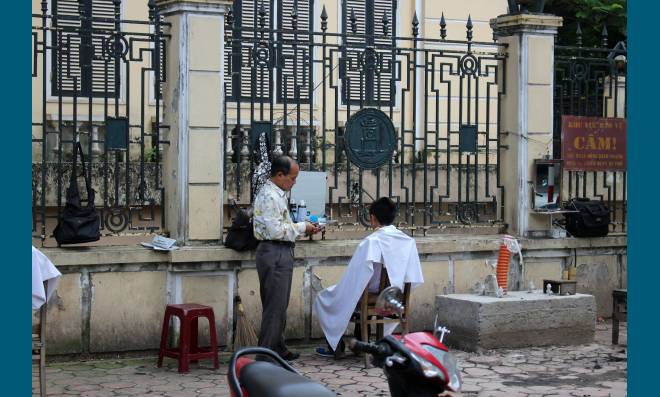 2. Water Puppet Theatre
A visit to Hanoi would not be complete without sitting in on a Water Puppet Theatre performance. This traditional show originated in the fields as a way to entertain the locals and has now travelled into the big cities and been performed in over 40 countries around the world!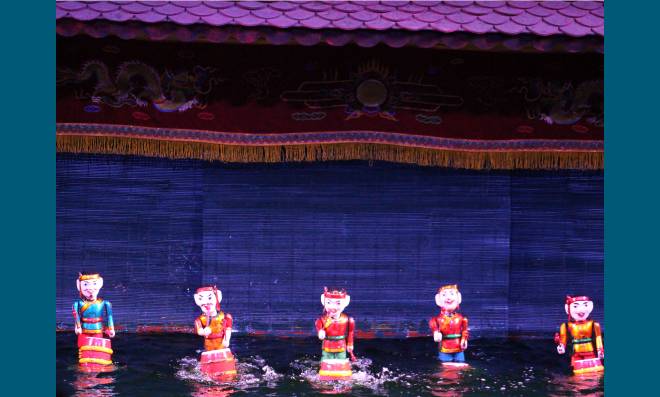 3. Caves of Halong Bay
Beyond the beautiful karst outcrops, emerald green waters and charming floating villages of spectacular Halong Bay, travellers can also discover a multitude of hidden caves and grottos. Here is an eerie photo of our group inside one of its many caves.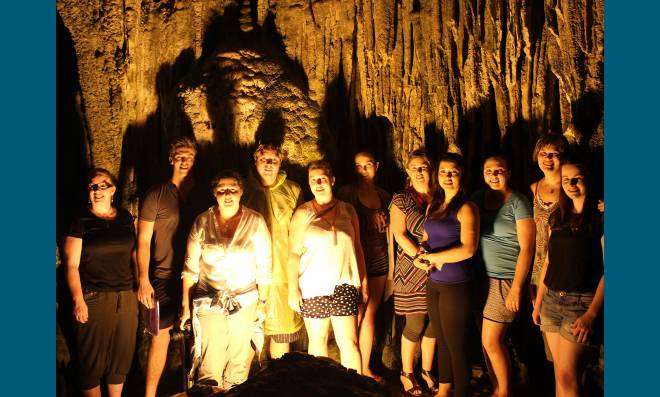 4. Cooking up a storm
Working the fields with the locals was hot work and fans were out in full force to cool down in the heat. After helping out in the fields, a welcoming foot rub and a fun cooking class of the local delicacy was had. There was a lot of laughter when trying to flip the omelettes and toss them over the shoulder to a catcher with a plate standing behind.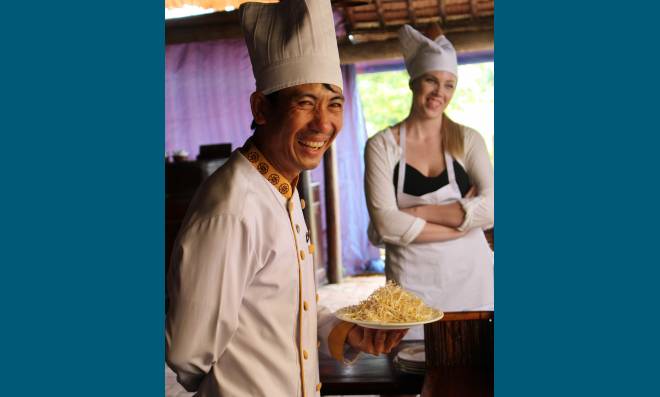 5. Sunset in Hoi An
Apart from being a mecca for tailor-made clothes, the charming riverside town of Hoi An is also spectacularly beautiful at night. Bridges are lit up in twinkling lights, fishing nets are on show and colourful lanterns can be seen floating down the waterways.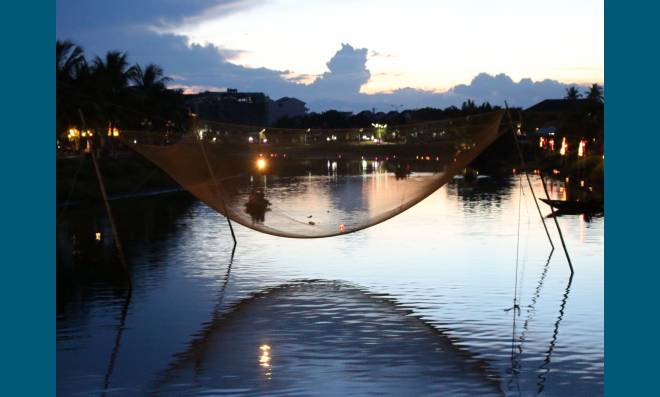 6. Markets of the Mekong
Trading fruit and vegetables at floating markets is part of everyday life on the Mekong Delta. Each boat has a long stick in the air, which they tie their fruit and veg on to so the buyers can see from a distance which boat is selling what. I caught a snap of these watermelons being exchanged mid-throw. Hopefully they don't get bruised from all the throwing!