Delhi's National Museum showcases hidden treasures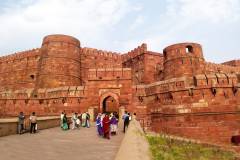 20th May 2013
A museum in India has unveiled ambitious plans to give visitors a glimpse of some of its hidden treasures.
At present, Delhi's National Museum exhibits less than 6% of its total artefacts, with thousands of unique and beautiful items left to gather dust in storage facilities for years at a time.
The triple-storied building hosts more than 200,000 works of art, dating back 5,000 years and covering everything from archaeology, arms and armour, to jewellery, manuscripts and paintings.
The museum has a collection of around 18,000 miniatures, although only 200 are displayed due to space constraints.
However, under the National Museum's new rotation policy, exhibits will be changed far more frequently, giving visitors the chance to set eyes on some of the institution's rarer artefacts.
Dr Venu Vasudevan, director general of the museum, said that rotating the collection should be a big draw for visitors.
"All exhibits, even those kept in storage including the reserve collection, should be put on display periodically," Dr Vasudevan added.
"Our collection of miniatures is huge but we are able to display just a tiny fraction. At the same time, many of the large paintings and art work on display also need resting time."

20th May 2013
UK mountaineer Kenton Cool has reached the summit of Everest for a record11th time ahead of the 60th anniversary of the first conquest by Sir Edmund Hillary.
He is attempting to become the first person to reach the top of the three mountains that form the Western Cwm of Everest - Nuptse, Everest and Lhotse - in one continuous climb.
Read more

20th May 2013
Archaeologists in Nepal have found relics dating from the Buddha era at an excavation site at Bhawanipur in Devdaha, Rupandehi district, 20km from Buddha's birthplace in the sacred area of Lumbini.
Nepal's Department of Archeology (DoA) began excavation in the Devdaha area two years ago after archeological evidence pointed to it being the maternal home of the Buddha.
Read more

20th May 2013
The Pyramids in Egypt may have suffered irreparable damage due to thermal movement, a structural engineer has said.
Since 2011 Peter James has been looking at what could have caused the Egyptians to abandon the iconic structures. Specifically tasked with securing the 4,700 year-old Djoser pyramid, which was damaged by an earthquake in 1992, James has also been examining the structure of a number of other pyramids.
Read more

17th May 2013
Egypt is one place where there's no need for Pyramid selling. The Pyramids sell themselves.
No visit to the country is complete without the most sumptuous of city breaks to Cairo, Giza City and these most ancient and revered of cultural sites.
Read more

17th May 2013
South Korea can promise your holiday will go off with a bang - at this year's Pohang International Fireworks Festival.
Pohang's sparkling procession of pyrotechnics draws fans of firework displays on family holidays from all over the globe.
Read more

17th May 2013
With a population of more than 23 million, Shanghai is not only China's biggest metropolis, it also boasts some of the country's biggest tourist attractions.
This proved the case over the May Day holiday with visitors flocking there on city breaks.
Read more

17th May 2013
Music-loving tourists to South America can start booking tailor-made holidays around their favourite boy band next spring.
Brazil (two concerts), Peru, Paraguay and Chile are among the destinations included in a world tour just announced by singing sensations One Direction.
Read more

16th May 2013
Researchers in Honduras think they may have unearthed the lost "White City of Gold" - using technology normally reserved for military observation.
If the myth proves a reality, Ciudad Blanca would be Honduras' answer to forgotten cultural sites such as Peru's Machu Picchu, which lay ruined for hundreds of years.
Read more

16th May 2013
India's massive north-western state of Rajasthan has a million words to commend it to individuals or couples seeking private journeys.
Spiritual, magical, attractive, always unexplained, always mysterious, the first step to falling in love; to discovering undying passion, to finding a permanent place in the heart are but a few of them.
Read more

16th May 2013
Turkey's tourism bosses couldn't have written a better publicity blurb themselves.
Ancient Istanbul has just got a bang up-to-date modern twist in the form of thriller writer Dan Brown's latest tome.
Read more

16th May 2013
Vietnam's ancient town of Hoi An is fast becoming a firm favourite among tourists on tailor-made holidays ā€¦ literally.
This World Heritage Site is a must-see for its historical and cultural sites.
Read more

15th May 2013
Brazil expects holidaymaker numbers to rocket in the next few years when it hosts the FIFA World Cup in 2014 and the 2016 Summer Olympic Games.
It has been encouraged by new figures which showed a 4.5% rise in tourists last year - before the sport-related specialist tours kick in.
Read more

15th May 2013
South Africa has pipped six other countries to be crowned the world's dream destination.
The crown - conferred by travel and lifestyle social networking community WAYN.com (Where Are You Now?) - confirms the African country as the perfect getaway, whether for group tours or family holidays.
Read more

15th May 2013
Bolivia once boasted South America's wealthiest city, including the world's largest 16th century industrial complex.
This was thanks to the silver that once lay beneath its hills.
Read more

15th May 2013
An ancient oasis in danger of being gobbled up by the desert is today a thriving tourist attraction.
This is thanks to the intervention of China government officials.
Read more

14th May 2013
Holidaymakers on city breaks around the world can't expect to start the day on bacon and eggs ā€¦ or even toast and cereal.
Every country's culinary habits are different.
Read more

14th May 2013
China's Macau Tower heads a league table of leading hotspots for adrenaline junkies.
Exhilarating destinations in VirtualTourist's Top 10 Spots to Get an Adrenaline Rush would make up the perfect specialist tours itinerary for holidaymakers seeking high adrenaline activities.
Read more

14th May 2013
A town in South America that "drowned" has re-surfaced to become what local tourism leaders hope will develop into a major tourist attraction.
The Argentinian town of Epecuen, which was totally submerged on 10 November 1985, is now an up-and-coming site for tourists on holidays to the area.
Read more

13th May 2013
When it comes to watersports destinations, Mexico's Cancun is one of the first names that springs to mind for aquatic appreciators seeking specialist tours.
Even the most hyper traveller would find it impossible not to relax on the 14 miles of white powdery sands there. It is set against the backdrop of the spectacular Great Mesoamerican Reef, the world's second largest reef.
Read more