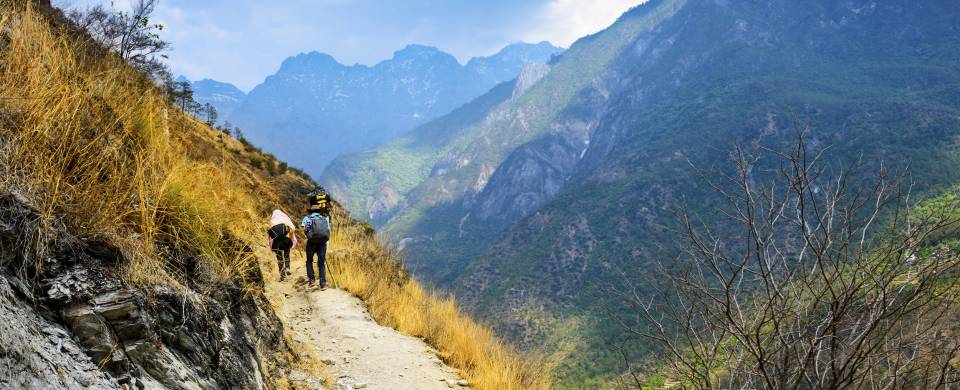 Trips and Tours to Tiger Leaping Gorge
About Tiger Leaping Gorge
Picture a narrow trail snaking its way along rugged snow-capped mountains at a dizzying height above rippling jade-green waters and you have a pretty good idea of what to expect at Tiger Leaping Gorge, one of China's best treks. Located where the Yangtze River's upper reaches - the Jingsha Jiang, channel with force through the mountains, Tiger Leaping Gorge is one of the world's deepest canyons stretching 18km in length and reaching 4,000m in height above the waters. The gorge is so narrow at various points that legend has it a tiger once escaped pursuit by leaping across it at its narrowest point, hence the name.
Read More
With spectacular scenery and a well-trodden path, Tiger Leaping Gorge is a rewarding trek best enjoyed over two days if you wish to cover the length of the trail. The Upper Path route starts at the small hamlet of Qiaotou, a 2hr drive from Lijiang, where you can stock up on refreshments before climbing uphill on a steady path. After reaching a guesthouse you'll hit a section called the '28 Bends' where it becomes steep and twisting. A second guesthouse marks the end of this section where you'll be gifted with incredible views and the chance to rest for the night. Continuing from here the track descends to a few pretty waterfalls and then levels out to the end of the official route.
The best time to undertake the trek is during the months of October, November, April and May when the temperatures are pleasant and the path in optimal condition. During the rainy season (June - September) the amount of rainfall makes the track slippery and dangerous, especially in the narrower parts and therefore best avoided.