Costa Rica has it all from mysterious rainforests to dramatic volcanoes - the landscape is ever changing and invariably stunning. Yet, perhaps the jewel in this country's dazzling crown is its beaches with their golden sand, temperate water and year-round blissful sunshine. With two coastlines and more beaches than you could ever cover during just one holiday, we've selected our favourite coastal getaways to help you plan your trip.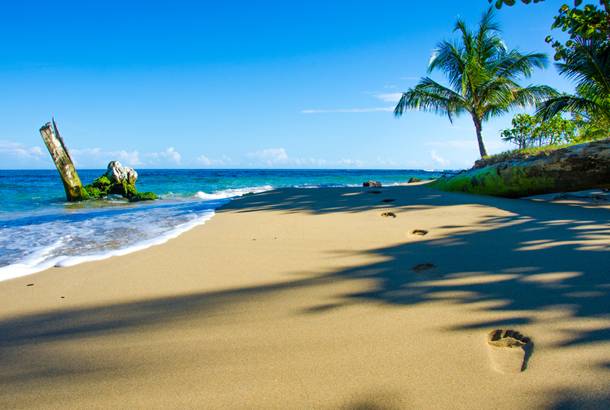 Top 10 Beaches in Costa Rica
With a total of 1,290 km of coastline it's hard narrowing the choice down to just ten spots but that's what we've attempted with our choice of Costa Rica's best beaches, whether it's because of their location in a national park or thanks to their famous sunsets. No doubt you'll find one that's just right for you.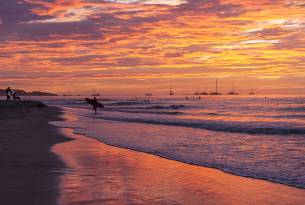 Best for: Staying in style
Playa Tamarindo
Enjoying stunning sunsets and waves that are big enough to surf on but small enough so you can still go swimming, Tamarindo is a coastal paradise that has fused foreign influences with its traditional Tico culture, creating a wholly unique atmosphere. Lining the sands are a number of eco-friendly hotels, resorts and lodges as well as dozens of international eateries, bars and cafes. With plenty to do within the town itself and with the Tamarindo National Wildlife Refuge within easy reach, Playa Tamarindo truly has it all.
Recommended Accommodation:
Hotel Tamarindo Diria - just steps from the beach with plenty of dining options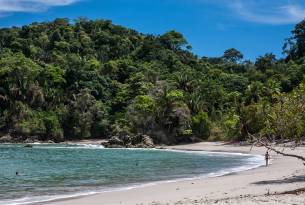 Best for: Spotting monkeys
Manuel Antonio
There are only two locations in the entire country where you can spot all four types of monkey that can be found in Costa Rica (spider, howler, white faced and squirrel monkey) and Manuel Antonio is one of them. With perfect white sand, dazzling turquoise water and the national park as a backdrop, the scenery at the beaches of Manuel Antonio are utterly breathtaking and the views from many of the nearby lodges are equal in splendour. Just make sure whilst on the beach you keep your snacks safe from any cheeky monkeys who like the look of them.
Recommended Accommodation:
Karahe Beach Hotel - a mere stone's throw from the glorious beach and a few minutes from the National Park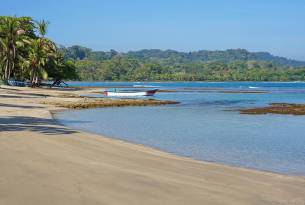 Best for: A taste of the Caribbean
Puerto Viejo
Situated in the south of Costa Rica near the border with Panama, Puerto Viejo is the embodiment of the country's "pura vida" (pure life) motto. Reggae can be heard floating along the streets accompanied by the smells of freshly caught seafood on the BBQ and all sorts of other Caribbean culinary delights. Boutiques, small galleries and cafes are scattered throughout the town but the main activity in this sleepy seaside region is just kicking back on the beach with a fresh coconut in hand.
Recommended Accommodation:
Hotel Formentera Playa - encompassing its own private beach area and surrounded by tropical jungle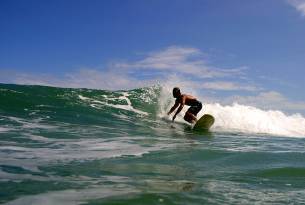 Best for: Riding the waves
Playa Hermosa
Whether you're a pro or still trying to get the hang of it, Playa Hermosa, situated on the Pacific Coast of Costa Rica, is the best surfing destination in the country. There are plenty of official schools where you can join a surf course as well as rogue surfers willing to give lessons in exchange for beer money so be sure to take advantage of the talent on offer in order to improve your skills. Be aware that the strong swells make swimming here a dangerous endeavour but the lovely beach makes up for that.
Recommended Accommodation:
Hotel Bosque del Mar Playa Hermosa - boutique hotel nestled in lush gardens with spectacular ocean views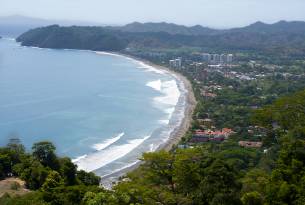 Best for: Access to the capital
Jaco
Jaco is the closest beach to San Jose and for this reason it attracts a lot of city-dwellers seeking some respite from the chaos of the capital. The beach itself is beautiful, despite the weekend crowds, and has excellent surfing opportunities for people of all levels. Accompanying this sandy haven is a large coastal town, filled with popular bars, clubs and fancy restaurants, plus every other amenity you might need during your stay. There are also a number of adventure-based activities available in the surrounding area, including zip-lining, hiking and snorkelling.
Recommended Accommodation:
Jaco Laguna Resort & Beach Club - overlooking the beach with an outdoor pool and gardens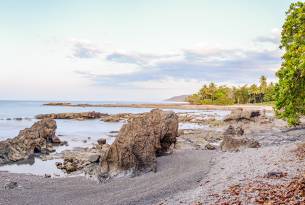 Best for: Getting off the beaten track
Mal Pais
Having been spared the rampant development found in more popular spots, the beach at Mal Pais remains one of the last in the country where travellers can feel like they have escaped the world. There are very few tourist attractions here and little by way of facilities, hence why many travellers avoid it in favour of the nearby Santa Teresa. If you are the kind of person that needs constant entertainment then Mal Pais is not the place for you, however, if you want beauty, tranquillity and the chance to unwind, make this beach your priority.
Recommended Accommodation:
Hotel Casa Chameleon - luxurious yet rustic resort with traditional Tico designs and an open-air pool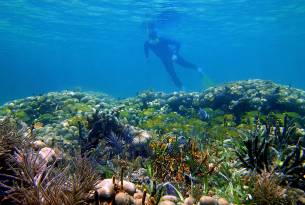 Best for: Underwater exploration
Cano Island
If you can't wait to strap on an oxygen tank and be at one with the country's fabulous marine life then make tracks over to Cano Island. Ten miles from the Osa Peninsula, this landmass is a protected biological reserve with a whole host of wildlife dwelling on shore and in its surrounding water. Those arriving at the right time have a strong chance of spotting dolphins, whales and sea turtles as well as plenty of tropical fish and maybe even a whale shark, if you're lucky.
Recommended Accommodation:
Las Caletas Lodge - gorgeous wooden lodges located on the mainland with easy access to the Isla del Cano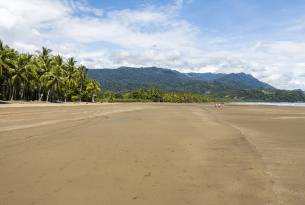 Best for: Whale watching
Playa Uvita
One unique feature of this stretch of shoreline is the section of land that juts out into the sea and forms the shape of a whale's tail. When the tide goes out, it is possible to walk right to the tip of this peculiar land mass but make sure you come back in good time so as not to get caught in the incoming tide. Following the whale theme, Utvia beach is one of the best places in the country for catching sight of the majestic humpbacks travelling along their migratory path.
Recommended Accommodation:
Cristal Ballena Hotel Resort & Spa Uvita - a glamorous resort set amid manicured gardens with bright and breezy rooms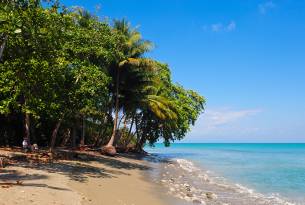 Best for: Natural beauty
Corcovado National Park
There are few places on earth that will leave you utterly speechless but Corcovado might just be one of them. The beauty queen of Costa Rica's Pacific Coast, Corcovado National Park comprises thick, verdant vegetation home to waterfalls, animals, walking trails and more. Stepping out of the humid interior of the park, visitors will arrive at a beach that can only be described as near perfection. Golden sand, swaying palms and crystal clear water are just the start of what this gem has to offer.
Recommended Accommodation:
Luna Lodge - offering rustic cabins with thatched roofs and magnificent vistas of the Corcovado National Park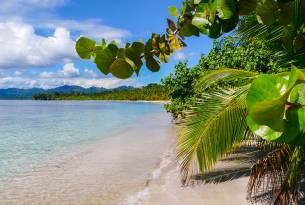 Best for: Doing nothing
Cahuita
Many argue that Costa Rica's Pacific Coast trumps the Caribbean side but Cahuita is proof that both sides have their appeal. This quiet, tiny little town and its beach, situated in the south of the country, is the ultimate getaway for the weary traveller who needs to spend a few days doing nothing. During the day you can take a dip in the sea or stroll along the sandy shores before retiring to a hammock with a book and a cocktail. If you prefer a little more activity, try snorkelling amongst the colourful coral that fringes the shoreline of the national park.
Recommended Accommodation:
Suizo Loco Lodge & Resort - combines the hospitality of the Swiss with the charm of the Ticos for a unique atmosphere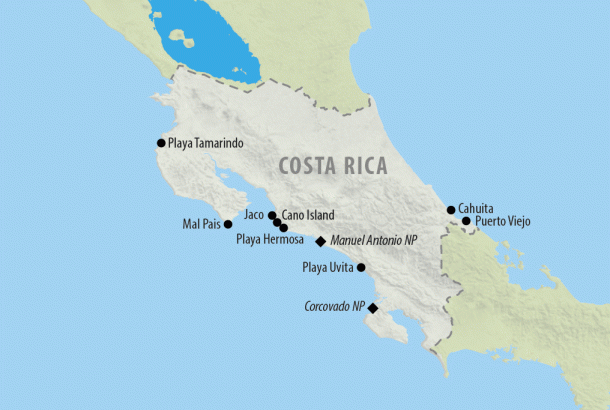 Best time to visit Costa Rica for a beach holiday
Costa Rica experiences two distinct seasons - the dry and the wet. Peak season across the country falls between the months of December to April when the conditions are at their driest and you're largely guaranteed warm temperatures and clear, sunny skies. This time of year does mean higher prices, lower availability and bigger crowds as vacationers fill up the beaches during the Christmas and Easter holidays especially. For better prices and availability, consider visiting in the shoulder months of November and early May when the weather may still be favourable but demand lower.
Some variation does exist across the two coastlines and parts of Costa Rica can be good to visit for a beach holiday at other times of year. The region of Guanacaste in the northwest receives the lowest year-round rainfall in the country so it's the best option if you are thinking of visiting Costa Rica during the wet season (June - October).
Surprisingly, the south Caribbean coast can be good in October with less rain than the north or the Pacific side. If you visit in May or June, there will be rain but it will be interspersed with sunshine so a beach holiday at this time of year doesn't necessarily have to be a washout.
Recommend tours for beach time in Costa Rica
To get you started with your holiday planning, take a look at our tours that include time spent on Costa Rica's tropical coastline. Alternatively, if you already know where you want to go or prefer the idea of a private tour and beach holiday, contact our tailor-made team who will be happy to put together your dream trip.
Overlanding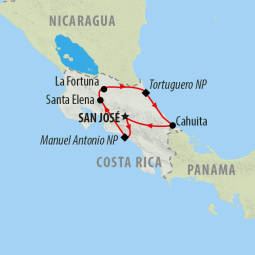 14 days FROM $1,755
Tailor-made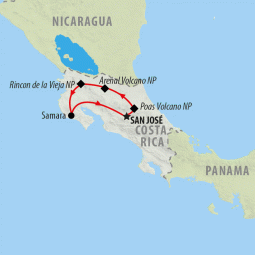 11 Days FROM $1,895
Tailor-made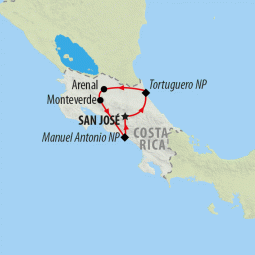 10 Days FROM $1,795
See Also
For further help planning your visit to Costa Rica take a look at our handy Travel Guide resources:
Best Places to Visit
- recommended top spots in Costa Rica
Best Time to Visit
- climate, seasons and festivals of Costa Rica
Tourist Visas
- what you need to know for entering Costa Rica
Top Travel Tips
- useful info on money, health and food in Costa Rica
Wildlife Guide
- Costa Rica's favourite species and where to find them
Costa Rica Trip Styles

Tailor-made Holidays

Private Tours

Day Tours