DELUXE SAILING HOLIDAY: Embark on an Adriatic adventure on board a luxury ship, where each day takes you to a new island on the Dalmatian Coast. Explore the beaches of Brač, ruins of Vis, and National Park of Mljet as you cruise from Split to Dubrovnik, enjoying guided walking tours and sampling local products along the way.
Trip Highlights
Split - Wander through an ancient port city with magnificent Roman monuments and a bustling nightlife
Hvar - Soak up the sunniest island in Croatia with a buzzing and beautiful medieval town
Korcula - Discover a coastal citadel rich in Renaissance and Gothic architecture
Ston - Stroll along the 5km long medieval walls and pay a visit to a local oyster farm to sample some of freshest oysters around
Brac - Relax on famous Zlatni Rat Beach and wander around the quaint fishing village of Bol
Vis - Enjoy the tranquility of this secluded isle where Croatia's first urban settlement once stood
Mljet - Explore stunning Mljet National Park, home to shimmering salt lakes and verdant green forests
Dubrovnik - Relive history in the awe-inspiring, UNESCO-Listed Old Town with marble streets and Baroque buildings
Included
6 days sailing off the Dalmatian Coast in the Adriatic Sea
Breakfast daily, 5 (3-course) lunches with 1 drink included, 4 dinners (inclusive of a Captain's farewell dinner). Complimentary wine & cheese tastings.
Sightseeing in Dubrovnik, one way bus transfer and cable car), Hvar, Korcula and Split
Daily cabin service, all linen incl 2 bath towels, hairdryer, luggage handling and services of onboard captain and crew.
Opportunities to swim, snorkel, sightsee and soak up the sun
Complimentary 1 litre of water, a drink with lunch, tea, coffee as well as fresh fruit throughout the day
7 nights deluxe accommodation on board the air-conditioned M/V Admiral or similar motor ship
Airport arrival transfer from Split Airport on day 1 and departure to Dubrovnik Airport on day 8
Wine tasting in Vis and oyster tasting in Ston
Escorted by an English speaking Tour Leader who travels with you onboard the cruise
All port taxes, visitors fees and entrance fees
Complimentary WiFi on board
Not Included
International flights and visas
Tip for your crew. We recommend you allow EUR 5-10 per day, per traveller. Tipping is an entirely personal gesture
This holiday offers 2 different comfort levels. Choose from Deluxe or Deluxe Superior - see Ship Categories for details. This cruise holiday also operates in 2 directions, from Split to Dubrovnik or vice versa (Northbound).
Saturday. Welcome to Croatia! Included arrival transfer from Split Airport to the harbor for check-in (after 2PM). When you've settled into your cabin, enjoy a guided tour of Split, Croatia's historic second-largest city and home to sights such as the 4th-century Palace of Diocletian. Afterwards, we return to the ship for a welcome cocktail reception.
Overnight: Split - onboard | Dinner
Split - Hvar. In the morning, we cruise to the island of Brač, where you can enjoy a swim at Zlatni Rat, famous for its 'shape-shifting' beach. Nearby is the fishing village of Bol, now a scenic tourist hotspot. After lunch on board, we continue to Hvar, an island blessed with sunny skies and lavender fields. Enjoy a presentation of local lavender products, followed by a walking tour of the historic town, where we'll hike up to the medieval fortress overlooking the Pakleni Islands. Spend the evening at leisure in one of Hvar's many beach bars or restaurants.
Overnight: Hvar - onboard | Breakfast, Lunch
The Blue Cave & Vis
Hvar - Bisevo - Vis. Early this morning (weather permitting), we cruise to Biševo, a small island home to visit the spectacular Blue Cave. We then continue to the island of Vis. A Yugoslav Naval Base until the late 1980s, Vis is a charming slice of the old Mediterranean. Indulge in a tasting at a traditional winery before spending the rest of the day at your own leisure. Opt to visit the Roman ruins of ancient Issa, Croatia's first urban center, or simply stroll along the waterfront promenade.
Overnight: Vis - onboard | Breakfast, Lunch
Vis - Korcula. Leaving Vis early in the morning, we continue to Korčula, stopping for lunch in a secluded bay along the way. This walled town was the birthplace of the famous explorer Marco Polo, and we'll follow in his footsteps with a guided tour of its 'fishbone'-patterned streets. There are plenty of dining choices - Korčula is packed with bars, clubs, and restaurants offering views of the town's incredible sunsets, or perhaps join an optional excursion to a local village for a traditional Dalmatian dinner.
Overnight: Korcula - onboard | Breakfast, Lunch
Korcula - Mljet. Today we cruise south to the island of Mljet. Local legend declares that the Greek hero Odysseus spent seven years here with the nymph Calypso - try not to do the same as you explore the vast forests of the National Park at leisure. Maybe join a tour of the beautiful salt lakes and tiny St Mary's Island, home to a 12th-century Benedictine Monastery. After dinner on board, we spend the night at a local port.
Overnight: Mljet - onboard | Breakfast, Lunch, Dinner
Slano and the medieval walls of Ston
Mljet - Slano - Ston. Returning to the Croatian mainland, and continue to the fishing village of Slano, and then onwards to Ston, where the towering medieval walls - over 5km long, guard its famed saltworks and oyster farms. We'll tour one such farm, and of course enjoy an oyster tasting. Tonight we'll have a Captain's dinner on board the ship, accompanied by live entertainment and music.
Overnight: Ston - onboard | Breakfast, Lunch, Dinner
Ston - Dubrovnik. The final leg of our Dalmatian cruise takes us to Dubrovnik, an Adriatic port with a rich and varied history. Now a UNESCO-Listed Site, Dubrovnik was once the capital of the Republic of Ragusa, a powerful maritime city-state. Approaching Gruž Harbour, we'll enjoy lunch on deck as we cruise around the old city walls. After docking, we transfer to town for a guided walking tour, taking in the Renaissance architecture, and travel by cable car up the Srđ Mountain for spectacular views of the city and Elaphiti Islands. Spend the evening at leisure.
Overnight: Dubrovnik - onboard | Breakfast, Lunch, Dinner
Saturday. Dubrovnik. Our luxury Adriatic holiday comes to an end after breakfast. Disembark and transfer to Dubrovnik Airport is included.
Breakfast
Deluxe Ship information
Travel on a cruise ship with a range of facilities including dining area and plenty of deck space to enjoy the spectacular views and sea breeze, you'll be in the company of like-minded travelers. Relax as you let the captain and the support crew look after your needs. An on board cook prepares breakfast and lunch each day, whilst in the evening, offers the chance to explore different dining options at each port of call. Dalmatian food is very good indeed!

Individual ship design varies slightly from craft to craft, but all ships offer a range of cabin types (some top deck, some on main deck and some below), comfortably accommodating 2 persons.

Deluxe ships are modern and state of the art ships 42 - 47 m in length. The spacious sun deck includes a hot tub, beautiful lounge area and sun beds to enjoy the wonderful Adriatic scenery. Deluxe vessels feature spacious, lavishly designed, air-conditioned en-suite cabins with double or twin beds, safety deposit box, bathroom toiletries, hair dryer, cupboard and wardrobe cabinet. Cabins are 12 - 17m2 in size.

Included services: Airport transfers, buffet breakfasts and three course lunches with salad and cheese bar, drink with lunch, Captain's dinner with live music, additional dinner in a typical Croatian setting, sightseeing, English speaking tour manager, various entrance fees, various tastings, visitors' tax and port fees, luggage handling, daily cabin service, complimentary Wi-Fi and tea, coffee and water dispenser all day.

Our on 'Jewels of the Adriatic' cruise holiday, you can choose your route of travel, Split to Dubrovnik or vice-versa (Northbound). Please see our 'Prices and Departures' tabs and Trip Notes for further information.

Upper deck or below deck cabins
On all of our Croatia cruise holidays, you have the choice of an on deck (upper) or below deck cabin. Below deck cabins are located below the main deck or in the hull of the ships. They do have windows or port holes that allow in natural light but these generally do not open. On deck cabins are either on the main deck or top floor of the boat. These all have opening windows that allow in the breeze. There is a supplement for upgrading to on deck cabins, please see the 'extra prices' section located at the bottom of the 'prices and departures' tab for details. Choose your option at time of booking to secure your place.

For further information about best time to visit, visa's, top travel tips and more, please see our Croatia travel guide.
Prices & Dates
'Twin Share' prices are per person when there are 2 people sharing a cabin. 'Single Room' prices are applicable to those who don't have anyone to share a cabin with or anyone wanting the privacy of their own cabin.
Read More
2023
Twin Share
Single Room
Extra Prices
Twin Share
Single Room
Upgrade to On-Deck Cabin
USD $405
USD $605
The ship categories listed below are the ones offered for this sailing itinerary. Please note that individual ship design varies slightly from craft to craft. The ship category will be confirmed at time of booking however the specific ship name is allocated approximately one week from departure.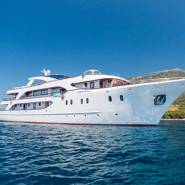 Deluxe Ship, Croatia Sailing
Deluxe ships are a class above our premium and premium plus ships and are spacious, newly built ships with well-appointed cabins featuring twin or double beds. All cabins have their own bathrooms, LCD TV and are air-conditioned. Deluxe ships also offer air-conditioning in most of the common areas whilst sailing (no a/c when boat is stationary), free Wi-FI when in port, and have a spacious deck with sun loungers. Additionally, some deluxe ships feature gym facilities and a plunge pool. Exclusive features of our deluxe category include airport arrival and departure transfers from Split airport, an on-board English speaking tour leader to answer any questions you may have and provide commentary on the locations and sights you will see, guided sightseeing tours of Dubrovnik - including a dinner cruise and journey on a cable car , Hvar, Split and Korcula - including a wine tasting tour and a village feast. Plus, at the end of a wonderful week sailing all our deluxe cruises come to a close with a delicious Captain's farewell dinner.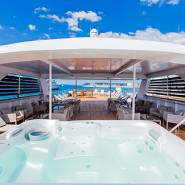 Deluxe Superior Ship, Croatia Sailing
Come aboard, sit back and simply relax… Our Deluxe Superior Ships are of the highest quality and category of ship available on the Adriatic Sea, so you'll be travelling in style! The newly refurbished ships include hot tub/jacuzzi or plunge pool and on some ships, a gym. The air-conditioned meal and bar area is lavishly designed for a comfortable stay and to enjoy time with friends and fellow travellers. The sundeck offers magnificent views of the turquoise waters and spectacular scenery. The well-appointed spacious and superbly designed air-conditioned en-suite cabins (15 to 20m2 in size) are available in either double or twin bedding. Include are Airport arrival and departure transfers, an on-board English speaking tour leader to answer any questions you may have and provide commentary on the locations and sights you will visit, guided sightseeing tours, wine tasting tour and so much more. With all the exclusive features of our Deluxe Category Ships, but on an elegant and grander scale your journey through Croatia will be a unforgettable one with nothing to worry about except taking in the delights that Croatia has to offer.
Prices & Dates
'Twin Share' prices are per person when there are 2 people sharing a cabin. 'Single Room' prices are applicable to those who don't have anyone to share a cabin with or anyone wanting the privacy of their own cabin.
2023
Twin Share
Single Room
Extra Prices
Twin Share
Single Room
Upgrade to On-Deck Cabin
USD $405
USD $605
At a Glance
Range
Trip Type
Starts
Split
Ends
Dubrovnik
Departs
Saturday & Wednesday
Group Size
Min 10 / Max 28 - 38 dependant on ship
Hotel Rating
Deluxe or Deluxe Superior Ship options are available
Tour Guide
Yes, onboard tour leader
Meals
Breakfast: 7, Lunch: 6, Dinner: 4
Countries
Minimum Age
15 yrs, accompanied by an adult
Arr. Transfer
Yes
Dep. Transfer
Yes
Extra Tour Info
Updated
5th September 2022
OTG001944
Jewels of the Adriatic - 8 Days
Europe
Handpicked
Europe
false
0
Croatia
https://www.onthegotours.com/Croatia/Jewels-of-the-Adriatic-8-Days
https://www.onthegotours.com/repository/Hvar-Waterfront--Croatia-Tours--On-The-Go-Tours-423601504010199_crop_flip_300_300_f2f2f2_center-center.jpg
Sailing_Holidays